UNLV HOCKEY - HELP GET US TO NATIONALS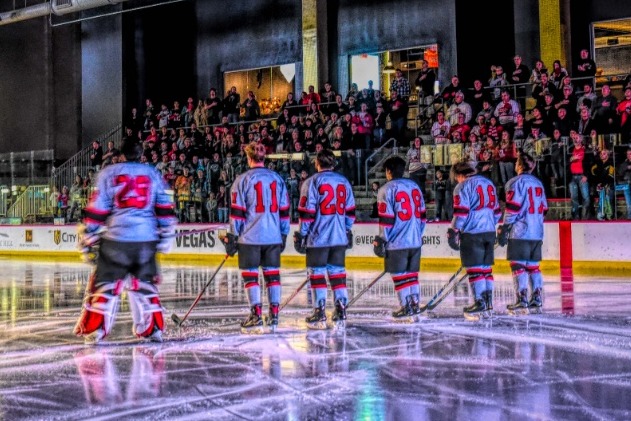 The UNLV Rebel Hockey team is currently competing for a top 10 spot, and a third consecutive appearance at the ACHA National Championships, taking place in Dallas, Texas March 21-26, 2019. 
UNLV Rebel Hockey has come a long way in a short amount of time.
 The program currently competes at the ACHA D1 level, comprised of 60 teams. UNLV, since making the move from D2 to D1 last season, has consistently been ranked in the top 20,  battling to make it back to the National Tournament. Our ultimate goal is winning a National Championship.
This year's team has already had a successful start to the season, winning the inaugural Chicago Invitational, bringing home hardware for the first time at the ACHA D1 level, defeating last year's national runner-up, University of Illinois, 6-1. 
With a number of road trips throughout the season, including trips to Arizona, Utah, North Dakota, Chicago, Colorado, and New York, it is extremely important to consistently be fundraising to help offset the large expense of travel. UNLV Hockey travels with 30+ players and staff, and each road trip costs between $15,000 - $30,000 depending on location. We anticipate this year, the total cost of making a deep run at the National Championship will cost an estimated $25,000 for the trip to Dallas over 6 days. 
Without the help, and support of our community, UNLV Hockey would not be in a position to annually compete for the national championship.
  It is our goal, as a program, to be mentioned among the best organizations in the nation, and that starts with the support we receive here at home, each day. We are truly grateful to everyone that considers making a contribution to our program, and we hope to return that generosity by bringing home the National Championship! 
More information about Rebel Hockey: www.RebelHockey.com

Fundraising team: UNLV Hockey (3)
Zeeshan Khan 
Organizer
Raised $520 from 6 donations
Las Vegas, NV
Registered nonprofit
Donations are typically 100% tax deductible in the US.
Arturo Castro 
Team member
Raised $1,250 from 6 donations
Anthony Vignieri-Greener 
Team member
Raised $800 from 3 donations