UMOJA Refugee Choir Recording Fund!
"LIFT YOUR VOICE AND YOUR VOICE WILL LIFT THE WORLD."
I don't know about you, but in these days of political turmoil and deep division in America, I want to focus on something positive, on the things and the people that unite us and bring us together.
Let me introduce you to the Umoja Choir and tell you exactly why we need to raise money to help them record their first album.
My name is Laura Burhenn and I am a musician who releases music as
the Mynabirds
. When I was recording my newest record,
BE HERE NOW
, earlier this year, I wrote a song for refugees called "Hold On." I wrote it the day of the airport protests as America debated the "Muslim travel ban," which would ban immigrants and refugees from Muslim-majority countries. It's a song about reaching beyond our fears of "other" to find compassion in universal humanity. The only way I knew I could get to the emotional heart of the song was to include the voices of people who had lived the refugee experience. I called some friends who were working with refugee resettlement groups and they introduced me to
the Umoja Choir
.
In 2010, after resettling in Omaha, Nebraska, Dieudonne Manirakiza and Eric Esron started the Burundian Choir as a creative outlet for children in their community. The name was changed to
Umoja, which means "unity" in Swahili
, as they welcomed members from other African countries including Kenya, Rwanda, Congo, Uganda and Tanzania. Since then, the Umoja Choir has grown to include people of all ages, helping enroll children in public schools, driving folks to job interviews and work, and providing a network of support for refugees as they navigate challenges of their new American life.
Through the process of recording "Hold On" with the Umoja Choir, later performing the song at a rally in front of 6,000 people in Omaha, and traveling to Washington, DC, to perform a Tiny Desk Concert at NPR,
I have become dear friends with Dieudonne and Eric, and have developed deep admiration for their resiliency and compassion.
These are men who were raised in refugee camps after genocide decimated their families, dropped into the middle of America as teenagers not speaking any English, who are now succeeding personally, and helping others thrive.
Dieudonne once told me and the friends who brought us together that despite the division and hatred in the headlines, the process of recording and performing together made him see the America he always dreamed of when he was a boy in a refugee camp in Tanzania.
I can think of no greater way to thank them — and to celebrate the inclusive spirit that makes America truly great — than to help the Umoja Choir record their first album.
Contributing to this fundraiser — even a few dollars —  will provide a platform for New American voices to sing their unique stories, to prove that we can rally around communities that keep the American dream alive and well.
Every dollar donated to this fundraiser will go directly to the costs of producing, recording and manufacturing the Umoja Choir's first album of original songs, sung in both English, Swahili, and other African languages.
The budget will go to hiring a producer, paying for time in a recording studio, mixing and mastering the songs, hiring an artist to design the album art, pressing the CDs, and finding the right publicist to promote the choir and their record. Any money you contribute will help Umoja achieve their dream of making their first album.
But more importantly, the money raised will contribute to the communities in Omaha and beyond that the Umoja Choir inspires, supports and elevates through song.
Dieudonne and the Umoja Choir performed and gave a TED talk in Omaha this October — an honor I had a few years back when I spoke about what it means to be revolutionary in America these days. I ended my talk with a line from a poem my mother wrote: "Lift your voice and your voice will lift the world."
Voice is power.
Together we can help
amplify the voices of our friends and neighbors, who sing to lift one another up.
Together we can help
empower this community
that teaches compassion over fear, and the strength in our diversity.
That is real revolutionary work.
Thanks in advance for your support of this fundraiser, the Umoja Choir and the community it fosters.
Please do share this campaign and support your own local refugee and immigrant neighbors!
#REFUGEESWELCOMEHERE #NEWAMERICANVOICES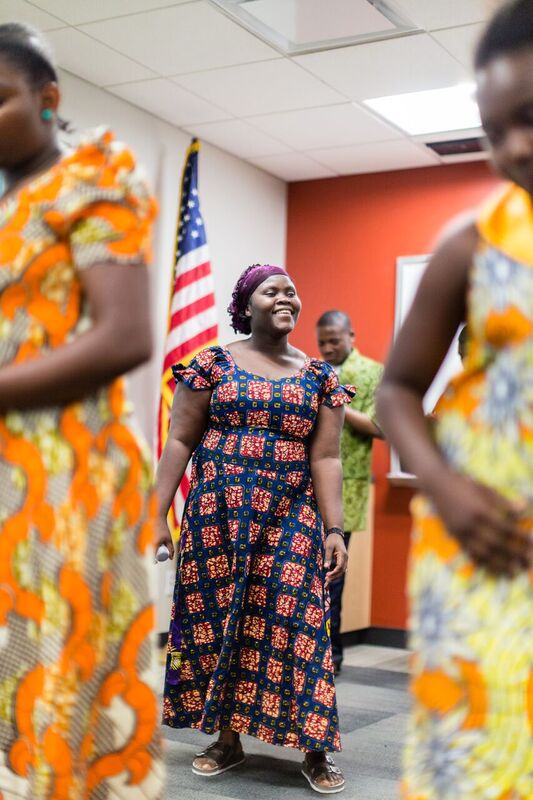 Organizer and beneficiary