UMO presents VIC at ACT! #VIC2020!

Support #VIC2020! Help UMO bring VIC to ACT Theatre at www.gofundme.com/f/umo-ensemble!
Please join us in supporting UMO Ensemble's newest ground-breaking production:
The premiere of 
VIC 
at ACT Theatre in April 2020.
The story of the first woman who ran for president, in 1872... a clairvoyant, spiritualist, free-lover who was one of the most notorious women of her time - and who was then erased from history. 
Created in UMO's gender-melding physical theatre fashion, by a company of over 15 artists from theatre, dance, circus, music and more – including writer Maria Glanz, director Elizabeth Klob, composers and musicians Jason Webley and Gretta Harley,  sharing an unforgettable American story… that was erased from history. The story of Victoria Woodhull – the first woman to run for President of the United States. In 1872.
In 1872, the United States was in turmoil. The Civil War had shattered notions of what it meant to be 'American.' Slavery was eradicated, but reconstruction and racism were coiling around what it meant to be 'free.' Robber barons were building railroads and running banks, creating the seeds of what Mark Twain coined the gilded age. Suffragists were calling for women's right to vote –
And Victoria Woodhull became the first woman to run for President of the United States.
Spiritualists, free lovers, owners of the first woman-run stock brokerage in the US, newspaper publishers, and as notorious in their time as the Kardashians are today, Victoria and her sister Tennessee were praised and condemned in equal measure. 
VIC
is their story.
This story needs to be heard now, with the 2020 election upon us and the 100 year anniversary of a woman's right to vote... ! 
Donate now to support UMO's absolute commitment to PAYING OUR ARTISTS.
VIC
will run for three weeks in April & May 2020 at the Bullitt Cabaret at ACT Theatre in Seattle, then return home to Vashon Island for a weekend of shows at Open Space for Arts & Community.
We MUST raise $20,000 to go directly to the artists' pay,  and contributions are entirely tax-deductible.
We cannot do it without YOU.
Every. Donation. Counts. You count. You matter. THANK YOU.
www.gofundme.com/f/umo-ensemble
Scenes from the #VIC2020 Kick-off at the Black Cat Cabaret on Vashon Island...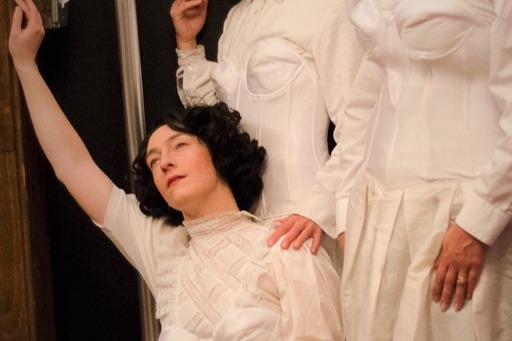 Organizer
Maria Glanz
Organizer
Vashon, WA

Unidentified Moving Objects Company Inc (Umo)
Registered nonprofit
Donations are typically 100% tax deductible in the US.