About Us & Our Goals:

Welcome to the University of Massachusetts Robotics Team GoFundMe page!  UMass Robotics is a newly founded organization built to teach students about modern robotics practices, agile development and collaboration, as well as inspire youth to pursue a career in STEM. Starting in early January, we have set our goals towards the NASA RMC / Lunabotics Mining Competition. This is a national contest in which NASA tasks universities with designing a robot capable of mining ice on the lunar surface using modern computing practices like machine learning and autonomy. The competition is held annually at the Kennedy Space Center in Florida, and more details about the competition can be found
here.
Also, you can read about us in the
College of Engineering Dean Report.
Recently, we have expanded our club, gaining about
30 members
! As the club expanded, it evolved into a space for everyone interested in robotics to explore their interests with others who share the same passion as them. The organization's leadership has plans in place to start a semester long project for all members, which you can read about below.
Visit our
website!
Why We Need Your Support:
Obtaining funding is already difficult as a newly founded club, and the recent COVID-19 pandemic has made it even harder. With your support, we would be able to build a robot that we believe can win this competition. With your partnership, our organization will also be used to acquire materials to help educate youth in the ideas of STEM. As a team of the NASA Lunabotics challenge, we are also tasked with providing outreach to students all across the area. As a result, we would love to use some of the funding to purchase equipment to help inspire students to pursue a career in computer science, engineering, and a variety of other STEM-based careers. Below are some benefits you can receive if you choose to support us today!
With this massive influx of excited students, we are starting up our own internal combat robotics competition in order for everyone to give everyone experience in the field.  Your help will allow for our new members to have a rich and effective learning experience. This funding will be put towards building these robots, as well as improving upon our arena that we will use in the competition. At the end of next semester, teams of students will compete in this event, using the skills they have gained over their time in the club.
Any Amount: Be able to opt in for monthly updates on our robot up until the competition starts
$25 - Get your name engraved on our official competition robot!
$50 - Become recognized as an official silver sponsor on our Website!
$100 - Become recognized as an official gold sponsor on our Website! 
What we've been working on so far:
Our first prototype, Batteries! This robot helped our software team apply some early machine learning models using an ultrasonic sensor in order to get their feet wet.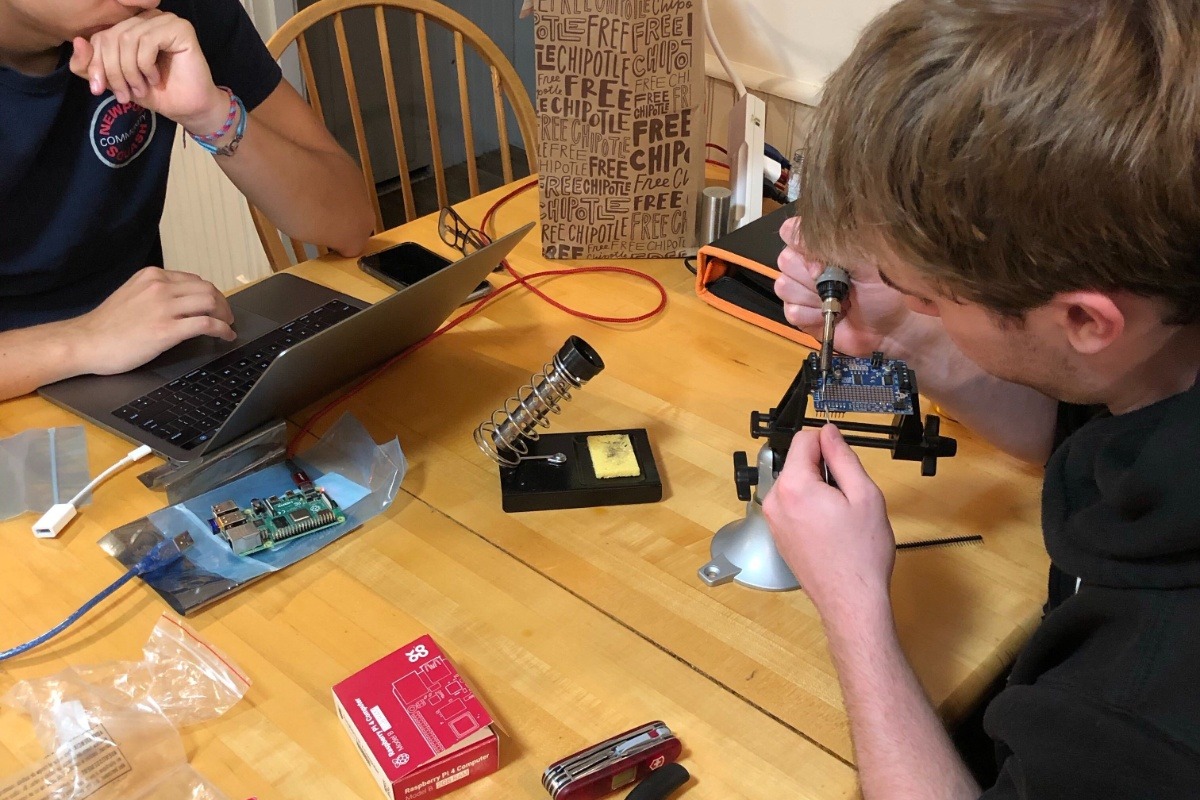 Some photos of us soldering and working on our first 3D printed prototype!
Some team members collaborating and working on the prototype over the Fall 2020 semester!