On December 5th, 2021, at the age of 21, Autumn Johnson died rushing to help total strangers in their time of crisis. That is who she was and what her passion encompassed; helping those who needed assistance. The story of her death and sacrifice has spread like wildfire, already earning her the title "Good Samaritan" in the news, and across the state. Having achieved an associates degree before graduating high school, she was attending college at Kansas State University pursuing her graduate degree in Veterinary Medicine. Her lifelong goal was to become a surgical Veterinarian. She had a genuine love for helping and caring for animals.
This page was compiled not only to help her family with funeral and related expenses, but also to set up a fund to award financial assistance for young Veterinary medicine students to achieve their goal of graduating as a Veterinarian, that way she can continue to do what she did best; help others and save lives. Helping others, especially animals; that was Autumn. The Good Samaritan.

https://www.ksnt.com/news/local-news/rollover-crash-forcing-cars-off-i-70-between-topeka-manhattan/ 




From Her Dad:
My dearest Autumn, I have been blessed and honored to called your father for 21 years. It is easy being a father to three great kids. I often say, "I won the parent lottery. Not one great kid, not two, but three out of three." You and your brothers have given me a reason to live when I should have died several deployments ago.

 

On R&R during an Iraq deployment I saw you dancing on the trailer to Terrence Trent Darby "Wishing Well" and jumped up with you. We danced, somewhat out of time in the beginning, but improving as the song went along. I looked down at you trying to copy my moves and trying to predict my next move and thought what a beautiful gift from God I have. It was there you taught me to live in the moment.

 

Walking around the dog park I found a Pitbull and commented that was not a good looking dog. You turned to me and said, "That dog is cute." Then you said the same thing about a German Shepard, and it was cute I agreed. I found another dog that was ugly and you called it cute. Then I asked if there are any ugly dogs. You said, "No dad, all dogs are cute." It was there you taught me to look at people's heart and not their bank account or car that they drive, or social status, or how they dress. But to look only at the heart and how good it can be.   

 

When I asked you if you want to add a rule to the "10 Rules of the House" you told me, "Daddy, LOVE ALL GOD'S Creatures." It was there you taught me to respect and cherish everything God has made. Even if I didn't like it - understand that God put it there for a reason.

 

Your senior year in high school I gave you a book on scholarships. I had check marked all the ones you were eligible for and told you to start applying. You poured your heart into making videos, writing papers and essays with the hope of being awarded a scholarship. You didn't get a single one. But you told me that it was OK, you would find a way. You increased your courses at your current school in order to take less classes at KSU, took on a job, and looked for ways to cut your tuition bill.. It was there you taught me to never give up hope. And as long as hope exists, good things can happen. (This is one of the reasons we are going to start a scholarship in your name!)

 

To me you are the little girl who would climb up on the back of my legs as I read the bible and say, "Up Daddy Up!" Then later when you got too big for that you would quietly sneak into the room, thinking you were unnoticed and sit down on the bench as I read the bible. You would giggle as you scrolled through your page looking for something funny. Sometimes I would put the bible down because I knew you wanted to show me something and the anticipation was driving you crazy. You never stopped until you made me laugh. You made me laugh every night. It was there you taught me to not take anything too seriously.

 

From an early age you knew exactly what you wanted to do - be a vet. You never wavered, gave up hope, or gave consideration to failing. There was only one thing you wanted to do. And being a Wildcat from an early age you knew exactly where you wanted to do it. You had the option to go to the #1 rated VET school in the world and you refused to go anywhere but KSU. When I dropped you off at school the first year I worried about you being so far from home. But my first phone call with you - it was then I knew you had found where you needed to be. I was still sad - but happy that you are pursuing your dream in the place you belong. It was then you taught me that with the right amount of drive, determination and focus the seemingly impossible becomes "I'm possible."

 

Because you work so hard good things happen to you. Because each time you talk to someone about your dreams, you light up. People are attracted to your sprite and enthusiasm. They want to be a part of it. You have an ability to pull people together. Even now - I see that happening. And now as I see the impact you have had on people, I am humbled to be your father.
 

Ralph Waldo Emerson writes in SUCCESS: "What is success? To laugh often and much; to win the respect of intelligent people and the affection of children; to earn the appreciation of honest critics and endure the betrayal of false friends.To appreciate the beauty; to find the best in others; to appreciate beauty; to find the best in others.To never lack appreciation of Earth's beauty; to look for the best in others and give the best you have.To live content with small means; to seek elegance rather than luxury; to be wealthy and not rich.To study hard; think quickly; talk gently; act frankly; to bear all cheerfully, do all bravely, await occasions, hurry never. To leave the world a bit better, whether by a healthy child, a garden patch, a rescued soul, or a redeemed social condition.To know even one life has breathed easier because you have lived. This is to have succeeded!"

 

Autumn you have succeeded. Make no doubt about it Autumn, you are my light, my love, my reason for living, and my HERO.

 

I look forward to the day when I can see you again and embrace you with the biggest hug. I LOVE you Autumn! KA-CHIGA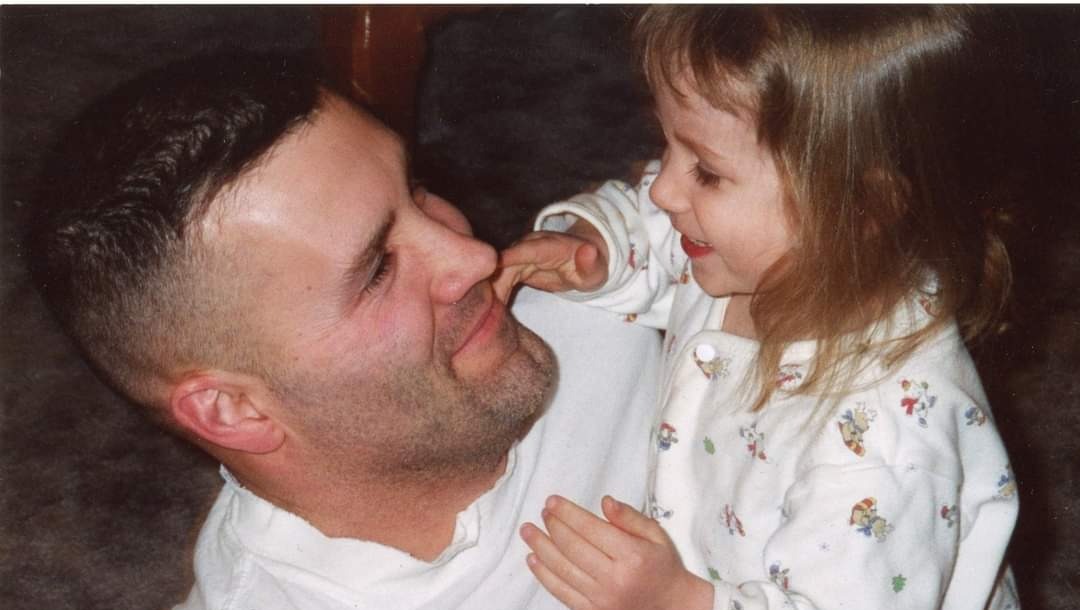 From Her Fiance:

Meeting Autumn was the best event to ever happen in my life I will always remember how I met her and what had happened that day. Her and I were brought together by fate in the grocery store parking lot after I had just got off work. I had just parked and my dad went in to the store to get groceries and I waited in the car. Then in front of me an old red jeep pulled up and I saw a stunningly gorgeous beautiful women with an NRA hat flipped on backwards. She was perfect in every way and at that point i knew I had to ask her for her number but I was very shy, I had never done anything like that before and i didn't know what to do or how to go about it. Luckily I was texting one of my friends and telling her about this girl and my friend gave me advice and some ideas on what to say and when I started to back out and second guess myself she threatened to stab me ( lovingly of course ) and told me I would always regret it. I told myself i would do it and right as I decided that my dad got back with the groceries. I told him to just go home and I would walk home ( honestly due to him not making fun of me if I got rejected ) and I went to go walk into the store to ask her for her number and as I did she walked out and I walked up to her like a creepy stalker ( not on purpose ) and asked her for her number. She actually gave it to me without hesitation I was shocked and surprised. Knowing what I know now it was pure and utter fate that brought us together I had never done anything like that and knowing her as I do now she would never give some random stranger her number like that. We were together 4 years 6 months when she passed. We had just got engaged last June and we were waiting till she got out of vet school to get married and I am so thankful I got to propose to her when I did it will live with me forever. Autumn has made such a positive impact on my life in the 1/4 of my life I have been with her and for the rest of my dash I will honor her name and tell her stories to the world. 

From Her Older Brother:
 I don't have words to describe the pain I am feeling now. I've been putting off writing this because I don't know if I can find the words to describe how utterly amazing my sister was. She lost her life rushing to help the occupants of a rollover accident where she was struck by a box truck. Autumn was an extremely devoted student as KSU where she excelled in her studies. Not only did she excell, but she was also involved in various programs and councils while still working a job! She stayed so busy she often didn't have time to eat, let alone go shopping for food. She loved helping others in anyway she could, and would give the shirt off her back if it meant that she got to help someone. When I was in need, she did not hesitate to step in a lend a hand. She also loved driving her Jeep, hiking, and watching the sunset. She was always a beautiful ray of light whenever you walked into the room with her. She was always joyful, excited, and genuinely happy to hear about what's going on in your life. She put a high price on quality family time and lived each day as if it was her last. She had more accomplishments in her 21 years than most people have in their entire life. As a way to honor her and help her achieve her dream of helping animals in need, we are organizing a go fund me to help fund a memorial scholarship for Autumn, and also a fund that will help to pay vet bills for those who otherwise couldn't afford it and would have to put their beloved pets down. Even though she is no longer with us, she will still continue to impact the lives of her peers and make a positive change in the community. Please help us to help her make an impact in the lives of others by donating what you can, and sharing her story, and go fund me page. Thank you all for your amazing support. 
Autumn, you are loved more than you will ever know. I miss you more than words can describe, but you will always live forever in our hearts and memories. Now you will be able to continue to forever make an impact  in the community. I love you so much little AJ.
-love,
Your favorite older brother, Big AJ.



From Her Younger Brother:
Autumn Johnson was the best sister I could ever ask for. One of her many traits that I admire is being an excellent role model. She was the hardest working person I have ever meant. She had no stop on her. When you surround yourself with people like Autumn you too become hard working. Autumn was a major influence on so many people including. She inspired us to work harder than we normally would and it is for that reason I attribute part of my success to her, and my family who have always supported me. On of my many favorite memories with Autumn was a thing we called creek squad. Me, Autumn, and a friend named Nick always hung around the creek in our back yard. We'd go down there on hot days to cool off and float down the creek in our inner tubes and play numerous games. We took our bikes through the creek one time. I'd like to take this time to be grateful I had 18 years with the most talented person on earth. God bless her and keep her safe up there. 
.
Organizador
Alexander Johnson
Organizador
Manhattan, KS