Hello there! As many of you may know , my name is Alanna, and on November 30th, 2017... I lost my partner in a tragic motorcycle accident, and then a month later lost my mother after a long battle with cancer...
I just wanted to take this time to thank you for all of the love and support I have received over the past several weeks.
Many of you have reached out asking if there was any way you could help and hence why I created this page.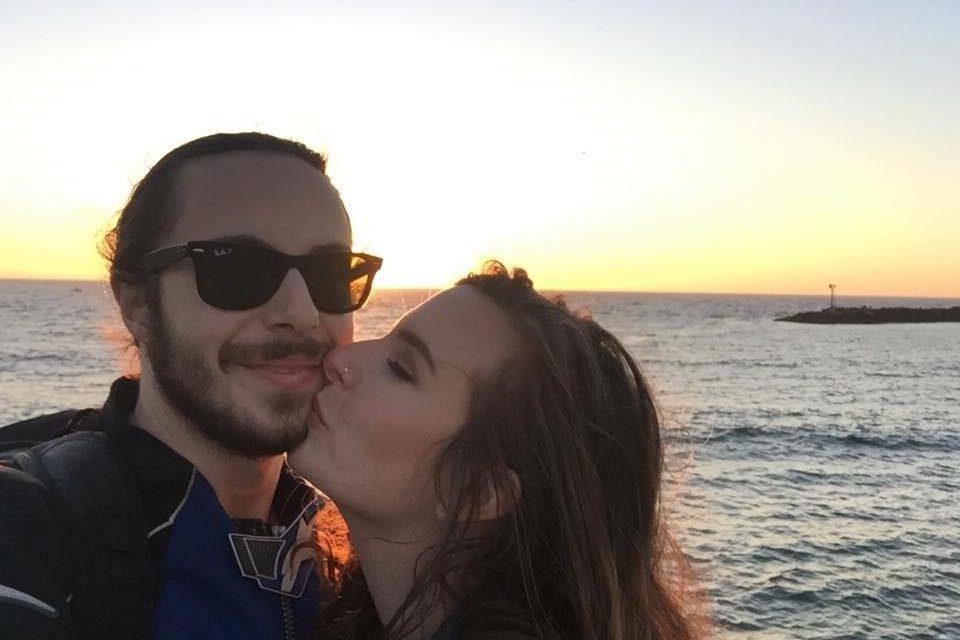 The Backstory:
Up until about 2 months ago I was living in Los Angeles with the love of my life, Christian. We had a great life together on our own, living the dream, with our two dogs Cooper, and Ava. He was my best friend... the greatest person I have ever known. He filled me with so much love and happiness every day.
The week before his death I received a phone call from my mother, and the hospice social worker assigned to her case. I was informed that she only had a few weeks to live. The cancer had progressed, and it wouldn't be long until her body began to shut down...
 My mother had Metastatic Salivary Gland Carcinoma. A very rare form of cancer she had been fighting for a few years. It had left her deformed from an operation to remove the tumor in her face which ultimately ended up causing the cancer cells to spread to the brain stem, and lungs.  She eventually became too weak for the chemo and radiation months prior to that phone call and we all knew it was just a matter of time.
https://www.cancer.gov/types/head-and-neck/patient/adult/salivary-gland-treatment-pdq
Hearing this news made me very upset... even though I knew it was coming. Christian took off that whole day from work to be there for me because that was just the person he was. I knew that because I had him... I would be ok and I would survive losing my mother, my other best friend and most important person to me in the universe, other than him. 
I wanted to be there for my mother in her final weeks of life because I had missed out on the past few years with her while living my own life across the country with Christian. Christian understood this and I kissed him goodbye the morning of November 28th and took an uber to LAX airport. I didn't know that that morning would be the last time I would ever kiss him, or be with him when he was alive ever again.
Christian left work at Del Amo Motorsports on November 30th at around 2 pm to go home for lunch, and at around 2:05, a woman in a small black car would pull out into the intersection last minute in front of him and he had no time to stop. He smashed into her passenger rear door and died immediately.
I was the first person to find out because I had not heard from him for a few hours and decided to use 'Find My Iphone' to locate him and see if he fell asleep at home or something. It turns out he was asleep but not the temporary kind... his phone showed up at the Los Angeles County Coroners Office. 
After calling around frantically for hours trying to get an answer ... sure enough I finally get a call from the coroner confirming his death to me and asking me the information of other family members for him to contact. I immediately tried calling his dad again who I had been trying to reach all this time, and this time... he answered...
I had to tell him in the most gentle way possible... that his son was no longer with us... and that was one of the hardest things I have ever had to say.
I spent the next month in Chicago where Christians parents live planning and attending his services and mourning this immeasurable loss while being surrounded by family and friends. This helped me very much... But eventually it was time to go back and face the second half of my burdens... watching my mother slowly die of cancer. 
My mother passed away on January 16th, 2018 as I held her hand, and watched all the color leave her body, and her lungs pull desperately in those final breaths, till ultimately, she let go, and was with God and Christian... 
I feel blessed to have been there holding her and coaching her to go on and telling her that "it will all be ok", and letting her know she was infinitely loved, and that we would always be together...
If you are able to handle that... I think it isthe greatest gift from God to be there with your loved ones as they take their last breath... especially your mother ... who was there when you took your first.
--
While losing Christian, and my mother in such a small amount of time, has been unfathomably devastating... I know that I need to start rebuilding my life. In the coming weeks and months, I am planning to move back out on my own to the west coast (Portland, Oregon) where my heart truly belongs right now, and focus on building my life over again and continuing to build my business up. 
I have big plans for the future, but I do need some help making them a reality...
Flying to Portland, one way will be around $200
Rent for one room in a shared house will be around $700 a month
Food/other around $200 a month
While I do have a job and make money from advertisements on my business page...I lost a lot of money being inactive while all this was going on. I need to build back up my customer and client base. So its going to take me a little bit to get back to where I was...
Why Portland?
It is Progressive, Vegan Friendly, Dog Friendly, and best of all affordable! I see myself living down town and being able to immerse myself in the community this way and create friends and go to groups and yoga as well as bringing my pups to the many dog parks throughout the city.
I also have goals I would like to achieve by the end of the year...
1) Finishing the book I am writing and get it published.
2) Get  'Peace Love Vibes' website up and running.
I am in the process of writing a book about my life and in more detail on everything that has happened to me. I deeply feel this divine purpose to get my story out there, and share it with other people going through loss, and who have had tough times. People who struggle with depression, and anxiety and have a hard time seeing their worth, and the worth of their lives on this planet.  I want them to know that... no matter what happens... as long as you are still alive... there will continue to be a light ... a reason to go on... a greater purpose that immerges from your suffering if you allow yourself to see it.
I am new to all of this but I know I will need some amount of funds and contacts to help me get this project out on the market...
I am also creating content for a website for my brand and business 'PeaceLoveVibes'
Check out my business page at:
www.instagram.com/peacelovevibes
My plan for the website is it will have a blog, a store (where you can buy crystals, and Peace Love Vibes Tee's, other cool products), self help section with articles, tips and tricks on living an organic, ethical, vegan lifestyle as well as many other topics like 'getting through grief and loss'. Also an email list to keep people involved. 
When it comes to donations:
I appreciate anything that you may be able to give to this fund.
No amount is too small....It all adds up and can help me at least establish a foundation to start over and move forward in my life.
If you can't donate money you can help by sharing my story with your friends and family. They may want to follow my journey in the next few months, and feel pulled to my Instagram and website for their own spiritual or emotional healing. 
If you have people you want to connect me with or you yourself would like to help or share your story with me feel free to email me at [email redacted]
If you are able to donate over $20 please email me your address as I would like to mail you a "Look Twice, Save a Life" sticker in Christian's honor. 
If you elect not to contribute, please be rest assured that your kind words have been a huge part of my healing and that I sincerely value you just being there for me. I love you all and thank you for taking the time to hear my story and plans. 

Alanna
Organizer