Vermont Reptile and Amphibian Atlas Fundraiser '20
Since the mid 1990s, the Vermont Reptile and Amphibian (Herp) Atlas has been gathering and disseminating information on Vermont's frogs, salamanders, turtles, snakes, and lizards. Our efforts have resulted in a multitude of conservation actions by landowners, organizations, and state agencies. We depend on a significant amount of volunteer effort, but the Herp Atlas also requires some money. Last year we initiated our first-ever fundraising effort that we thought would be a one-time event.  We've made a lot of progress on the projects funded by last year's fundraiser, but federal funds remain low (one of our sources of federal funds has dropped from $20,000 in 2015 to $8,500 in 2019), and we find that
we need the help of our supporters again to complete the conversion of our early prints, slides, and paper reports to an electronic form that will be easily available for future generations
.  Your funding will also help support special projects of adding and checking latitude and longitude coordinates for all records in our database, as well as our regular
award-winning efforts 
collecting data and responding to daily requests for information on the identification, conservation, natural history, and management of Vermont's reptiles and amphibians.    
Although we don't have a new video for you this year, we've included last year's video here for your viewing pleasure.  
The Vermont Reptile and Amphibian Atlas is the primary repository for reptile and amphibian records from Vermont. Our data have been used for almost all recent publications covering this area and we provide records of rarities to Vermont Fish and Wildlife's Nongame and Natural Heritage Program annually.  We currently have over 109,000 records in our database.  These days voucher specimens come in the form of digital photographs that can be kept in container fields in the database.  However, we had an archive of 5,000-10,000 slides, hundreds of old photos, and tens of thousands (140 large 3-ring binders) of original hard-copy reports that needed to be scanned, labelled, and embedded within our database records so that all materials would be electronic and easily transferable to future formats.  The oldest record we have with an actual date from Vermont is 1678, though we have some archaeological reports that are earlier but without exact dates.  Of course, most reports are much more recent, and we continue to gather new reports.  We want all these data and the original reports and vouchers to be available in perpetuity. 
In 2019, thanks to your support, we began working with SecurShred in South Burlington, Vermont to scan and label all the hardcopy-originals of herp reports.  During 2019 we scanned and labeled 34,986 reports.  We have now completed scanning original reports for 28 of our 40 native species, seven hypothetical species, and all crossing and nesting areas.  These scans are now referenced in the original reports.  We hope this fundraising campaign will raise funds to scan the remaining reports and hopefully start scanning old slide documentation. We expect the archiving effort to take two more years and additional funds.
All of our new records are entered into our database with latitude and longitude coordinates for point mapping.  New smart-phone photos show us almost exactly where the photos came from.  This was not always the case.  Older records most often came with physical descriptions of roads or landmarks describing the location.  We have hired a person to work one day per week during the non-field season assigning coordinates to reports that did not have them and checking the accuracy of coordinates for those that did.  We also had the help of four UVM students as part of a public outreach course. So far we have successfully assigned latitude and longitude coordinates to 17,535 of our 19,005 reports of rare (S1-S3) species and we have begun assigning coordinates to older records of more common species as well.  
Finally, we collected and entered some interesting new records this year, including a report of a 
Spiny Softshell
 near the mouth of the Winooski River. This species hasn't been reported there for decades, and may indicate that Spiny Softshells are moving back into that river. We also received a report of an
Eastern Box Turtle
 in Brookline, which (in conjunction with prior reports in this area) may indicate that this is actually a native species in Vermont (as opposed to a hypothetical species).  
The
Vermont Reptile and Amphibian Atlas
 was initiated by the Reptile and Amphibian Scientific Advisory Group for the Vermont Endangered Species Committee (ESC). Data were needed in order to make informed recommendations to the ESC regarding the appropriate status and conservation of these species. Since then, our goals have widened to incorporate education, citizen involvement, and dissemination of information. Specifically, we are working to:
·   fill in the many gaps in our knowledge of the distribution, abundance, and natural history of the herptiles of Vermont, 
·   inform and involve Vermonters so that they can become better stewards of reptiles and amphibians and their habitat, 
·   determine what herptile species are most in need of conservation action, and 
·   promote the necessary actions to conserve not only reptiles and amphibians but also the healthy working ecosystems that support all life here in Vermont.
The Atlas has grown to involve over 7,000 volunteers and thirty-five private organizations and government agencies. With the help of these groups, staff members, and our
media contacts
, we are continuing to collect and disseminate information and broaden our knowledge base regarding the natural history, distribution, and effective conservation of Vermont's reptiles and amphibians. By providing the best and most up-to-date information on the conservation of these species in Vermont, we have become a trusted party in many conservation activities throughout the state.
Click here
 to listen to one of Jim Andrews' interviews on VPR's Vermont Edition.
The map of the common and widespread American Toad (left) shows that we now have documentation for this species from every town in Vermont. See the
time lapse video
 of our progress filling in the gaps in American Toad distribution over time. The map of the more unusual Four-toed Salamander (right) shows that we still have significant gaps in our knowledge of its distribution that need further field work and reporting to fill in. We hope to eventually get to the point where we can provide any town with a complete list of the reptiles and amphibians found within their town boundaries, particularly those species in need of local conservation action.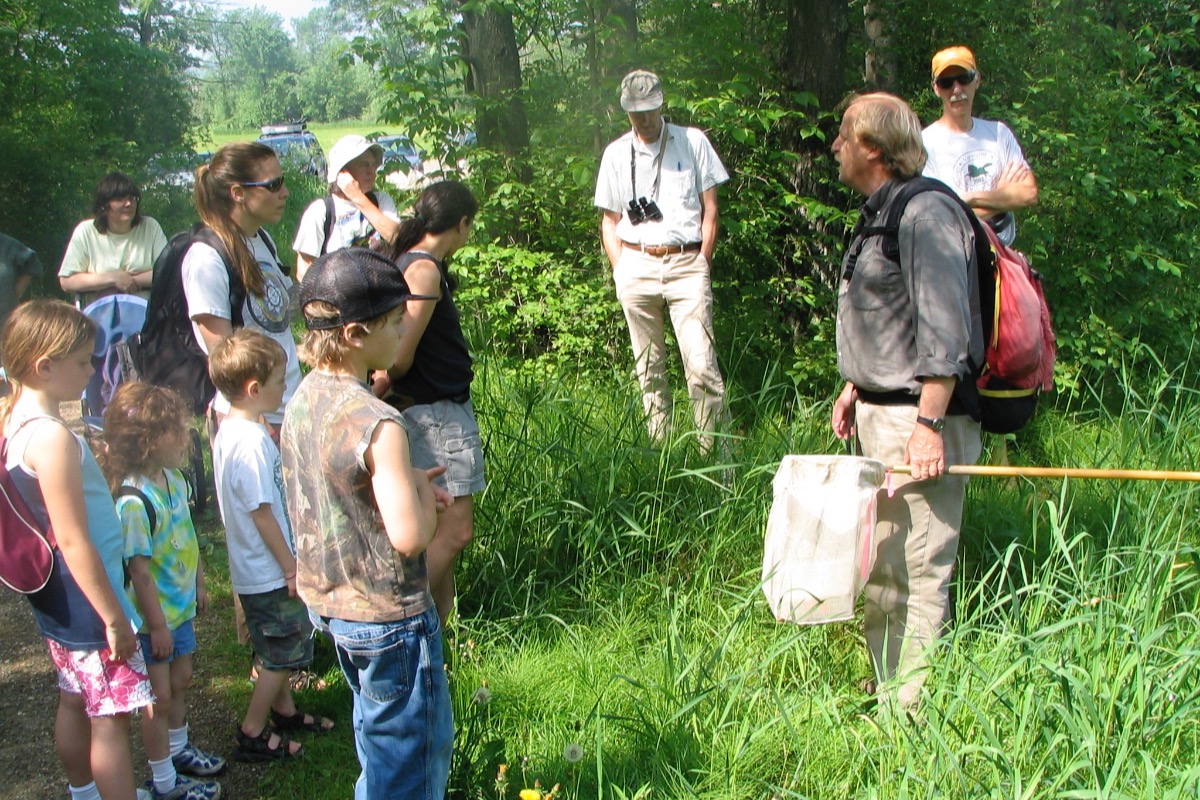 The Herp Atlas Coordinator, Jim Andrews, leads a field trip. We regularly teach classes and workshops, give presentations, and lead field trips around Vermont. See the incentives below for an opportunity to win a private herping trip!  
We work on herp conservation projects with a variety of partners. An example of one of these projects is this completed amphibian underpass at an important amphibian road crossing site, where amphibians must move from overwintering habitat on the upland hillside to breeding habitat in the swamp, and back again. This project, first identified with Atlas data and designed with Jim Andrews' technical expertise, has received federal awards and recognition, and has helped
thousands of amphibians
 safely cross the road.  
Painted Turtles are one of Vermont's most common turtle species. We regularly provide information on the distribution, abundance, natural history, and conservation of Vermont's turtle species.
The American Bullfrog is one of our more common frog species, but there still remain gaps in our knowledge of its distribution within Vermont. Take a look at the recently updated
species accounts and maps
  on our website to learn more about Vermont's amphibian and reptile species. 
In recognition of and in thanks for your contribution, we have some unique incentives that you may be interested in. They are listed below. We hope you will consider a generous donation to help support both our ongoing work and our two new projects to convert our documents to an electronic form and assign latitude and longitude coordinates to older records in the database.
Donations through this GoFundMe site are not tax deductible.  If you would prefer to make a significant tax-deductible donation, you may donate off line by check.  For donations of $100 or less, our lives will be much easier if you use this site, or send a check payable to Jim Andrews.  If you prefer to make a larger donation to a 501c3 nonprofit, you can write the check to Vermont Family Forests Foundation Inc. but send it to Jim Andrews at 642 Smead Road, Salisbury, VT  05769.
In order for you to receive our incentives, we will need to ask for your contact information when we thank you. $50-$99  
Herp Atlas Bumper Sticker


$100-$199  
Herp Atlas Bumper Sticker and
Herp Atlas Magnet for Car or Refrigerator
$200-$499
Herp Atlas Bumper Sticker and Herp Atlas Magnet for Car or Refrigerator
Name entered into drawing for a private herping field trip*
$500 to $4,999
Herp Atlas Bumper Sticker and Herp Atlas Magnet for Car or Refrigerator
Name entered into drawing for a private herping field trip*
Vermont Herp Atlas Hat
$5,000 and up
Herp Atlas Bumper Sticker and Herp Atlas Magnet for Car or Refrigerator
Vermont Herp Atlas Hat
Private Vermont Herptile Slide Show & Field Trip*
*For donor and friends or family (up to 15) in Vermont, date and location (June through September, 2020) mutually agreed upon.  Biggy Iggys and Chewy Louies provided.
Please keep your
reports
 of reptiles & amphibians in Vermont coming, and visit our website (
vtherpatlas.org
) or
Facebook page
 for more information about our work.
The bumper sticker (left) and car/refrigerator magnet (right) are shown below, along with hat options (child's hat in center, adult hats on right and left).
Organizer
Jim Andrews
Organizer
Salisbury, VT