Help little Gioia against cancer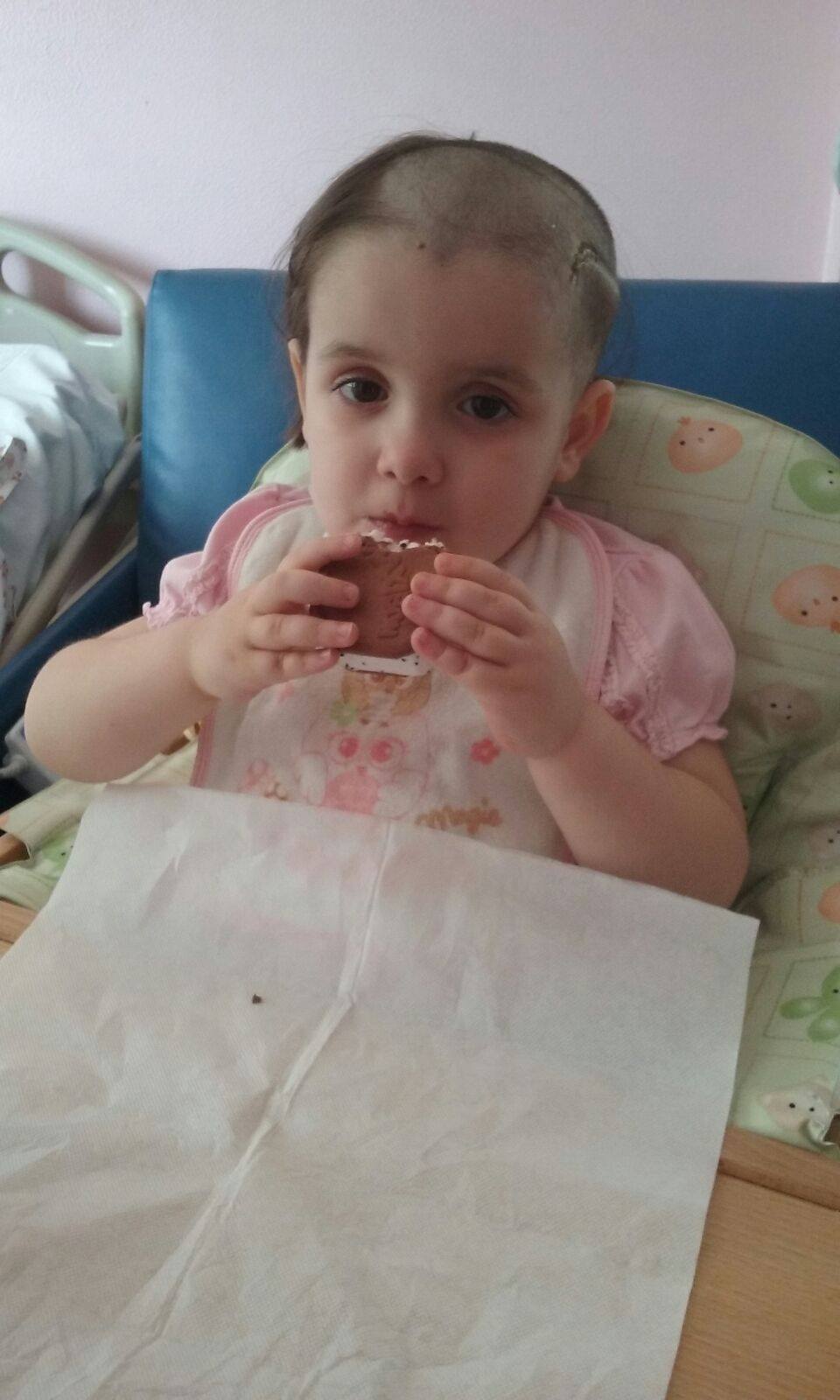 ENGLISH
Hi everyone,
This campain is dedicated to help our little Gioia. I leave the word to her family who wrote this letter :
---------------------------------------------------------------------
Gioia was born in Segrate (Mi) on the 3rd April 2013.
She has always been a very sweet, sensible and calm child. We could never imagine that at the age of three years we would have to face this horrible situation.
On the 20th May 2016, after an epileptic crisis a brain TC examination documented a massive expansive encephalic lesion with hydrocephalus. On the same day a MRI with contrast medium confirmed the presence of this lesion with the involvement of both the thalami and brainstem.
So, she began a steroid and antiepileptic therapy. On the 23rd May she underwent a neurosurgery of ventriculo- peritoneal derivation and biopsy of the expansive lesion. At the end of the surgery Gioia was transferred to a Department of Intensive Care. In the following days the general conditions of the child were good.
HISTOLOGICAL REPORT: glioblastoma of IV grade localized on the midline brain, that practically means, a malignant brain tumor. The prognosis was defined poor and offered limited opportunities of complete healing. A chance of recovery was estimated at 2% with life expectations from five to eighteen months. The expansive lesion was defined as surgically unresectable due to its aggressiveness and its location.
The therapeutic protocol provides chemotherapy (CT) with the combined use of two drugs (vinorelbina + nimotuzumab) and the radiotherapy (RT), which, at this moment, represents the most effective instrument to slowdown the evolution of the glioblastoma.
The therapeutic protocol provides the administration of the above mentioned drugs once a week, for twelve consecutive times and at the same time six weeks of RT.
The chemotherapic drugs , according with the therapeutic protocol, being administered intravenously, acts on a systematic level (with known side effects) and only a minimal percentage reaches the expansive lesion.
The established date for the end of this treatment is the first of September. After a few days, another MRI of control, will be performed to verify the condition of the expansive lesion: if it increases the therapy will be considered ineffective; if the expansive lesion is the same or inferior the chemotherapy will be continued for other six times with two weeks intervals.
According to the Italian protocol, if the expansive lesion remains the same the therapy will be continued for other six times with two weeks interval until another MRI control would be done. At this point the therapy will be considered finished.
Considering the dramatic conditions of our child, we as parents, cannot wait without exploring all the possibilities of understanding everything regarding this form of cancer which is so aggressive and rare.
We have contacted a prestigious European Oncology Institute which has suggested more radiological insights in order to identify the most appropriate therapy to treat this type of pathology.
After a series of researchers we have sent the clinical documentation of Gioia to centers of worldwide excellence which have not modified the dramatic italian prognosis of this cancer but could give us some more hope of being able to pass more time as possible with our child.
There would be the possibility of a surgery which could be carried out only in the case of a reduction of the dimension of the expansive lesion after a CT + RT treatment. This attempt could also consider two surgeries: the first could be performed in Italy and would consist in the removal of the major part of the tumor and the second ,to be done abroad, would consist in the localized application of the chemotherapy drug on the expansive lesion with minimal systemic repercussion
and able to modify life expectations of the little Gioia.
Of course, before considering of contacting Medical Institutes abroad, we will evaluate this possibility with Italian Neurosurgeons. We are actually asking for new insights to facilities that are treating Gioia.
For these reasons we need to create a no profit association called "W e are all with Gioia" with the
objective of collecting funds to support the family in this very difficult attempt of saving Gioia while waiting the results of the RT.
This situation leads us to involve the whole community to support us both morally and economically in this journey which we hope will lead us to the victory.
In case of negative results , the collected funds will be evolved to the research for the childhood brain tumors.
We hope that we have cleared all your doubts . WE ARE ALL WITH YOU GIOIA!
----------------------------------------------------------------------
Unfortunately at the moment is not possible for us to estimate exact costs, because everything depends on how the situation evolves and where the surgeries are going to be taking place. For this reason the total cost we are providing right now considers the worst and most expensive scenario. If, at the end of the process, we receive more money than actually needed, the surplus will be fully donated to the Children Brain Tumor Research. We are running out of time. We can only share this date with you - September 19th. This is the day when Gioia will have her diagnostic exams. In case the result is positive, we will have to immediately proceed with the first surgery.
Please help Gioia. Help her to get the best medical treatments. She deserves it.
Thank you very much from the bottom of our hears.
ITALIANO
Ciao a tutti,
questa campagna è stata realizzata per aiutare la piccola Gioia. Lascio subito la parola alla famiglia, che ha scritto questa lettera:
----------------------------------------------------------------------
"Gioia è nata a Segrate (Mi) il 03/04/2013.
E' sempre stata una bambina molto dolce, sensibile e serena; nulla poteva lasciarci immaginare che,a soli 3 anni, la vita avesse in serbo per lei e per noi genitori, questo tremendo calvario.
Il 20 maggio del 2016, in seguito ad una crisi di verosimile natura epilettica, una TAC al cervello
evidenziava una voluminosa lesione espansiva encefalica con quadro di idrocefalo.
Nella stessa data veniva eseguita anche una RMN encefalo con mezzo di contrasto che confermava
la presenza della nota lesione espansiva coinvolgente entrambi i talami e la porzione posteriore di ponte e mesencefalo. Veniva, pertanto, impostata terapia steroidea ed antiepilettica.
In data 23/05/2016 per il suddetto quadro di idrocefalo si procedeva con intervento di derivazione ventricolo peritoneale e biopsia della lesione. Nel post-operatorio la bimba presentava delle buone
condizioni cliniche generali.
Il REFERTO ISTOLOGICO documentava la presenza di un glioma diffuso della linea mediana di grado IV, che tradotto in termini semplici significa tumore maligno al cervello. Prognosi infausta.
Considerato inoperabile per aggressività e localizzazione, veniva stimata una probabilità di guarigione pari al 2% con tempi di sopravvivenza dai 5 ai 18 mesi.
Il protocollo terapeutico proposto in Italia prevede un trattamento chemioterapico (CT) con l'uso combinato di 2 farmaci (vinorelbina + nimotuzumab) 1 volta alla settimana (complessivamente per 12 volte consecutive) in associazione ad un ciclo di radioterapia (che al momento risulta l'arma più efficace per rallentare l'evolversi della malattia) della durata di 6 settimane consecutive. Il farmaco chemioterapico, come da protocollo, essendo somministrato per via endovenosa agisce a livello sistemico (con noti effetti collaterali) e solo una minima percentuale di esso raggiunge la nota
lesione espansiva.
Il termine del primo ciclo del protocollo terapeutico è previsto per il prossimo 1 Settembre. Dopo qualche giorno verrà eseguita una RMN encefalo di controllo per valutare la risposta della nota lesione al trattamento utilizzato.
In caso di incremento delle dimensioni della lesione la terapia sarà considerata inefficace.
Nel caso di stazionarietà o riduzione delle dimensioni la chemioterapia verrà continuata per altre 6 volte ad intervalli bisettimanali. A seguito di una nuova risonanza, se il tumore continuerà a non crescere, la terapia verrà nuovamente continuata per 6 volte ad intervalli bisettimanali, finché non verrà eseguito un nuovo controllo mediante risonanza magnetica. A questo punto la terapia prevista sarà terminata.
Gli scenari che potrebbero presentarsi sarebbero di natura più o meno sfavorevole, per tale motivo noi genitori abbiamo deciso di non restare fermi a guardare e ad aspettare di essere travolti dagli eventi. Ben consapevoli della serietà della situazione clinica della nostra bambina, ci siamo da subito attivati per captare più informazioni possibili su questa malattia tanto aggressiva quanto rara.
Col sostegno e l'approvazione delle rispettive famiglie e degli amici, abbiamo inoltrato la documentazione di Gioia presso strutture d'eccellenza a livello mondiale, che non hanno ribaltato la drammatica sentenza italiana, ma potrebbero offrirci qualche possibilità in più di godere di nostra figlia per un tempo maggiore. Ci sarebbe la possibilità di un intervento chirurgico eseguibile solo in caso di riduzione delle dimensioni della massa espansiva in seguito al trattamento combinato di CT+ RT. Tale approccio potrebbe anche prevedere due interventi chirurgici: il primo, che potrebbe anche essere effettuato in Italia, consisterebbe nell'asportazione di gran parte della lesione espansiva ed il secondo, più probabilmente all'estero, nell'applicazione di un trattamento
chemioterapico mirato e localizzato sulla massa con minime ripercussioni sistemiche in grado di modificare le aspettative di vita della piccola Gioia.
Naturalmente, prima di rivolgerci nuovamente all'estero, rivaluteremo questa possibilità con i
neurochirurghi italiani.
Proprio in questi giorni abbiamo richiesto tali approfondimenti presso le strutture che seguono Gioia.
Per questi motivi nasce l'idea di creare un'associazione no profit intitolata "Tutti per Gioia", allo scopo di rendere concreti questi che per il momento rimangono consulti, in attesa del termine della radioterapia, che decreterà quale sia la scelta più giusta da fare per la nostra perla preziosa.
Purtroppo tali scenari ci costringono a coinvolgere la comunità intera, per supportarci moralmente
ed economicamente in questo che speriamo sia un lungo viaggio, che alla meta ci vedrà vincitori!
Nell'ipotesi più infausta e speriamo remota, le donazioni raccolte verranno interamente devolute alla ricerca per i tumori cerebrali infantili.
Ci auguriamo di aver chiarito ogni dubbio, nel caso ce ne fosse qualcuno, e FORZA.. TUTTI PER GIOIA!"
---------------------------------------------------------------------
Purtroppo ad ora non è possibile avere dei costi certi, perchè molto dipende dall'evolversi della situazione e dove verranno effettuati gli interventi. Per questo motivo la cifra indicata riguarda lo scenario più dispendioso. Nel caso si raccogliessero più soldi di quelli che poi saranno usati, tutto ciò che avanza andrà devoluto alla ricerca contro i tumori celebrali infantili.
Il tempo è poco. Abbiamo una data, il 19 settembre, giorno in cui verrà effettuato l'esame diagnostico. Se dovesse dare riscontro positivo, si dovrà intervenire subito con il primo intervento.
Aiutate Gioia per favore. Aiutatela ad avere le migliori cure possibili. Se lo merita.
Grazie di cuore.
www.tuttipergioia.com


https://m.facebook.com/tuttipergioia/?locale2=it_IT