Hello Friends and Family!
Please take a second to read this story.


I'm writing this campaign for my nephew, who celebrated his first birthday in December of 2016! Not everyone knows this story, or its history, so allow me to backtrack so everyone understands. 
My sister Crystal  married the love of her life, Jerrold, in September of 2002. They began planning their family, and within the first year of their marriage, Crystal found out she was expecting. They were both thrilled, and the rest of the family was as well.
All of my life growing up, I've watched my older sister, babysitting or working in childrens church, or teaching at the preschool she works in and the pure passion and love she has for children is evident to all. She's wanted nothing more than to be a mother, and have a house full of kids, for as long as I've known her.
Unfortunately, due to a miscarriage, she lost her first child, which was a huge blow to her and Jerrold...and the entire family.
Of course God had a plan though, and in November of 2004, their family welcomed Maggie Leeann  and the world was never the same!
To say that Crystal and Jerrold are "good parents", is an understatment to say the least. They have raised Maggie in such a beautiful way, allowing her wonderful, loving, charming, Christian, spunky, sassy, hilarious attitude to shine in the best ways possible. They've taught her to be kind and courteous, sincere and loving, understanding and tender, and most of all have given her access to a wonderful relationship with God. From the time Maggie learned to talk, she knew how to pray. And every prayer always had one thing in common:
"Please Dear God....let mommy and daddy have another baby."
While some kids want all the attention and perks of being a single child, Maggie wanted nothing more than to be a big sister. She prayed fervently, and my sister went through many more miscarriages. As hard as it was to go through the pain of losing children, my brother and sister never gave up faith and continued to love Maggie with all their heart. 
10 years later, at age 40, Crystal found out she was pregnant.
Here was the video of them telling Maggie.....
She prayed everyday of her moms pregnancy that, she would have a little sister, but much to her chagrin, she got a brother. 
In December of 2015, J. Micheal Tucker was born, and Aunt Cassie...(me)....used the entire hospitals supply of kleenexs. 
He was so beautifully handsome, that we all fell even deeper in love with him than we thought we could. And even Maggie, who had wanted a sister BAD, couldn't resist Tuckers sweet charm. She instantly became one of the best big sisters I've ever seen.
I destinctly remember that Christmas morning, when Tucker was only a few days old, and Maggie insisted that SHE feed him a bottle before opening even one of her Christmas gifts. What 11 year old is willing to hold off Christmas morning, just to feed their baby brother?? 
It's been an amazing year and God couldn't have given our family a sweeter little feller. He's already got his sister's sass and spunk, and beautiful smile too!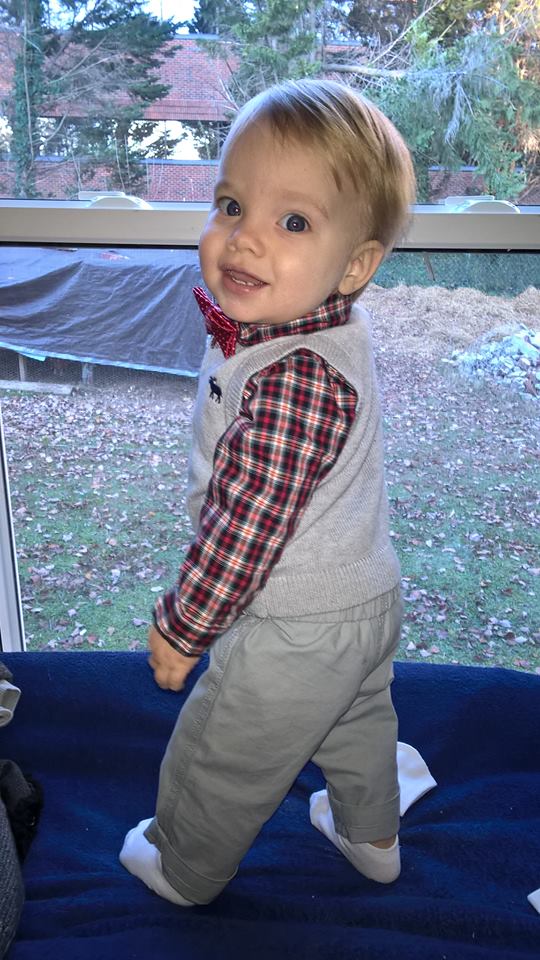 My sister almost died while giving birth to Maggie, and the Tucker's birth had a couple hitches too, but thankfully my sister came out of it just fine, although sore. While Maggie had prayed every day of the pregnancy for a little sister, I, and many others, prayed everyday for a safe birth for mother and baby....and we all thanked God when he gave us just that. 
So now it's been a year, and the little Feller has grown so much! He's smart and funny, and has the cutest little walk. He's pretty much the family celebrity. 
On his first birthday, my sister and brother came down to spend Christmas with the rest of the family in Florida. We threw a big party for our little miracle, and his best buddy Caleb. They had cake and presents galore. While Tucker was walking around, excited and giggling, he suddenly staggered, tripped, and stopped breathing. 
He wasn't the only one.
His parents picked him up and tried to wake him, patting his back, checking his airway, and gently shaking him. Through the help of his parents and grandparents, he started breathing again, and woke up.
Sometime later that day, his parents started breathing again too. 
It was very unusual considering he wasnt choking on anything, nor did he hit his head when falling, so we loaded up and took him to a hospital in Dayonta, that had a childrens ICU. 
9 and a 1/2 hours later.....Tucker was diagnosed with Holding Breath Syndrome. Otherwise known as "Breath Holding Spells". Haven't heard of it? Neither had we. Basically,  Breath-holding spells are a neurological disorder, where young children stop breathing for up to 1 minute or longer in Tucker's case. These spells often cause a child to pass out (lose consciousness). Breath-holding spells usually occur when a young child is angry, frustrated, in pain, afraid, or even excited. But the spell is a reflex, and completely involuntary on the childs part.
While we were all thrilled and relieved to find out that it wasn't anything more serious, we were also concerned with what exactly that meant. The Dr. said it wasn't necessarily fatal, but if they weren't careful it could potentially be life threatening. 
Since his first birthday, in December of 2016, Tucker has had 15 of these spells, and the last one was one of the scariest. 
His father Jerrold had laid him in his crib, and left the room, but came back when something didn't feel quite right. He saw Tucker in the corner of his crib, slouched over into a ball and not breathing. Jerrold quickly done what they've had to do 10 previous times, straightening Tucker out and providing passage for his airway. Thankfully he began breathing again.
Jerrold and Crystal have to monitor him 24/7, constantly checking to make sure he hasn't lost consciousness. There's nothing that can be done to treat it, and prayerfully he will out grow it in several years time.
This is where you come in.
In doing our research, we've found out that we can get a trained service dog for Tucker, that will alert his parents the second he stops breathing. This would give him the freedom to play on his own, sleep on his own, and give Jerrold and Crystal a peace of mind they don't have right now. 
However one of these animals are anywhere from $17,000 to $20,000.
Anything you could donate to help towards this cause would be immeasurably appreciated by every family member. If you can't give money right now, we totally understand, but please, please share this and spread the word. There is nothing more terrifying than to see him not breathing, or to see his lips turn blue, and to know this could happen at any time. This is incredibly important and crucial for his life and well being, as well as the rest of the family's. 
Donate a dollar, or share this with friends, but either way please keep this in your prayers.
God has worked so many miracles in Jerrold and Crystal's life by bringing them Maggie and Tucker, and I have fully put my faith in Him to help us reach this goal. 
We love all of you and thank you for taking the time to read this and help in whatever way you can. 
God Bless!