True Sanctuary for the Homeless
SCROLL DOWN TO  "Updates" FOR THE MOST RECENT NEWS!

Imagine never knowing where you were going to sleep at night or where your next meal would come from ... and not being able to take a shower and wash your clothes for weeks at a time. How would you look? How would you smell? How would you feel?

 A safe, private place to rest, regular meals, personal hygiene, and a sense of purpose is so essential for personal dignity. But these are missing from the lives of the homeless because they lack homes, kitchens, access to showers, clean clothes, and personal hygiene items. The result? Daily frustration, shame, and hopelessness!

I am a member of Fort Collins Mennonite Fellowship (also known as "FCMF") in Fort Collins, CO. Our church averages about 40 active members, but we have a BIG heart when it comes to serving the homeless. That's why we opened our church to house, clothe, and feed the homeless -- and thus, became a "Homeless Sanctuary."

 I know with all my heart that God brought the homeless to our church for a reason. I have learned so much about people's lives. In listening to their stories, I now understand that anyone could become homeless through an act of fate or family problems: a medical emergency, the loss of a job, car, family member, or relationship, as well as addiction problems or domestic violence. It doesn't take much!

 As our Pastor, Steve Ramer says, "I believe our church building, a place of worship, has finally become a true sanctuary, a place made Holy by those who come in, off the streets, and grace us with their presence."

The homeless eat, sleep, and mingle in our FCMF building. Our church sanctuary has become an oasis of welcome, comfort, and safety to our homeless community. We need your financial help to raise $10,000 to keep the lights on, hot water running, and food and clothing available to those we serve.

Just click the DONATE NOW button to donate. For more details,  keep reading. These are the topics we cover in the rest of our story:
- Our Church is a True Sanctuary
- We are so Much More than Brick and Mortar
- Our Financial Needs
- How to Donate
- A Little More History

OUR CHURCH IS A TRUE SANCTUARY
When COVID-19 hit, we knew we had to shut the church for in-person services, start up outdoor church services, and stop the indoor meals. But we did not want to leave the building standing empty, 7 days a week – and we certainly did not want to stop helping the homeless. 


Summer 2020 Outdoor Services - All Are Welcome

We approached some of the most vulnerable homeless individuals we knew and invited them to live in our church. Since March 2020, we have provided ongoing housing for at-risk persons in our church. 

During the summer of 2020, those living in the church served breakfast and lunch daily outdoors to the greater homeless community. They set up a handwashing station and cleaned and maintained the interior of the church building. They also did all the gardening and landscaping. And they managed the 20 large-size, outdoor lockers that provide a safe, dry place for other homeless individuals to store their belongings.


Handwashing Station and Outdoor Lockers for All 

Over time, some of these individuals left, some stayed, and others came on board. But then, summer turned to fall, and fall turned to winter. The weather got colder, snow fell, and those who stayed continued to maintain the church and provide services to the larger homeless community.

As of April 2021, we have 7 homeless residents living in our church and managing the building. Nearly every day, these wonderful people open the church doors to many other homeless individuals in the community so they can take hot showers, wash their clothes, and grab a snack. Our church also offers free personal hygiene items and warm clothing. Best of all, we provide a warm, welcoming presence for those without shelter. 

Our sanctuary also serves as a place where the homeless can get information about services available to them. We help people navigate the justice system, social services, and the medical system. We also transport people to and from appointments when necessary. And, we provide immediate assistance like gas money, rent money, or a trip to the ER.

Our focus is advocating for the homeless and encouraging them. We often help people reconnect with their families, as well as find drug and alcohol rehab programs.

OUR CARETAKERS
Our residents also take care of our building and our grounds. In fact, this summer, they build 2 fabulous patios, plus numerous raised beds on all sides of the church. We now have flowers and veggies everywhere!


New patio under construction on the south side.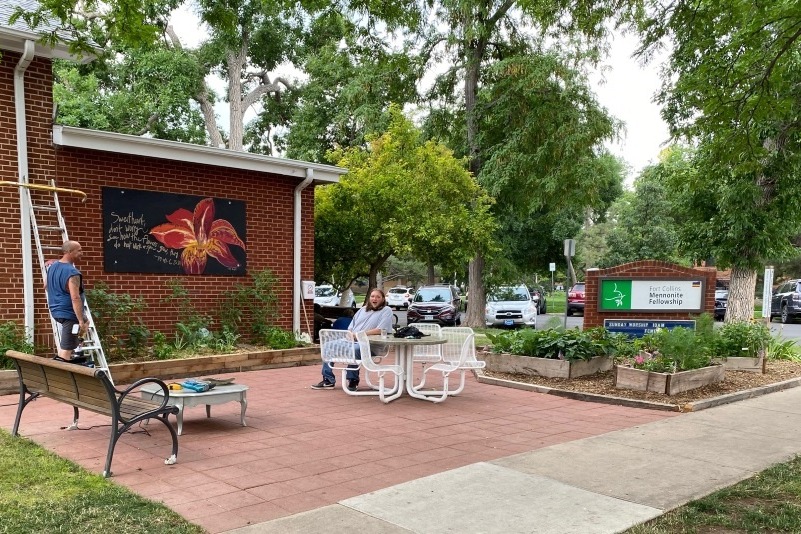 New patio and painting on the west side.

WE ARE SO MUCH MORE THAN BRICK AND MORTAR!
But our church is so much more than a physical building providing food, shelter, showers, and information. More than anything, our Homeless Sanctuary program provides friendship and community for the homeless so that true transformation can occur.


One of our Homeless Members and Pastor Steve

Every day, we provide a listening ear and a friendly face . . . a safe place where all are welcome and all are actively listened to. In our sanctuary, we create a community where we treat each person without a home as a human being – not as a project, a statistic, a nuisance, or someone to be ignored. In fact, our sanctuary has become a place for the homeless to hang out and feel as if they belong, without anyone telling them to "move along."

We aspire to bring people together who are both housed and homeless so they can learn from one another.

Yes, we are small. Yes, we can only accommodate 7-10 people living in our church building. Yes, we serve 20-25 others per week may need food, clothing, showers, and laundry services (we have served over 200 a week when we were providing in-house meals). But we are doing our part. More than half a million people in this country have no shelter at all, so think about how many churches there are in this country. If only 10% of them did what we did – imagine the shelter that could be provided to the homeless!

OUR FINANCIAL NEEDS
How can you quantify the welcome, respect, friendship, and hospitality we provide? You cannot – it is immeasurable. However, you can measure the cost of providing an infrastructure where this this can happen. 

With winter still upon us (springtime in the Rockies is a fickle time, with rain, snow, and sunshine), FCMF needs to keep the lights and heat on, keep the hot water running, keep purchasing much needed clothing, personal hygiene items, and food, as well as keep buying cleaning items to keep everything sanitary in the face of COVID-19. 

Right now, we are looking to raise $10,000 so we can continue to serve the homeless. This money pays for:

- Utilities: heat, light, water
- Showers: hot water, shampoo, body soap, towels, washcloths
- Laundry: hot water, laundry detergent, fabric softener, dryer sheets
- Personal hygiene items: razors, shaving cream, body lotion, face lotion, hand lotion, sunscreen, feminine products, lozenges, aspirin, cold medicine, antibiotics, re-usable water bottles, toilet paper
- Transportation to appointments: driving time, gas
- Clothes: socks, underwear, hats, mittens, jackets, blankets, sleeping bags, bedding. 
- Food: coffee, hot chocolate, teas, breakfast bars, instant oatmeal, milk, orange juice, snacks, dried fruits
- Salary: for Sanctuary Director to assist people who come to the sanctuary and help them navigate the social service system 

NOTE: We may get donations for some of these items; usually we must purchase them.

HOW TO DONATE
God is calling us to be a sanctuary for the homeless. Your donation of any size will help us heed God's call, get closer to our goal, and restore dignity to the many people we serve. Thank you!

Please donate online or by check.

- To donate online: Press the Donate Now button at the top of the web page.
- To donate by check: Make the check out to: Fort Collins Mennonite Fellowship (or "FCMF"). 

- Add this note at the bottom of the check: GoFundMe Homeless Sanctuary
- Then send the check to: FCMF, 300 East Oak Street, Fort Collins, CO 80524

A LITTLE MORE HISTORY
And for those of you who want to know more of our backstory . . .

In 2012, our church decided to open its doors to the homeless by getting involved with the Faith Family Hospitality (FFH) program that housed homeless families in churches on a rotating basis. Next, we offered up our building as a Day Center for the families in the program. This went on for more than 7 years until the FFH program moved to another location.

But during those 7 years, we added shower and laundry facilities to help the families and the general homeless community. Our tankless hot water heater kept the hot water flowing!


Shower Facilities
Tankless Hot Water Heater

From there, we moved to adding large-sized outdoor lockers, so the homeless would have a safe place to store their possessions.

And then we started hosting twice-a-week dinners and breakfasts for the homeless, serving more than 200 people each week, and offering our building as a warming shelter during cold weather. Soon, many homeless individuals became long-term members of our congregation. 

And the rest is history.

DON'T FORGET TO DONATE AND TELL YOUR FRIENDS!