Updated: Help Trey keep his house!

This is Trey, my step father! 
Trey suffers from Huntington's disease. It is an awful disease that has forced him to retire from both careers that he loved, and that is now taking his father away from him. It's probably one of the worst diseases you can inherit and is one of the reasons he has chosen not to have children.
----------
Here's a description of the disease taken from http://hdsa.org/what-is-hd/:
"Huntington's disease (HD) is a fatal genetic disorder that causes the progressive breakdown of nerve cells in the brain. It deteriorates a person's physical and mental abilities during their prime working years and has no cure. HD is known as the quintessential family disease because every child of a parent with HD has a 50/50 chance of carrying the faulty gene. Today, there are approximately 30,000 symptomatic Americans and more than 200,000 at-risk of inheriting the disease.
 
"Many describe the symptoms of HD as having ALS, Parkinson's and Alzheimer's – simultaneously.
"Symptoms usually appear between the ages of 30 to 50, and worsen over a 10 to 25 year period. Ultimately, the weakened individual succumbs to pneumonia, heart failure or other complications. Everyone has the gene that causes HD, but only those that inherit the expansion of the gene will develop HD and perhaps pass it on to each of their children. Every person who inherits the expanded HD gene will eventually develop the disease. Over time, HD affects the individual's ability to reason, walk and speak.
"Symptoms Include:
"Personality changes, mood swings & depression
Forgetfulness & impaired judgment
Unsteady gait & involuntary movements (chorea)
Slurred speech, difficulty in swallowing & significant weight loss."
----------
This awful illness has caused him to retire early from his jobs. He has a pension but cannot get the full amount until retirement age. By the time he reaches 65, if he even reaches 65, he will be in awful condition. He needs help now and his daughters only have so much to give. He needs help. He is also taking care of his elderly father who is suffering from the same horrible disease. 
Not only is he suffering from this illness but he is also facing a nasty divorce with my mother who fully intends to, as she put it, "bleed him dry" and get as much out of him as possible. It is horrible and I have tried to talk sense into my mother, but she won't listen. She claims he was a horrible person when we all know know that is not the case. He is a good man and does not deserve to be treated this way. He spends half his time in a trailer so that my mother can live in their house while he still covers all her expenses so that his oldest daughter has a place to live. But now my mother wants everyone out and wants to keep the house for herself and take half of his pension. He barely makes enough to get by as it is. 
So I am asking to try and raise money not only for his medical fees but also so he can hire a good lawyer and separate from my mother who is using him and being abusive to all her childern. It is very sad but Trey only has so many good days left and I want him to be happy. He has given so much to the world. He should live out the rest of his days away from my mother.
More about Trey and his life below.
He is a beloved friend of many! He and his buddies have known each other since their early 20s. He is now 43 years old. He just had his birthday! 

He went to the University of Cinninati and received his Associate's Degree in firefighting. He was a firefighter for 20+ years. First he worked for the West Chester Fire Department and then the Evendale Fire Department. Pictured with him is our Dalmatian! He rescued her and even made her an honorary firefighter in Evendale. She has since passed away but she was a very sweet dog. 

Trey had many responsibilities at the firehouse! He was their community outreach firefighter and even the fire inspector! He would run the smoke house and teach children about fire safety at special events. It was much a wonderful thing to do and all the children always loved Trey. Though I think they loved the Dalmatian most of all. She was always by his side.
 

He loved to show off his fire gear to children. He was always doing something for his community. 

Trey is also an Eagle Scout and rope rescue certified! Here he is watching Boy Scouts practice their rappelling skills. He would often take groups of scouts out to get their climbing and rappelling badges. He is also even dive rescue certified! 

He is honestly such a selfless man. He was a fire fighter and a paramedic. He loved teaching and even taught EMT classes for Butler Tech and Cincinnati State while also working full time as a firefighter. He just has so much kindness in his hear to give back to people. 

He has always loved nature. It began after spending his summers at a Boy Scout camp called Camp Hook in Ohio. He was always hiking, camping, backpacking, and caving. He has the deepest respect for nature and animals. He used to help nurse baby racoons back to health! And has used his skills as a paramedic to patch up quite a few kittens. He love animals.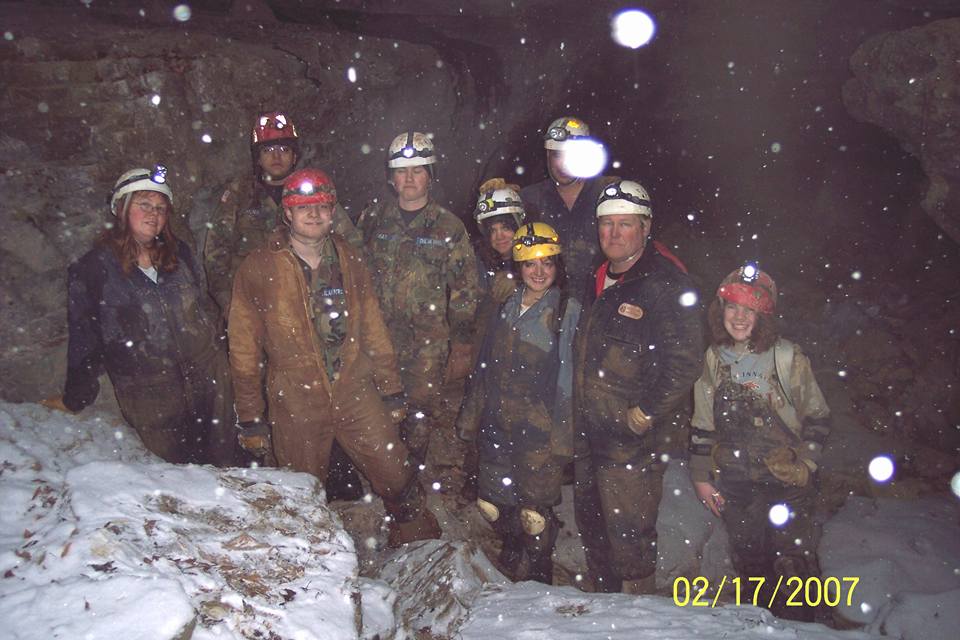 Caving his probably his biggest passion. He used to take my Civil Air Patrol group caving all the time! He also will take boy scouts and venture crews caving down in Kentucky. I am so lucky he showed me how to cave because it is something I love to do now. 

He has done so many amazing things with his life. My favorite though is him being my step dad. I love him dearly for being willing to take on the challenge of being the step father to three young girls. Not an easy feat! 

He loved taking us all caving. Here he is with my little sister and cousins. He would take us to the easier cave and make us feel so strong for being able to make it through! It was essentially a hike but it still made us so proud we could do it! 
.