Nathaniel's Stem Cell Transplant UK
Press Coverage: THE SUNDAY PEOPLE  | MIRROR ONLINE  | MIRROR ONLINE (LATEST) | ITV THIS MORNING  | THE SUN  | DAILY RECORD 
*We have reached our fundraising goal for Nathaniel's Stem Cell Transplant. Anything remaining will be used to start a charity in Nathaniel's name to help other children with blood cancer*
Nathaniel is a 9 year old boy who sadly lost his left eye to Myeloid Sarcoma (tumor of the eye) whilst in Nigeria. The family started fundraising and travelled to the UK for a private specialist eye prosthetic in London. 
Whilst visiting the UK for this appointment, Nathaniel became very sick and was rushed to hospital where they discovered he had developed Acute Myeloid Leukemia, a type of cancer in which the bone marrow makes abnormal myeloblasts (a type of white blood cell), red blood cells, or platelets. His eye was no longer the priority as Nathaniel was now fighting for his life, at one stage being found to have a platelet count of just 2.
Nathaniel was referred to  Great Ormond Street Hospital where doctors advised that a trial combination of drugs was available and the estimated cost to treat Nathaniel, because he isn't an NHS patient, was £825k.
Too sick to travel home and with no treatment at home available, his family began to fundraise for the life saving treatment he required in the UK. GOSH needed £70k up front to start the first round of treatment.
We contacted the press, The Sunday People and The Mirror covered Nathaniel's Story and like magic, the public raised the £70,000 deposit for Nathaniel to get the first round of treatment in just THREE DAYS over on the EU GoFundMe page ❤️❤️❤️ 
Nathaniel responded amazingly to the combination chemotherapy and with the great medical team at Nathaniel's side, he has made it to remission and ready for his Stem Cell Transplant!
⚠️ BUT NOW  the pressure is on to find the funds for Nathaniel's Life Saving Stem Cell Transplant. The amazing doctors at Great Ormond Street Hospital have waived their private fees to aid the Nabena family, a wonderfully kind gesture that brings the target within reach.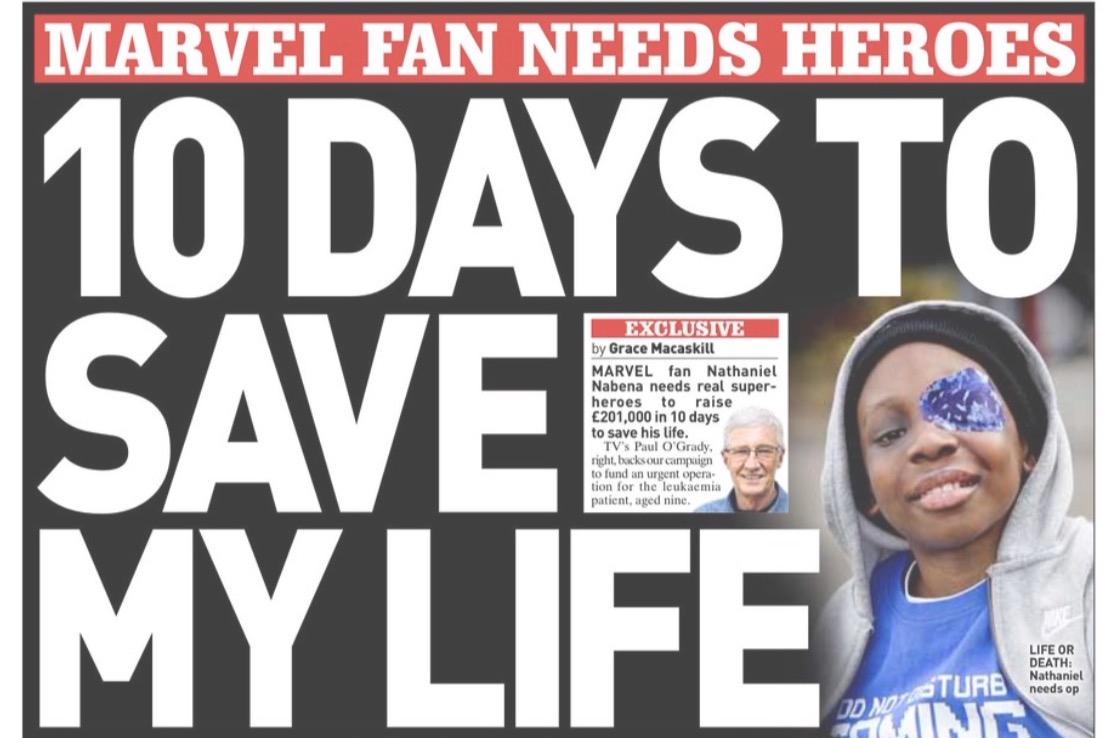 The Sunday People made Nathaniel front page news today (2nd of May) to try and give him a chance of reaching his target and once again the public have shown their empathy and kindness with donations, prayers and kind words which I know the family appreciate so much ❤️
INFO 
1. This GoFundMe was set up to make donations from the UK easier and avoid losing funds through conversion charges from Euro to Pounds.

2. I am part of the Nathaniel's Fundraising Team authorised to start this fundraiser for Nathaniel Nabena to fund his Stem Cell Transplant at Great Ormond Street Hospital International Patients Ward. 

3. You can donate in either of the GoFundMe pages. 
4. Any extra funds will be used to start a charity in Nathaniel's name to help other children requiring Leukemia treatment they can't afford to access. 
5. The cost is £202k total and fundraising is combined across both GoFundMe Pages for Nathaniel. 
Thank you everyone ⭐️
Fundraising team (2)
Sharyn MJ Staff 
Organizer
Raised £6,723 from 366 donations
Glasgow, UK
Ebi Nabena 
Team member
Raised £12,744 from 540 donations