Travis Dreams of Honey Bees
I love bees. They fascinate me. I love learning about them, I love taking photos of them, and I even love being stung by them. Ok, that last one was a bit of an exaggeration, but you get the idea.
Who am I?
My name is Travis Owen. I'm a father of two little girls and I have an odd dry sense of humor. I also love nature and gardening. I have loved bees, and also wasps, for some time now. I have an educational website dedicated to pollinators, primarily bees and wasps, and the plants they visit (
The Amateur Anthecologist
). I have also spoken for various groups, both public and otherwise, for the last few years on the behalf of bees and wasps.
My Goals
I have a dream of becoming a self-supporting commercial beekeeper using honey bees alongside native mason bees and alfalfa leafcutter bees to improve crop yields for growers. By doing so I will be supporting our food system by providing efficient pollination services where they are needed, as well as being a responsible steward. I would like to do whatever is in my power to promote the health and well being of our honey bees and native bees through sustainable and ecologically mindful practices, and without using synthetic pesticides. I want to use the industry's best practices, science, and experimentation to brighten the future of the bees and the plants that rely on them.
Funding
I imagine other business startups may have similar sayings, but to make a small fortune keeping bees, one must start with a larger fortune. I, however, am starting with nothing but a small yet intense amount of experience and a gleam of hope.
$11k will fund the purchase of 35 colonies and their maintenance for 1 year.
$25k will fund the purchase of 85 colonies and their maintenance for 1 year.
$50k will fund the purchase of 170 colonies and their maintenance for 1 year.
More colonies equates more revenue through various services and commodities, as demonstrated below.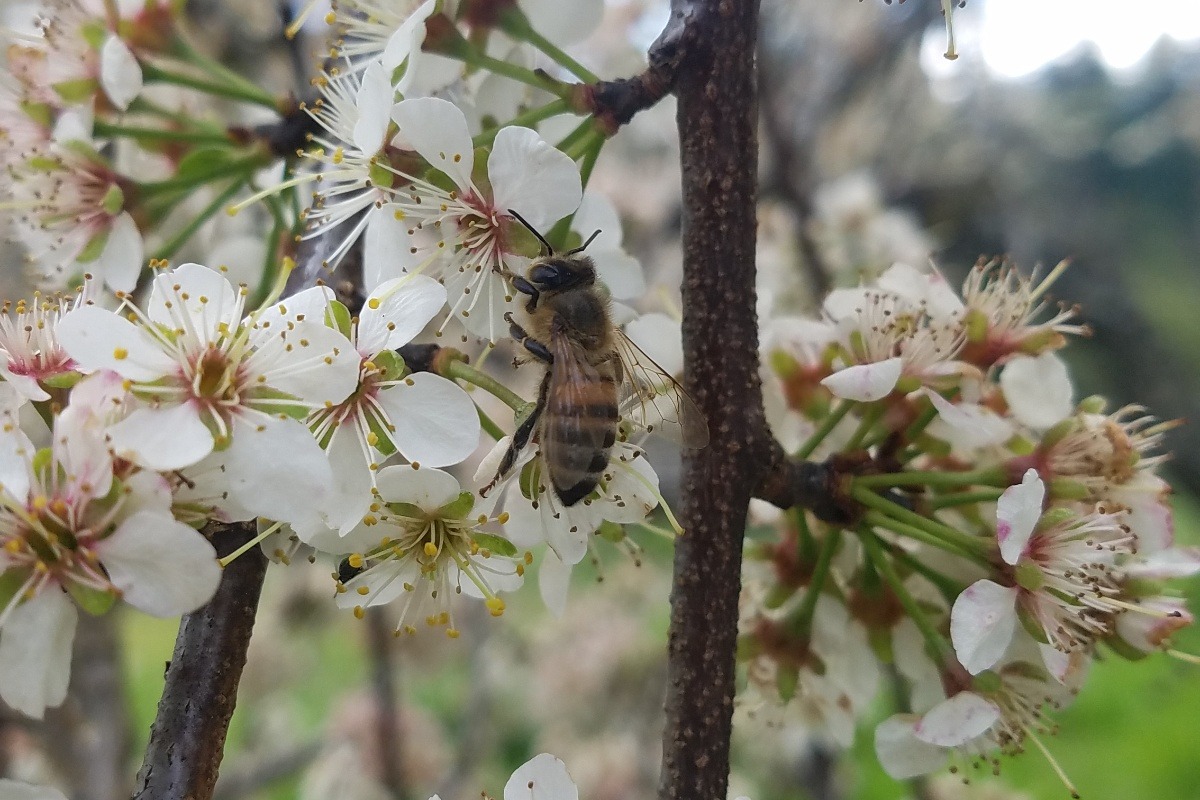 Business Plan
Through various services and commodities my business will be profitable and dynamic.
Honey
The average hive produces between 5 and 60 lbs of harvestable honey per year. In the wholesale market, honey last year sold for $6/lb. Retail, usually small quantities, may be sold for as much as $2/oz. I plan on extracting and bottling the honey produced from my hives myself to cut down associated costs. Therefore, each hive has the potential to generate up to $1,700 in gross profits from honey alone.
Pollination

Every year, hundreds of thousands of honey bee hives are brought to California's almond orchards to pollinate the almond crop. Almond growers pay between $170-$200 per hive to be placed in their orchards at a rate of at least 2 hives per acre. Other crops (i.e. pears, apples, blueberries, or seed crops) benefit from honey bee pollination services throughout the spring and summer months, though they pay significantly less per hive than almonds (~$30/hive).
Nuclei and Queen sales
Production of honey bee queens and nuclei will serve a growing market of novice beekeepers who wish to keep bees in their own backyards. Each hive my business manages will be able to generate at least two nuclei for sale and for queen production. Inexpensive queen stock is available from large producers throughout the country, but quality often falls short. With rigorous selection of mite resistant stock through testing and good stewardship practices, I will aim to develop a locally adapted stock for sale. Most honey bee queens sell from between $10-$50, the lower cost often reflects a quantity over quality approach. Mine will be vetted for desirable traits while inferior stock will be culled, and they will fetch a premium.
Nuclei (or nuc), sometimes called splits or artificial swarms, are a great way for beekeepers to start a hive. They consist of five frames of bees in all stages of growth, nectar, pollen, and honey. Nuclei retail for $120-$220, the cost once again is a reflection of quality. My business will only provide a premium nuc at a reasonable price.
Other services

Consultation, presentations or speaking events, and other personal services will be integrated in my businesses marketing strategy. By continuing to educate through my website, social media, and other outlets my business will generate revenue while also providing a service to the community by raising awareness of pollinators and responsible stewardship. While my personal website will always remain free from advertising, consulting amateur beekeepers will generate revenue.
Bottom Line
Any way you could help will earn my gratitude. Of course, money is the most useful way to realize this dream of mine, and every dollar counts! If you would like to play a part in taking my dream out of my head and into my life, then please contribute. And even if you don't, share this with all your friends and family!
Thank you for reading!

Organizer