Transferencias a enfermeras venezolanas X COVID-19
(English translation below)
Ayudamos a enfermeras en alto riesgo

Las enfermeras de la Emergencia de Adultos del IAHULA están encargadas de cuidar a pacientes sospechosos de COVID-19, arriesgando sus vidas en cada turno. Debido a la situación de crisis global, necesitan apoyo financiero para estar protegidas y capacitadas para salvar vidas.
Les enviaremos directamente el 100% de los fondos recaudados por esta campaña.Trabajamos con la directiva del Hospital

Diseñamos este programa con la Dra. Jueida Azkoul, Presidenta de la
Fundación Primeros Auxilios ULA
, y la Lic. Alida Pernía, Enfermera Líder de Emergencia de Adultos y Coordinadora del Área de COVID.
Transferimos dinero directamente a las enfermeras

A cada enfermera le enviaremos de forma directa 50 dólares mensuales por un período de varios meses.
Mientras más recaudemos, más meses podremos financiarlo
. Las enfermeras tendrán la libertad individual de utilizar el 100% del dinero como mejor les parezca.
Los envíos son gratuitos, y se hacen denominados en dólares a través de
Valiu
, una aplicación sencilla, rápida y segura. Los dólares pueden convertirse a bolívares con sólo tocar un botón, y llegan al banco en menos de una hora.
Hemos transferido más de 10.000$ a trabajadores médicos en campañas previas

Aproximadamente 100 beneficiarios de iniciativas parecidas fueron notificados a través de WhatsApp, y en menos de dos horas de ser contactados ya disponían del dinero.
La mayoría invierte el dinero en comida, medicinas, y recursos esenciales. Aquí puedes ver algunos testimonios y datos.
Con sólo 50$ apoyas a una enfermera por un mes.
Con 200$, ¡a cuatro enfermeras!
La diferencia que puedes hacer en su calidad de vida es tremenda. Muchas enfermeras necesitan uniformes, zapatos, equipos de protección esencial, y buena alimentación.
Mediremos el impacto en ausentismo laboral, fuga de talento, calidad de vida y capacidad de atención a pacientes. Te llegará un informe detallado por email.
Muchas gracias.
¡Comparte esto con toda la gente solidaria que conozcas!

===
We help nurses working under high risk


The nurses of the IAHULA Adult Emergency are in charge of caring for suspected COVID-19 patients, risking their lives during each shift. Due to the global crisis situation, they need financial support to be protected and trained to save lives. We will send them 100% of the funds raised by this campaign directly.

We work with the Hospital's directors


We designed this program with Dr. Jueida Azkoul,
President of the PAULA foundation
 , and Lic. Alida Pernía, Lead Adult Emergency Nurse and Coordinator of the COVID Area.

We transfer money directly to nurses


We will send each nurse directly $ 50 per month for a period of several months. The more we collect, the more months we can finance the program. Nurses will be able to use 100% of the money as they see fit.
Money transfers are free, and are denominated in dollars through
Valiu
, a simple, fast and secure application. Dollars can be converted to bolivars by just tapping a button, and reach the bank in less than an hour.

We have transferred more than $ 10,000 to medical workers in previous campaigns


Approximately 100 beneficiaries of similar initiatives received the money within two hours of being notified through WhatsApp.
Most invest the money in food, medicine, and essential resources. Here you can see some testimonials and data.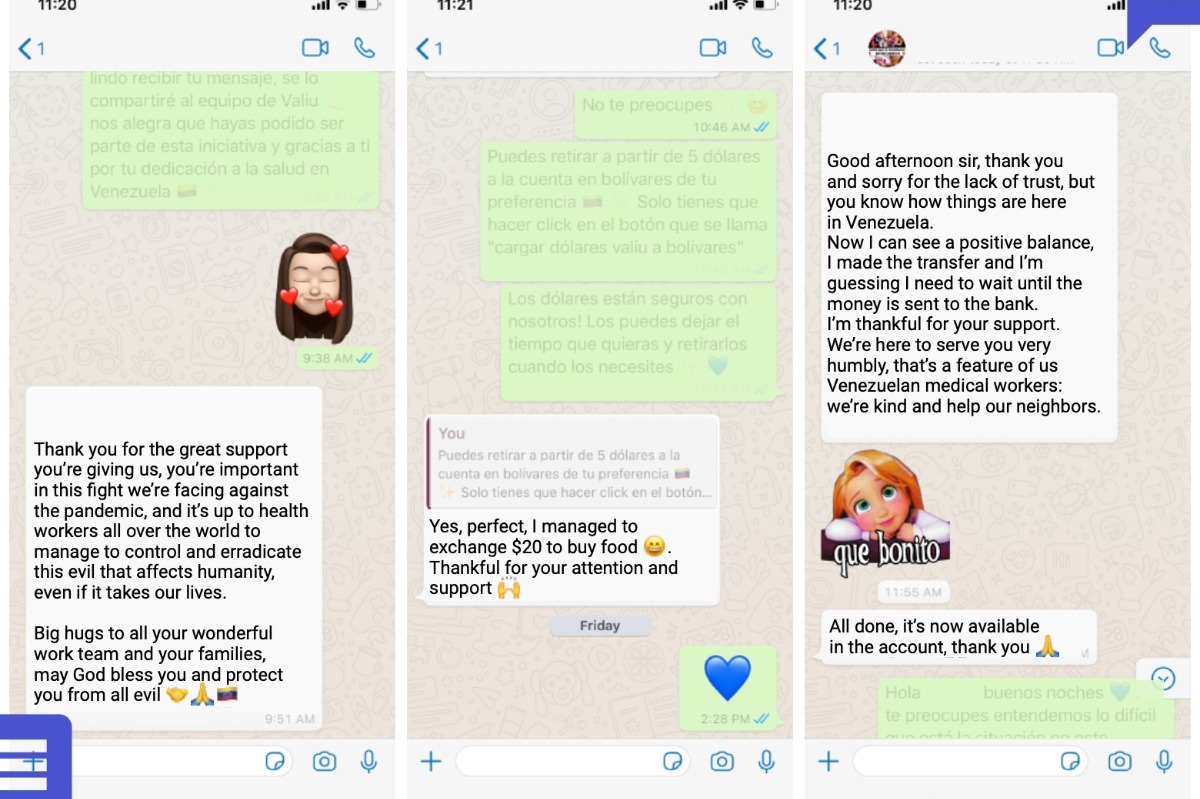 By donating only $50, you're supporting a nurse for a full month.
By donating $200, you're supporting four nurses!


The difference you can make in their quality of life is tremendous. Many nurses need uniforms, shoes, essential protective equipment, and good nutrition.
We will measure the program's impact on absenteeism, talent flight, quality of life and ability to care for patients. You will receive a detailed report by email.
Thank you very much.
Share this with all the caring people you know!
Swapna Puni Estevez Singh
Fundraising team (3)
Alejandro Machado
Organizer
Raised $175 from 3 donations
Miami, FL
Sara Cadena
Team member
Raised $90 from 3 donations