TracFab Beach Wheelchair for Chris and Family
As most of you know, we moved to Myrtle Beach 6 years ago because the beach is a place of peace for both Chris and I.  There's something about walking on the sand, seeing and hearing the waves, and smelling the ocean air that instantly brings us to a place of peace and relaxation.
Chris has been fortunate enough to have a beach wheelchair that gives him access to the beach.  In his current chair he has been able to enjoy the beach with our family and friends.  It's been a huge blessing.  However, last May he developed a pressure sore on his bottom from using the beach wheelchair one day.   Despite following all medical advice (staying in bed up to 22 hours per day in order to remove pressure from his bottom so that his skin could heal), Chris continued to deal with this pressure sore and others caused by his beach wheelchair from May - December.  He is no longer able to use his current beach wheelchair because it does not have a seat that tilts backwards to allow him to shift his weight.    We found  a friend who will benefit greatly from Chris's current beach wheelchair, and we are so excited to give it to him.  It will change his beach experience immensely!
Neither of us had seen a power beach wheelchair that had the ability to tilt.........UNTIL NOW!  After doing a lot of research, Chris found the Trac Fab beach wheelchair.  It is the only power beach wheelchair that has a seat that Chris can use to avoid getting pressure sores.  It's amazing!  He can use a seat like his regular power wheelchair but a base that gives him access to the beach!!  The tilt and recline functions on the Trac Fab are exactly what he needs to not only prevent pressure sores, but to manage his blood pressure and keep his balance.  It will help him to be able to enjoy the beach all day, rather than only for 1-2 hours.  What a gift this would be!!
Because this chair is so amazing, it comes with a price that is higher than we can afford.  But we are stepping out with FAITH that God will provide the finances we need  to enjoy the beach as a family for the rest of our lives!  We share our dream with you and ask if you would like to join us on this venture.
If you could pray for us that would be wonderful, and if it's on your heart to give any amount to help us afford this beach wheelchair we would be so incredibly grateful.  At this point it's about quality of life and we really believe that this chair will help Chris meet so many more people on the beach that will allow him to share the testimony that God has given him. It's TRULY a LIFE CHANGER!
We'd like to raise the money as quickly as possible so that we can enjoy the beach for the entire summer, since Chris missed the summer and fall this past year. THANKS FOR YOUR PRAYERS AND ANY AMOUNT OF SUPPORT!
This a picture of a man with a tracfab at beach with his son! A life changer!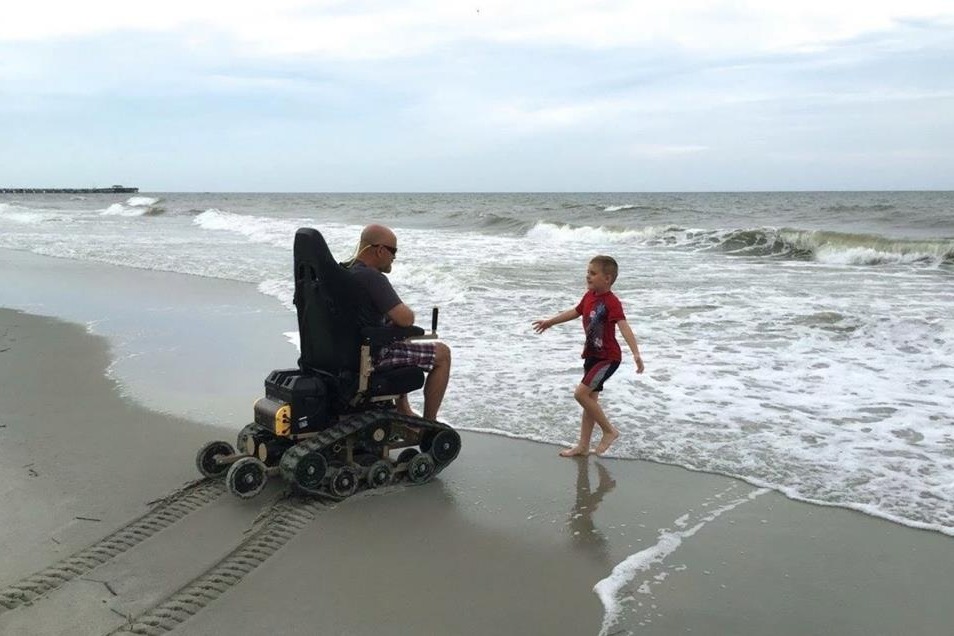 Organizer and beneficiary
Chris Skinner
Organizer
Myrtle Beach, SC
Suzanne Skinner
Beneficiary