Cancer Sucks - Help Tommy Battle On
On February 13, 2013, Tommy Medina's life was forever changed.  On that day, he was diagnosed with Stage 3 Colorectal Adenocarcinoma - Colon Cancer.  
Since that day, Tommy's life has been turned upside down.  He has battled cancer head on and at times, it felt like he won, but this terrible, faceless enemy that we call cancer has returned 3 times and fights him still today, even after all the chemo, radiation and surgies.  Sadly, while battling cancer, Tommy also went through a divorce, which left him with nothing other than what he could fit into a friend's car as he was left with no home, no vehicle and not a lot of hope.
Over the past 3 years, Tommy has undergone the following:
     -  20 treatments of chemo infusion
     -  30 weeks of chemo pills - 4 pills a day
     -  3 treatments of radiation
     -  4 surgeries
One of the surgies was to remove his colon and put in place a permanent colostomy bag, which he has learned to live with. 
Tommy is a very quiet person and doesn't like bringing attention to himself.  During this fight for the last 3 years, not many people outside of his close friends even knew it was something he was going through.  Tommy has never been one to make it about himself.  As a kid in the 6th grade, Tommy lost his father in a terrible car accident.  Tommy was forced to grow up and be the man of the house, as he had three younger brothers and one little sister that he became a father figure to.  From that young age, he was always worrying about his siblings more than himself. That is why I'm asking for your help.  It's not in Tommy's nature to ask for help, even though he truly needs it.  Having been by his side through this over the last 3 years, sitting in the amazing Banner MD Anderson Cancer center while he is receiving his chemo infusions, I have never heard Tommy say "Why Me".  "Why did I get dealt this hand."  He has accepted the way things have gone and could really just use some help.
Tommy's career has been as a professional golfer ever since his graduation from Grand Canyon University.  Prior to the cancer diagnosis, he had success on various of the professional golf tours and was always trying to achieve his ultimate goal, play on the PGA Tour.  Going through the years of treatments, Tommy was unable to make a living with his chosen career of golf.  He was able to play a round of golf or a tournament when it fell between his chemo treatments and surgeries and he had the strength to play, but it was not often enough to make a living.  
The goal of this fundraising is to raise enough money for the following purposes and help Tommy:
#1  -  $8,000 to purchase a vehicle so that he can get back and forth each week to his Chemo treatements, doctor appointments and to have the ability to pick up his kids every other weekend when he gets to spend time with them.  A vehicle provides independence that Tommy hasn't had in quite some time.
#2  -  $10,000 for 6 months of living expenses.  Tommy still faces 3 more months of Chemotherapy and the possibility of still having to have surgery once Chemo is done.  This has the potential to sideline him for up to 6 months with no possibility to be employed or have any way to earn money.  I've been lucky to be able to have Tommy living with me and my family for the past year.  He has become like an uncle to my kids and we've enjoyed having his three little ones with us every other weekend.  I know he's ready to get back on his own and have his own space and raising this money will help him do that so he can start over again.
Please help in whatever way you can.  Any amount will help towards the goal of getting Tommy back on his feet.  Once he beats Cancer, which he will, he will be starting over at square one and the kindness and generosity of each of you can help him in that process.  If you would like to help in any other way to get Tommy back on his feet, feel free to contact me.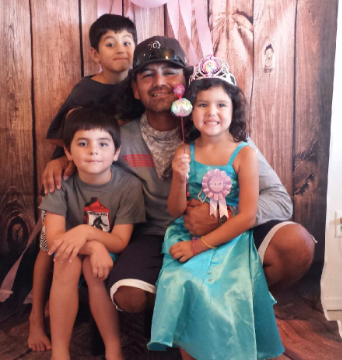 Organizer and beneficiary
Greg Martin
Organizer
Maricopa, AZ