Vue/Xiong Family Memorial Fund
Hello my name is Linda Xiong and I am trying to help my family, my sister's kids, and her husband's families raise money for the memorial services. The service will be held for my older sister and her husband who was involved in a triple homicide in Milwaukee Wisconsin. Due to religious purposes there will be two separate funerals. This funding will be for the services and the kids. I'm currently on Oahu Hawaii, feeling really far and helpless in this current situation, and thought this would be the best way I can help with my family's troubles till I'm able to go back.
On Sunday March 06, 2016, I got a call from my youngest sister. I couldn't make out what she was saying as her voice was so shaken. When I could finally make out what she was saying I wished it weren't true. Her words still ringing in my ears, "...Nee and Txiv Laus(Brother-in-law) was shot, their dead..." I couldn't believe her words. "You're not lying right? How could this happen? Why did it have to be them? Are the kids ok? When did this happen? She is still here right? She was just talking to us, this isn't true..." Those are the thoughts that were running through my mind as the conversation ended. I went and searched Milwaukee news and sure enough I see their apartment pictured and it dawned on me. They both are really gone. 10 more minutes passed as I was crying uncontrollably and my older sister calls with the same message... It was a long and painful night for everyone near and far.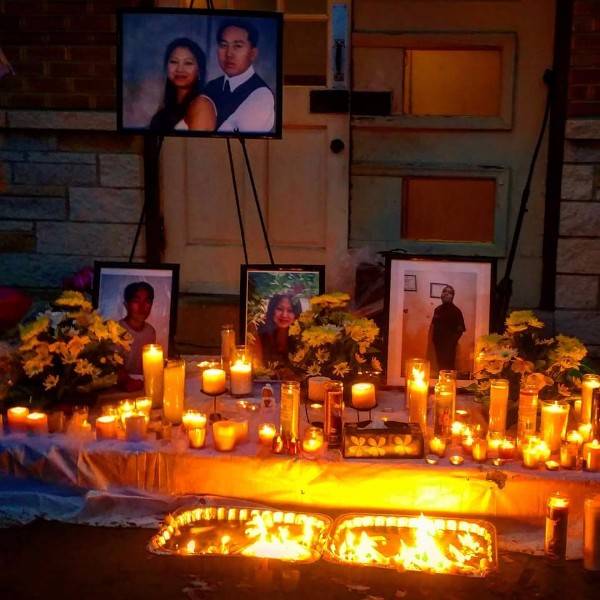 My sister and her husband were the ones who made me who I am today. They loved to live life and loved their kids. They believed in doing what made them and their family happy. They were taken too soon and too suddenly. No words can describe what their kids are going through right now, especially the youngest, who is only 4 years of age. She is still waiting for her mommy to come and pick her up. Hearing my mother tell me over the phone about the kids made me feel so helpless being so far away from Wisconsin. 
Anything and everything will be helpful. Even if we don't make it to our set goal, a little goes a long way. Thank you to whoever donates and those who simply took the time to read this. Thank you on behalf of the Xiong and Vue Family. 
If you are in the 414 area, a fund has also been set up in the family's name at Landmark Credit Union at 4501 W National Ave, Milwaukee, WI, 53214. It is called the "Vue Family Memorial Fund."
Please help support the Monso-Preze family as they were also in this tragic incident. 
https://www.gofundme.com/5qt2y57u

The link below is the full story coming from my nephew's point of view.
http://www.cbs58.com/story/31399964/mpd-arrest-suspect-in-sunday-triple-homicide
Updated story.
http://www.jsonline.com/news/crime/milwaukee-man-charged-in-south-side-triple-homicide-b99685274z1-371687421.html
Organizer and beneficiary