My name is SFC Josh Lott. I am a soldier in Afghanistan at a small outstation in a very mountainous region Afghanistan. While out on mission my team and I discovered a puppy tied up in a compound. He was malnourished and covered in fleas. Needless to say, his chances for survival were not great. I spoke to the family in the compound and traded some of our rations for him and we took him home. We have nursed little Ragnar back to health, and in a few days, he was up and ready to play. 
We have kept him with us here at camp camp and he is one of us now. Ragnar has become our camp dog and a constant source of morale for the men.  In the Army, we are trained to leave no one behind. Now that he is one of us, we want to bring him home. 
In order to make that happen, I have contacted an agency from Kabul called Nowzad. They are arranging for vet checkups and transportation of little Ragnar back to our base in the United States. This movement comes with a cost. It's going to cost us approximately $6000 to get him home. This is where all of you come in, please help us get Ragnar where he belongs, in the United States with us, his family from our small fire base. 
Thanks for reading this and for your consideration.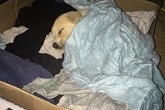 Organizer
Joshua Michael
Organizer
APO, US