Tiny House Warriors Round #2
Fund the Frontlines!
Donate generously towards our
Tiny House Warriors Spring Building Action Camp
where we will  build
five more tiny houses
on wheels to stop the Kinder Morgan pipeline.


The Tiny House Warriors: Our Land is Home
is a part of a strategic mission to stop the Kinder Morgan Trans Mountain pipeline by building 
10 tiny houses on wheels in the path of the Kinder Morgan Trans Mountain pipeline route
to assert Secwepemc collective title and rights to our unceded lands. We have never provided our collective
free, prior and informed consent
- the minimal international standard - to the project.
Thanks to generous donors like you in a growing grassroots Indigenous-led resistance movement, our first phase of building is complete with three tiny houses already on the land.
We are now moving to round 2 of building at our spring building action camp!

www.tinyhousewarriors.com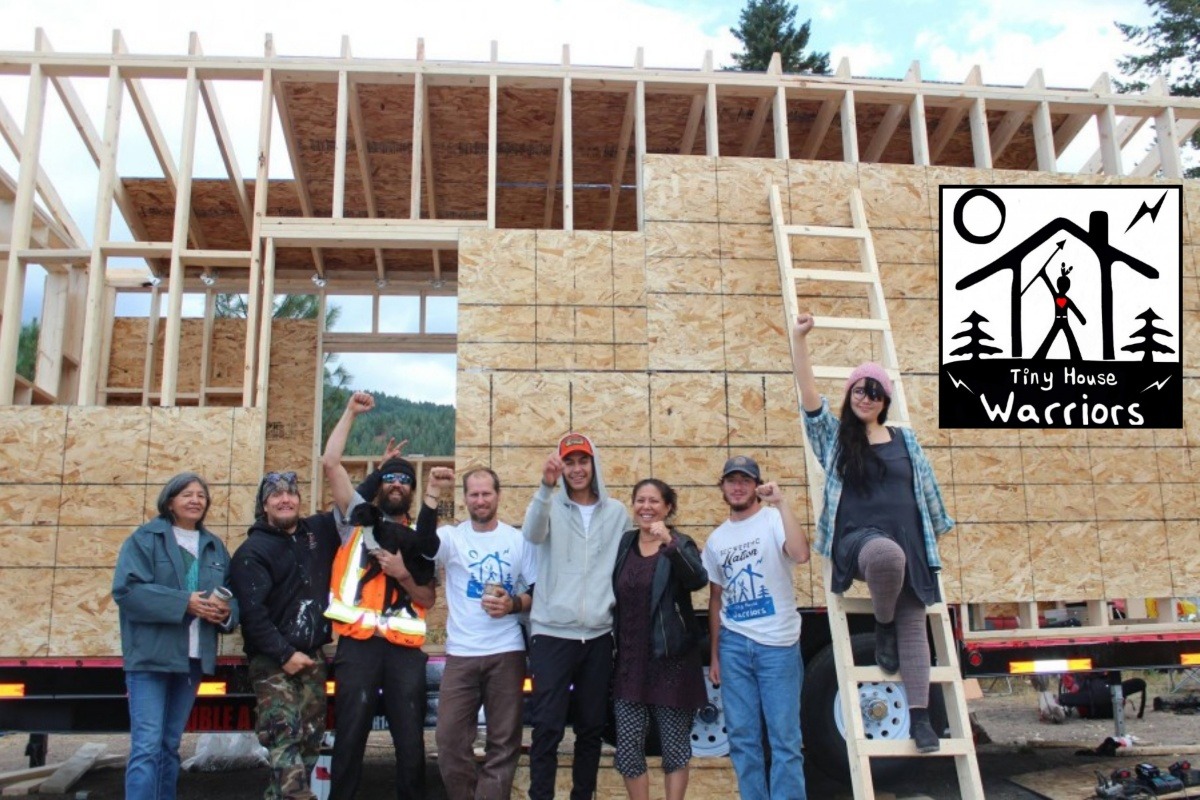 SECWEPEMC OPPOSITION & LAND DEFENCE
The Secwepemc Nation is the
largest Indigenous nation in BC
with territory stretching from the Rockies into the B.C. interior. Half of the proposed Kinder Morgan pipeline threatens to pass through
518 km of unceded Secwepemc territory
.
We, the Secwepemc, have vowed to stop this pipeline and refuse its passage through their territory. We are standing up to protect Secwepemcul'ecw (unceded Secwepemc Territory), one of the
most ecologically biodiverse places on the planet
and where we harvest and hunt our abundant foods and medicines from the land and water. 
The proposed Kinder Morgan project would triple the capacity of the already existing pipeline to
890,000 barrels per day
and would be transporting deadly bitumen from the
dirty Alberta Tar Sands
.
We stand together against any and all threats to our peoples, our women, our two-spirits, our children, our lands, the wildlife, the salmon, the waterways.  

SPRING BUILDING ACTION CAMP
Thanks to generous donors like you, we have already constructed three Tiny Houses on Wheels. In our spring building action camp, we plan to
build five more tiny houses on wheels
in fifteen days.
From
May 25 till June 8, 2018 in Secwepemc Territory
along the pipeline route, we will be kicking off our spring building action camp.
Costs Per Tiny House on Wheels
$5,000 18' equipment hauler trailer (new)
$5,000 lumber & supplies (new & recycled)
$10,000 Total cost per tiny house
x 5 =
$50,000 GOAL
Each building is constructed by
experienced volunteer builders
.  Tiny home is constructed within 5 days. Construction includes bolting tiny house frame onto trailer,  building exterior & interior walls, installing roof, insulating interior and installing cedar walls.  (Flooring and installing built-in beds/furniture, if time permits)
By building these Tiny Houses, we are asserting our collective Secwepemc Title and responsibility and jurisdiction to our lands and waters. The Tiny House Warrior movement is the start of
re-establishing village sites
and asserting our title over our unceded Territories. ​
Besides stopping the Kinder Morgan Trans Mountain Pipeline, tiny houses will provide
sustainable housing
to Secwepemc land users and food harvesters. Each tiny house will also include various unique sustainable
economic solutions and arts
, for example a recording studio, radio station, tattoo shop, healing spa, and herb/tea shop. Each home will eventually be installed with
off-the-grid solar power
and will have vibrant and colourful
Secwepemc murals
with relevant ancient Secwepemc stories painted on them by Secwepemc muralists.
The Tiny House Warriors are building something beautiful that
models hope, possibility and solutions
to the world. We invite anyone and everyone to join us. Please give generously towards our Tiny House Warriors Spring Building Action Camp. 
Organizer
TinyHouse Warriors 
Organizer
Central Okanagan and High Country , BC