This Heart Holds Many Book Tour


Who I Am
My name is Koe Creation, sex educator for the 21st Century! I grew up as a child of a sex-positive, polyamorous family, and I use my unique knowledge as a second-generation queerspawn to provide prospective parents & families a framework for successful cross-generational communication about their identities and relationship(s).
My expertise in this field comes from the literal lifetime of hands-on training in nonviolent communication, intentional relationship building and sex-positive parenting, from the child's perspective through adulthood. I have taken that wisdom and combined it with a decade of teaching comprehensive sex-education and non-profit case management to help those seeking support in exploration and tools for resiliency.  
The Purpose:
On March 29, 2019, my first book is being published by Thorntree Press.
"I wish you raised-polyamorous kids didn't have to
teach polyamory 101 to so many adults." –Jean
As the ideas of non-monogamy gain more legitimacy in modern, western society; the question "what of the children?" comes up with frequency. This book is a resource I have seen the non-monogamous world needing and I used the power of my personal experience to highlight one story where the child turned out alright. In my work,  I aim to be a resource for the children of non-monogamous families who might be experiencing the bullying, stereotyping and confusion that I did growing up in the face a society that largely doesn't understand you and your family. I was blessed with a deeply caring tribe who taught me the power of self awareness, compassionate communication and resilience; It's now time for me to share the wisdom they showed me with prospective and current sex-positive, non-monogamous parents and those looking to work in allyship with them!
I am already scheduled for a book signing and talk at Southwest Love Fest the weekend of March 28-31, as it coincides with the release date. My plan is to from there continue on a mutli-city book tour, bringing myself and my book to poly communities across the U.S. and Canada (and hopefully beyond!). My hope is for each stop to be more than a standard book signing, but an interactive community experience.
I have already begun reaching out, planning, and booking events, but I can't do this (or get to these locations) all alone.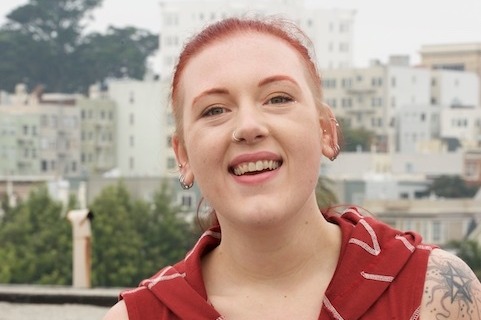 The Ask:
Friends, family, community and extended tribe - to bring this book to the communities that it would most benefit, I need your help. If you believe in the work that I do, and have the ability to give, please do. No donation is too small, and every cent will help bring myself and the book tour to one more location. Whether you donate or not, I also humbly ask you to share, signal boost, and spread the word far and wide.
Goals:
The initial goal of $10,000 will support traveling to all the US and Canadian cities currently on my wishlist. However, every little bit will help get me to one more city! I'll update here and on Facebook as additional cities and stops are booked and funded.
For every $2000 we reach, I will add content such as bonus stories, videos, and other fun bits!
Funds raised will go directly to costs for travel (flights, trains, places to stay) and tour costs (venue & event fees as needed).
About The Book:
Order the paperback (or Kindle edition) via presale on Amazon
Many of us were asked by our mother to do the dishes as children. Perhaps some of us would need to be asked more than once. Koe Creation was the type who'd get asked three times, by three different mothers. Crowded parent-teacher conferences, queer youth summer camp, and parental adoptions over potluck dinner were typical of Koe's upbringing in a queer, polyamorous family. Taught from young age to embrace sex-positivity and LGBT acceptance, Koe had an experience of "family values" that differs wildly from many raised in conservative North America. Still: all families know conflict and all hearts know struggle, no matter how loved. Though a poster child for the alternative Seattle community, Koe yearned for a realization of theirself beyond the "shadow of their tribe." This drive for a singular identity led Koe to leave the alt-Seattle scene to find the self that no one person or family could make for them. This Heart Holds Many is a testament of transformative, communal love, as told by an educator and life-long learner who has dedicated their life to helping others grasp their extraordinary love.
Advance reviews and critical praise for the book:
"Koe Creation's delightful book This Heart Holds Many is perfect for anyone who has wondered how polyamorous families affect children, parents, and those Koe calls 'parent adjacent.' In a rare peek into the life of a 'polykid' raised by five parents, Koe offers anecdotes from their life with a polytribe. From the pregnant lady sandwich to the chaotic (mis)adventures of young love or the trials and triumphs of adulting, Koe guides readers through the life of a second-generation polyamorous person with charming candor."
— Elisabeth Sheff, author of The Polyamorists Next Door and When Someone You Love is Polyamorous and editor of Stories from the Polycule
"This autobiography of a young adult raised in a pagan, polyamorous extended family is full of information for parents and kids of all backgrounds. Useful ideas abound and lead the reader to question the traditional wisdom of our society."
— David S. Hall, founding editor, Electronic Journal of Human Sexuality
"Imagine that a big tribal family from the 22nd century falls into our time and lands in Seattle, where they have to keep partly hidden from the normals. You're born into it and grow up through a rollicking kidhood, a moody, rebellious adolescence, then young-adult questing and brilliant maturity. All the while you hide your three moms and two dads from forces in the 'overculture' that may threaten them—while you become an ambassador from the 22nd century to many others. This fast-paced memoir grabs you like a piece of Heinlein's science fiction, while serving as a guide, a warning, an encouragement, and a wise teaching tool for families of every kind."
— Alan MacRobert, Polyamory in the News
"The question I get a lot as a polyamorous parent is 'But what about the children?' Having a firsthand account by someone who lived and loved and learned in a polyamorous household is invaluable to any of us who raise children in the same environment. Bravo!"
— Kevin A. Patterson, curator of Poly Role Models and author of Love's Not Color Blind and the For Hire series
Organizer
Koe Creation 
Organizer
San Francisco, CA