Theresa and Brian:The Long and Winding Cancer Road
Maybe I can't beat cancer.  But I can go the distance.  Watch me. - Theresa, February 2020Being a full time caregiver for the person you love most in the world changes you. I've been doing this for over three and a half years now and I have more compassion than I ever had.  - Brian, April 2020
The words above in some ways say everything there is to know about the recent experience of 55-year-old Theresa Cartier Boni and her husband, Brian Boni.   But of course they don't really give you the whole picture.  The group of us who are calling ourselves "Team Theresa" have known Theresa and Brian for at least 10 years, originally through the same online writers' forum where they in fact met each other.  Although we live in different places throughout the U.S., we have often met for in-person gatherings, where the campaign photo was taken.  We are going to tell you a little bit of their story, which may resonate with you; maybe you have been there too.  And we will also ask if you can possibly support them with a gift, which will help prevent financial debacle and allow Brian and Theresa to find whatever peace they can in the coming weeks, months, days. 
Theresa was diagnosed with stage 3 colorectal cancer in 2016, and Brian has been her 24/7 caregiver ever since that time—which has included radiation, partial ileostomy, later reattachment, chemotherapy, more surgery to try to address damage done by the treatment itself.  Theresa briefly had a port for her medication, which resulted in a blood clot and cardiac arrest.  Excruciating pain most days, months on end.  In the multidisciplinary care team that Theresa worked hard to create, there has been at least one wonderful doctor, some not so wonderful—including a naturopath who callously suggested she had given herself cancer.  
Brian would tell you that the last three and a half years have been a never-ending rollercoaster, with precipitous drops often almost straight down, punctuated by few smaller dips.  And there is no getting off this ride.  One treatment leads to another complication which results in the discovery of a new problem.  
 And that was the bad news that arrived in August 2019.  During what was supposed to be a relatively routine procedure to correct yet more damage that arose from earlier treatment, they discovered cancer cells in her ureter, and Theresa was diagnosed with stage 4 metastatic cancer. 
Over the last three years Theresa has lost more than 25% of her body weight.  It got to the point where her oncologist, who we know as Dr. Fabulous, could not attempt further therapy because she was so frail.  This past fall she was admitted to hospice, with the intent of getting her pain under control, and was given a port for feeding, so that she might recover enough to resume potential lifesaving treatment.  
At the end of March, Theresa's pain went through the roof and she ended up being admitted to the hospital again.  After examination by various under-informed clinicians, most of whom had never seen her before, and evaluation based on partial information, Theresa was told she had a belly full of tumors, apparently inoperable, and 30 days to live. 
Brian was not able to see Theresa at all during her recent hospitalization given the covid-19 pandemic.  After six days Theresa was finally able to come home, where she wants to be, with her husband, their cat, and her mother and brother.  In a possible turn of events, Dr. Fabulous arranged an emergency conference call the day after her discharge to discuss the future.  Furious with the treatment she had received, the doctor thought there was still some hope, that Theresa could start eating again, that they might resume some type of treatment.  They may yet buy some time.  It is also possible Theresa and Brian may be coming into the last stretch of what has been a long, arduous, but loving journey for the two of them.  But they are hoping, and we are too.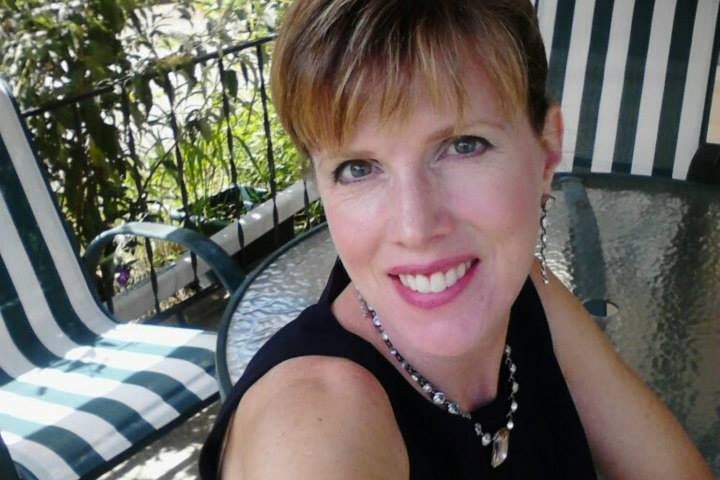 You can see the photos on this page.  Not so long ago, Theresa was a healthy, brilliant, fit, funny woman, dedicated to her career as an education instructional designer, and oh-so-in-love with her equally smart and savvy husband Brian, who worked in science, art and industrial design.  Theresa and Brian met through an online writers' forum in 2008 and married in 2012.   Settled in the Cleveland area, bought a home, and were looking forward to a long life together.  They both adore cats, and have a gorgeous, goofball ginger feline housemate named Ruthie.  Brian's music and inventiveness have been put on hold as he tends to Theresa's care, and Theresa's science fiction writing career remains on a distant shore.
Cancer does not pick and choose whose lives it enters.   And there is never any real knowing how it will all turn out.  You may know this from your own experience, whether cancer, covid-19, or anything else.
As Theresa's full-time caregiver for three and a half years, Brian has been unable to work.  With savings now depleted, they have amassed debt of more than $127,000 including payments on their house.  They pay upwards of $38,000 annually for health insurance.  The deductible for 2020 alone was $6,000 before her benefits kicked in, and even now, the coverage is stringent at best.  For instance, if Theresa's doctor says she needs more medication than her insurance allows to control her pain, they must pay for it out of pocket.  Recently Brian looked into refinancing or selling their house, but, given current economic conditions, he was advised by real estate professionals that there was no help there.
This is a sacred time.  There are several of us who want to help make this time a little less stressful.  If Brian does not have to worry as much about finances, he will be able to be even more fully present for this upcoming transition, whenever it happens—Theresa's journey to the undiscovered country, to quote Shakespeare.  An irreplaceable, intimate time that should not be disturbed for even a second.  
We have set an initial goal of raising $25,000, all of which will go to Theresa and Brian; only Brian can withdraw those funds.   We know too well the challenges that so many are facing right now, so it is hard for us to make this request: 
Whether or not you know Theresa and Brian, would you be willing to consider making a gift to help them?   Whether you can donate $5, $50, $100, or more, any amount will help. 
Please join us as we do what we can to hold Theresa and Brian in our hearts and in our arms, virtual though they may be for some of us, in this precious, fleeting time.  
Thank you for listening and for your compassion.
With love fromCarol, Terri, Robina, Leslie, Judith, Diane, And the rest of Team TheresaAnd with deepest gratitude from Brian and Theresa
P.S.  Theresa wrote a blog chronicling her experience with cancer, with her usual wry humor, perspective, and unwavering courage.   You will definitely get to know Theresa—and Brian, too—much better after reading even some of it: 
Exit Stage 3 An Outrageous Blog About Going Through Cancer Treatment
Fundraising team: Team Theresa (8)
See all