The PoliceWiki Upgrade Fund
Since its founding in 2008, 
The PoliceWiki
has become one of, if not
THE
, premiere websites dedicated to the rock band The Police and its members Stewart Copeland, Sting, Andy Summers and Henry Padovani. The PoliceWiki is a website run strictly
by
the fans,
for
the fans, although we have been graced by generous contributions and cooperation from many professional individuals involved with The Police through the years—including
Stewart Copeland himself.
The wiki is
entirely non-commercial
and has never utilized advertising or any other means to profit from the information shared on the site. Our committment to this position has been a large part in why so many have been willing to share their images, stories and knowledge about The Police through the years.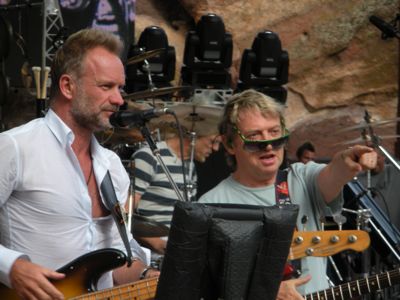 Photo by sockii, July 21, 2008 at Red Rocks.
Running The PoliceWiki is a labor of love for its primary maintainers and architects: 
Dietmar
, 
sockii
, and
DM-Kellie
. It is generally is not an expensive website to maintain. However, all websites require occasional critical maintenance and upgrade work, which can require the outlaying of significant funds.
In October of 2014, the PoliceWiki hired the professional programming firm of 
WikiWorks
to assist in a necessary upgrade from a long out-of-date MediaWiki install to the latest, most secure version as well as migrating to current php for the entire server. If not for WikiWorks' careful and expert assistance, it is very likely the PoliceWiki could have seen significant downtime
and possible data loss, if not a complete crash, by November of this year (sockii loves to use MediaWiki but cannot profess to being a programming expert.)
The upgrades, which are now complete and successful, cost the PoliceWiki admins (specifically one admin who stepped up to make sure it all happened) a total of $600 US. We are next looking to moving the wiki to its own dedicated domain, policewiki.org, while maintaining any and all previous links around the internet. This project would cost us an additional $200-300 US but would help in making the wiki more visible online.
Given the importance of the PoliceWiki to the Police fan community, I—as the primary host and web maintaner of the site—would like to ask for those who love the wiki to help give back some of that love. If you have even a few dollars to contribute to the maintenance of the PoliceWiki it would be greatly appreciated and help us know that the project is  serving its purpose of sharing accurate and extensive information about The Police with the world.
If we exceed our fund raising goal, which would be fabulous, know that any additional funds would be set aside for future maintenance, upgrade and improvement work to continue to make the PoliceWiki better than ever.
Thank you for reading!
-sockii, October 28 2014
Organizer