Ruffing's The Little House of Cats
La Maisonnette des Chats - The Little House of Cats
Our colony cat relocation project - Please help us keep up with the care of the cats. 
Update: The cats have been relocated into their new home, where they are safe! They have a nice enclosed yard and an insulated house of their own, with two cat doors leading into their yard. The remaining colony kitty, Mickey, moved in just before Christmas 2021, and Ellie moved in from the library in February 2022. In July 2022, I picked up two surprise stragglers at one of the old locations, Juniper Berry and her baby, Violet Ellijah, who need their vetting done. I am so relieved to have everyone away from those busy areas. The traffic was crazy there as we approached the holiday, and the lot on the other side of where they lived sold and was being cleared. They are adjusting really well. Thank you so very much to everyone who helped! The cats have ongoing needs for food, Revolution Plus, and medical care. Some are already coming due for vaccines, and at least one, Sasquatch, needs a dental to help with his mouth issues. Juniper Berry and Violet Ellijah are going in for their vaccines and they have an appointment to be spayed and neutered. Ellijah needs kitten food. "La Maisonnette," their little house, will need paint and flooring, and their yard will need some garden beds with mulch for digging in. Donations will be used to keep up with their care. Their food alone is a big expense. They need monthly Revolution Plus because one of the cats, Gabriella, tested positive for heart worm. It is also costly. Please continue to donate to help us care for the cats.
Thanks so much.
I was asked to move the colony I feed every day. They were in an increasingly busy traffic area at a local store, and I agreed with the store to relocate them as soon possible. I was in agreement that was best all the way around, for the cats and for everyone. Thanks to your generous donations, the cats have been moved into their new home, which a dear friend dubbed "La Maisonnette des Chats," or "The Little House of Cats". We installed their Purrfect Fence enclosure. We needed to cover their vet care, vaccines, dewormer, Revolution, and microchips as they were relocated. We also needed to cover several spay/neuters. We always need food, and the cats will need to stay on Revolution Plus, as one of them tested positive for heart worm. We also need a floor we can clean, paint, and some bushes for shade. Please help if you are able. Any donation of any size is very much appreciated. Thank you so much, to everyone who has helped so far! 
Thanks to your donations, we covered an emergency eye surgery, and we've gotten six more cats and kittens spayed/neutered, vaccinated, treated for fleas and parasites, and moved indoors. Thank you all so much. 
We recently pulled the sixteenth kitty from this location, Cliffie, above. We got him fully vetted and then he went to a rescue where he was adopted. The kitty who went to that rescue just before him, Patty Pan, got adopted in only two weeks, and the kitty who went from the store to that rescue before him, Frosted Petal, got adopted by one of their adoption counselors. Others went directly to homes, to a rescue and then adopted, and to a farm with other kitties. The remaining cats who needed to be moved are feral or semi-feral.
The rest of the funds from this fundraiser thus far have been used for vet bills for the cats we have relocated, including an emergency eye surgery, spays and neuters, vaccines, and for food for the colony cats. Someone abandoned three kittens at the colony. They needed to be fully vetted. Another of the cats has some eye issues and went to the vet to be treated. I also rounded up the two cats and two kittens a friend was feeding on the other side of the woods from the store colony. They got their vet care done and joined the group.
This is the house we had built for the cats. Joe from
Carolina Yard Barns
 built it from the ground up, on site. He was wonderful. He was very thoughtful and conscientious. It came out perfectly. Scott Fortenberry came over and insulated it and put up walls and more shelves. He did a beautiful job. A friend said it was far too nice to called a shed, and dubbed it "La Maisonnette des Chats" - The Little House of Cats. We'll still need to purchase paint, caulk, and a piece of vinyl flooring.
This is their Purrfect Fence enclosure. We need some additional welded wire fencing to finish the end.
The fenced area will need some garden beds, some soil, and mulch. 
These are some of my colony kitty buddies:
Background
Do you ever feel like Doctor Doolittle? I do. I'm Elizabeth Ruffing, and my mom and I are artists who create and sell whimsical dolls and toys, a menagerie of original cat art dolls, stuffed toy slugs, and bunnies, kitties, wildlife prints of birds and flowers, and, of course, prints of kitties:
ruffings.com
 We've also had a real-life menagerie of rescued kitties and one very cute bunny. Since we moved here, to this somewhat rural area outside of Raleigh, North Carolina, cats and kittens, along with a rabbit, have been arriving in our yard, our neighborhood, and our shopping centers. It happens almost every year that someone turns up, without our even having to leave the house.
In spite of how completely adorable they all are, they were abandoned by people, left to fend for themselves outdoors, or were born into community cat colonies. We have wonderful friends who have worked very hard to spay and neuter and vaccinate the local community cats, but every year, the population of abandoned animals seems to grow in our area.
We have done our best to give loving care to the creatures who have come our way, and find homes for some of the ones we could not keep.
There were three of us here, but on Christmas Eve 2016, we lost my dad. It's been hard, but I think we're doing pretty okay. One concern for us is that we want to keep up with our expenses for our furry family. After he passed, and while we were still paying off medical bills, in 2017, two more special-delivery cats arrived at our door, needing extensive dental work, which we got for them. They are now part of our family and are very sweet boys.
In 2018, with the help of donations from this page, we took in two kittens who were dropped off at the community cat colony, where I was helping feed the cats. Your donations helped pay for their vaccines and a friend donated their spay and neuter surgeries. Thanks so much. They are all living a happy life now.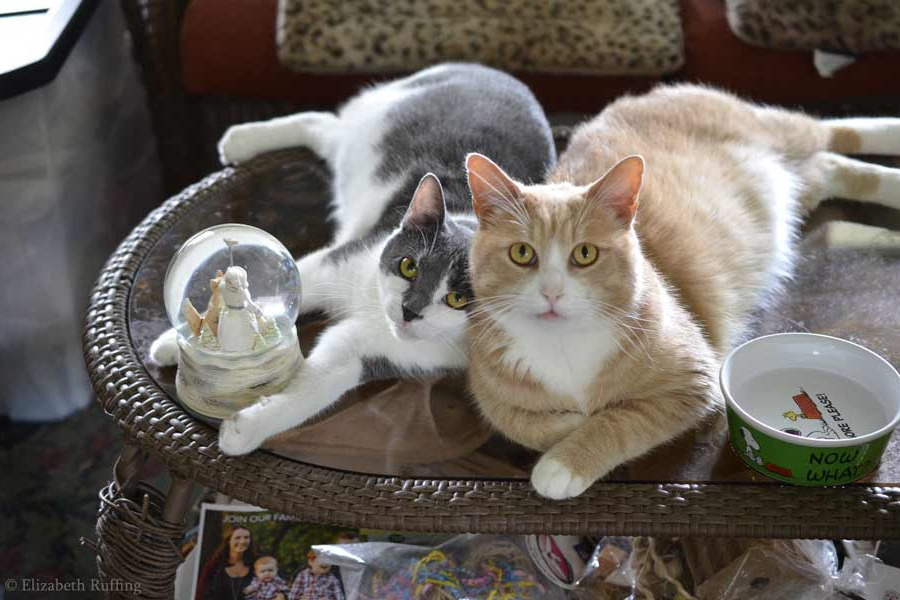 We continued to feed and care for the cats at that colony. Every day I went to feed them and spend time with them. They became my buddies.
In 2019, we took in another kitten, who was dropped off near the colony. She had a couple of emergencies, from a high fever, and again the vet bills added up. She is doing very well now, as are the others we took in. Your donations helped pay for her booster shots and a kind friend donated her spay surgery.
In 2019, while we were trying to relocate another cat, who had been living in a dangerous location nearby, someone dropped off more cats and kittens. Another lovely friend took in four of them, and we ended up taking in one more. He came running up to me, yelling, in a panic, wearing a collar he had outgrown. I couldn't leave him there. He had terrible separation anxiety, but he is also doing well now. Your donations helped pay for Revolution for him, and tests for worms and parasites (which were negative). A friend donated a leukemia test for him (also negative, yay!) and booster shots, and his neutering. Thank you all so much!
In 2020, thanks to your help, one of the colony cats, who was badly injured, had eye surgery and is living indoors now. The vet was unable to save his eye, but he's had no problems adjusting. He is super happy to be inside and is getting along really well with his new kitty brothers and sisters. He has been doing great, living inside, but he may need a second eye surgery, as he has had some unexpected swelling. He also had a long bone in his leg that was previously broken and healed improperly. It doesn't seem to bother him right now, but he is a little tippy. He is so much better off indoors! 
Every day, I need food for the colony cats, in addition to our house cats, and we continue to have more vet bills to cover. I needed to move the colony cats here. The area where they were living became busier with more traffic, and the cats became very obvious to the people coming to shop there. The area kept getting more developed and more dangerous for cats, in addition to the store not wanting them to be there. Thanks to a very generous donation, they now have their own house and a cat fence. Thanks to this GoFundMe, the colony cats have been able to get their vaccines updated and moved to a safe place here, with a fenced yard for their safety. We have had some predatory animals where we live, and the cats need to be kept away from traffic and neighbors. 
In early 2020, I rescued a younger, little black female cat from the area. Someone dropped her off and she was very sweet. I took her home and waited for a local rescue to have room for her. They named her Frosted Petal. She went up for adoption and was adopted soon after.
When they lived at the store, the colony cats were living outdoors, with Styrofoam houses and feeding stations that I maintained daily. 
How you can help:
Friends suggested I put up a GoFundMe page, because our animal expenses are ongoing, and people have expressed an interest in contributing. We would very much appreciate that too.
The colony cats have ongoing needs as well, and we have to keep up with everyone's food. The cats go through a lot of food each day. We got through 16-17 cans of wet food, plus about ten cups of dry food with each day.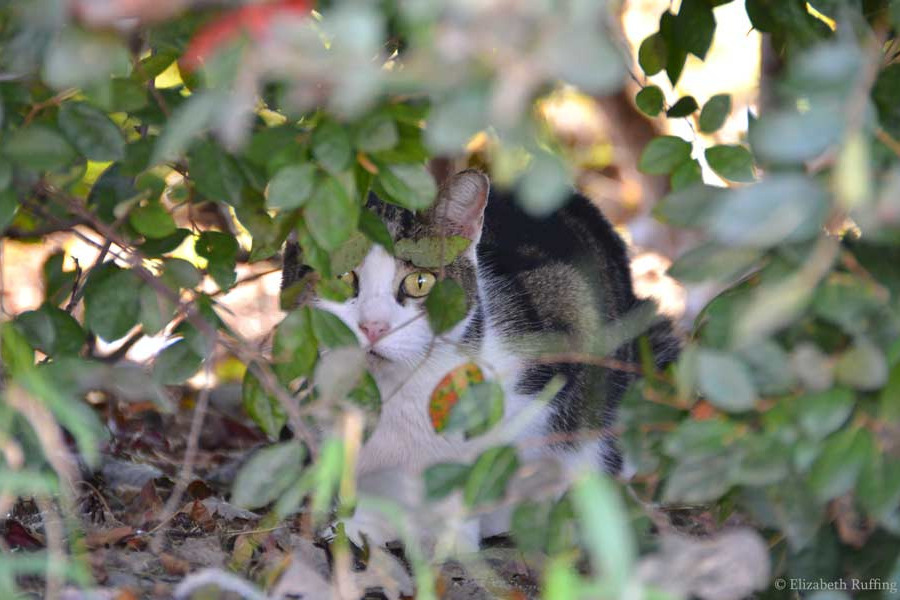 We would very much appreciate any contribution of any size that anyone would like to make. Any amount will be used directly for the cats. We are not a charity or a rescue, and so gifts are not tax deductible. If you would like to make a purchase instead, that would be fantastic. If you don't see something you are looking for up on our website yet, please feel free to ask me about it. I haven't gotten everything posted yet.
Goals:
1) Keep up with everyone's food. Between our house cats and the shed kitties, we have a lot of mouths to feed.
2) Keep up with vet care. Everyone needs to be vaccinated regularly, and needs always arise that require vet care.
3) Fund and install an enclosed area with a small shed and a cat fence for the colony cats. (Accomplished! Thank you!)
I will need to cover the GoFundMe fees, and any required taxes on this fundraiser as well.
This fundraiser is entirely for animal care, and more is always needed and appreciated. Please spay and neuter your pets and your community cats, even if they don't belong to anyone but themselves. Let's help stop the continued homelessness of companion animals. Thanks so much.