This is Kori and Katie Andrews, and their five kids.
Last Saturday (May 28th)  they were about to go to the doctor because Katie #WarriorMomma (29 week pregnant) had not felt the baby move in a while. They were in the car about to leave when she felt the baby kick, so they ended up deciding not to go. Then on Wednesday morning (June 1st) at 3 AM Katie #WarriorMomma woke up feeling like she needed to use the restroom and realized she was bleeding pretty heavily. With how much blood there was, we feared the worst. They called Kori's dad, who answered after one ring, to come be with their kids and then they rushed to Utah Valley Hospital.
Kori commented about when they arrived at the hospital: "When we arrived at the hospital I was scared and I wanted everyone to be as frantic as I was. Couldn't they see the blood? You should be freaking out and running around when there is blood, right? Looking back at that moment and moments since, I am actually super grateful for the calm demeanor of the medical professionals we have worked with and their ability to be collected and kind under pressure. This was ultimately very calming and has helped us to be less afraid."
Kori and Katie #WarriorMomma held their breath as the Nurses hooked Katie #WarriorMomma up to a monitor. After a moment, they could hear a heartbeat. Baby Girl #TheLastCupCakeGirl was strong and stable. They poked Katie #WarriorMomma about a thousand times all over to do different tests to try to figure out why she was bleeding. They also quickly did an ultrasound to check on Baby Girl #TheLastCupCakeGirl. First ultrasound looked pretty good. Seemed like #TheLastCupCakeGirl was doing fine. They still couldn't figure out why #WarriorMomma was bleeding. They gave #WarriorMomma a steroid shot in her rear end to help the baby's #TheLastCupCakeGirl lung development just in case they needed to deliver early. 
Their doctor wanted them to see a specialist. They waited around until 5pm to see a Maternal-Fetal Medicine specialist.
They did a second, more in-depth, ultrasound and discovered that #TheLastCupCakeGirl's tummy is really swollen (at this time Katie #WarriorMomma was 29 weeks, but measuring 40 weeks) so they started worrying about some possible bowel blockage. #TheLastCupCakeGirl was not in distress, but they monitored it in case things went downhill they needed to do an emergency C section. They said if they would need to deliver #TheLastCupCakeGirl, then she would possibly need to be transferred to Salt Lake immediately after being born. Rather than running the risk of having to separate mom and baby and so that we could be closer to specialists, they decided to Lifeflight #WarriorMomma up to U of U Hospital that night. They strapped her to a gurney and flew her away 30 minutes later. 
Kori wasn't able to fly with her, but was able to borrow a car and meet her there while their family continued to watch their kids at home. 
The next morning they had a 3rd ultrasound and the doctors expressed a concern about a genetic syndrome or it could just be a problem developmentally. By this time #WarriorMomma bleeding pretty much stopped. They still didn't exactly know why she was bleeding. They think it is not necessarily connected to what is going on with #TheLastCupCakeGirl. It could have possibly been a small tear of the placenta, but they didn't seem too worried about that at that point now that the bleeding pretty much stopped. 
Kori said: "We've wondered if the bleeding was a way to get us here so we could be aware of and figure out what is going on with our sweet Baby Girl."
The OB-GYN came in after our 3rd ultrasound and said, "The bowel issues with the baby are worse than I initially thought." She said that some of the best diagnostic medical sonographers (ultrasound interpreters) in the world have looked at our ultrasound and they think that there was an obstruction in #TheLastCupCakeGirl intestines. It could have been blocked or maybe twisted, they don't know. This obstruction built up to the point that it has now perforated (burst) and is now leaking fluid into her abdomen, which is causing the distended (swollen) stomach. 
the OB-GYN there consulted with a team of pediatric surgeons at Primary Children's Hospital and one of them came and speak to Kori and Katie. There were a few concerns, but she told them that the biggest concern was that the burst had completely killed the intestines. This is not good because intestines are required to live outside of the womb. They can't tell at this point and she didn't think we would know for sure the state of the intestine until #TheLastCupCakeGirl was born. She said that "whenever Baby Girl comes she will probably need to go into surgery immediately and will probably have multiple surgeries over multiple months to completely repair the damage." 
But they also had some good news.
Let's start with a few fun facts: 
Fun fact #1: Fetuses don't usually poop until they are born… I know, right? The more I think about this fact the more I realize that it is good news for lots of reasons One of those reasons is that they are not super worried about the #TheLastCupCakeGirl needing the perforated intestine surgically repaired until she is born.  
Fun fact #2: Fetuses don't eat regular food. Who knew? This is good because, for instance, if an adult had a perforated intestine then they would require immediate emergency surgery because of all the bacteria and other things going through their intestines could cause sepsis (infection in the blood). #TheLastCupCakeGirl was not septic and this was not as big of a concern because of the absence of those bacteria. 
Because of these facts The pediatric surgeon Kori and Katie talked to said that she has seen fetuses with similar issues who have been able to stay healthy in the womb till they are full term. Since Kamryn was 29 weeks and they were hoping she could at least make it to 34 weeks. But they wanted to continue to monitor #TheLastCupCakeGirl and gather more information. 
More good news: there were some concerns about underdevelopment in the brain and elevated blood flow levels in the brain. After further evaluation, those were no longer concerns.
After all this information that was thrown at them, at the end of the day Kori and Katie still didnt know how long Katie #WarriorMomma was going to need to stay in the hospital.
(Pictured a sweet not from their niece and flowers from #WarriorMomma's sister)
Friday morning one doctor told us that we might be going home that night. By Midnight Friday night they were so concerned that they moved Katie from the Women's Special Care Unit over to Labor and Delivery to monitor #TheLastCupCakeGirl and pump Magnesium into Katie #WarriorMomma. They give Magnesium to help protect the brains of babies who are less than 32 weeks old and who may need to be delivered early.
Saturday was a repeat of Friday, things were looking pretty good by the afternoon so they moved #WarriorMomma back to the Women's Special Care Unit. Then she used the restroom and a blood clot the size of her palm came out. Doctors weren't overly concerned about the blood clot, but after that #TheLastCupCakeGirl's heart rate dipped so #WarriorMomma was back in Labor and Delivery all night. The magnesium drip makes her uncomfortable, flush, super warm, and dizzy.
Kori was at home with their kids both times they moved her to Labor and Delivery. Not fun. But was able both times to quickly get back to Katie's side with the help of family watching their kids.
Sunday was a day of rest. Katie #WarriorMomma was back in the Women's Special Care Unit and #TheLastCupCakeGirl's heart rate has looked much better today. The highlight of their day was their kids going up to visit them and bring an amazing care package from their ward (shoutout to Sheryl Stout Jepson for putting that all together).Kori said: "We have felt a lot of love and peace today."
On Monday they had their 5th ultrasound in 5 days and #TheLastCupCakeGirl was not very responsive. Their team of doctors were really concerned that #TheLastCupCakeGirl was very sick and things were deteriorating. They have determined that she needed to be delivered that day and prepped to send #WarriorMomma over to have an emergency C-section. 
Baby Kamryn (aka #TheLastCupCakeGirl) was born 6/6/22
The C-section went well. Katie #WarriorMomma was doing great. No complications on her end. She is resting now. Baby Kamryn #TheLastCupCakeGirl was hooked up quickly with a tube to help her breath and was stable. Miracles all around.
Things were up and down on Monday June 6th, but Kamryn #TheLastCupCakeGirl is a fighter and she made it over to Primary Childrens. She had a little trouble on transport. She had some air around her lungs so they had to insert a tube on her side to relieve the pressure on her lungs. That went well and they were able to get her to the teams over there. 
Kori spoke to their team of surgeons and they planned to do an exploratory surgery to see what is going on in her abdomen and try to relieve some of the pressure (her tummy was still very swollen) as soon as she was stable. 
#WarriorMomma got in the wheelchair to come meet Kamryn #TheLastCupCakeGirl Monday night before Kamryn's first surgery, but almost immediately #WarriorMomma started feeling super super sweaty, nauseous, and dizzy and she had to get back in her bed. So she didn't get to meet her daughter before they took her into surgery.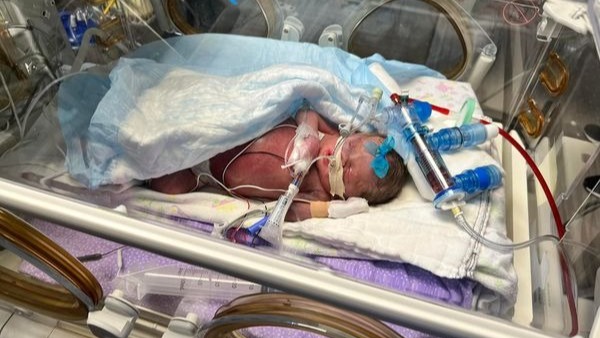 The Exploratory Surgery on Monday June 6th to find out what was going on in Kamryn's #TheLastCupCakeGirl abdomen went very well. They were able to drain the fluid from her abdomen. 
During the procedure they were also able to find and remove the perforation in her intestine. They then were able to take the healthy part of her intestine and created an ostomy (connected the opening of her intestine to the outer wall of her abdomen so waste can leave her body).
Kamryn #TheLastCupCakeGirl is still very sick and still has a long road to recovery. Her heart rate is pretty high (175) and they are also working on stabilizing her blood pressure. They are giving her morphine to relieve pain so she can rest and recover. She's hooked up to a lot of tubes. She is still Intubated (tube in her mouth to help her breath), she has a second tube in her mouth down to her stomach to reduce further build up there. She still has a chest tube in on her right side to drain air/fluid that is putting pressure on her lungs. She has multiple IV's pumping in nutrition, medicine, and a blood transfusion. 
Katie #WarriorMomma has been in a lot of pain Monday (June 6th) night and Tuesday morning (June 7th), but the nurses have been so impressed with her toughness. They have been able to give her some medicine to help with the pain. This afternoon #WarriorMomma gritted through the pain to sit up, stand up, and get in her wheelchair to go and see her baby daughter. She truly is a #WarriorMomma. We were able to wheel her across the sky bridge over to the NICU at Primary Childrens. It was a sweet moment to roll that #WarriorMomma up to meet her #TheLastCupCakeGirl for the very first time.
https://www.facebook.com/100000979783217/videos/363990839049385/
Kori commented  "I was overwhelmed with gratitude for all that Katie has sacrificed to bring our sweet baby Kamryn to this point. Absolutely amazing!"
Kamryn #TheLastCupCakeGirl did well Tuesday. They were able to get her heart rate down from 175 to between a healthy range of 140-150. There have been a couple of drops in her blood pressure, but they are figuring that out as they give her dopamine to help stabilize her blood pressure. Obviously she cannot breast feed so she is receiving nutrition through her IV's as well.
The biggest concern today has been her left arm. It is very bruised and there is a sore on her forearm. We don't exactly know what all of it is from. Tuesday morning they were having a hard time finding a pulse in her arm and couldn't determine if there was sufficient blood flow. They were nervous that the arm might be dying and she might lose it. They ordered an Ultrasound on her arm and were able to determine that the brachial artery (which is the major blood vessel that supplies blood to the arm) was supplying sufficient blood to the arm. This was a relief and it seems like the coloring has improved a little, but they are going to continue to monitor it closely. 
They are giving her morphine so #TheLastCupCakeGirl is sedated and not in any pain. She will probably need to stay that way for a couple of weeks. 
Kori commented: "I'm sad that it will still be some time before we get to look into her eyes, but I am very glad that she is not in any pain. The goal for now is to help her to rest and recover.
"Last night was tough for me. I couldn't sleep (I felt like I still had adrenaline pumping and I couldn't turn off my brain, so I just stood in Kamryn's room staring at her monitor's and bugging her different nurses and specialists with a thousand questions about what each tube was doing and what each number on the monitors mean, etc. They were all so kind and have done amazing at answering all my questions in a way that I can mostly understand (which isn't an easy task  . This team working with our daughter has seriously blown me away in every way!
Today, since the adrenaline has worn off, has been kind of tough. I didn't sleep a lot last night, so I have been pretty exhausted today. I have also felt a lot of anxiety about what the next few weeks and months are going to look like."
We have been told that Kamryn #TheLastCupCakeGirl is likely to need to be here in the NICU at least till around her due date (August 14) ten weeks from now. There is still so much that we need to figure out, but we will.
"As for tonight, I'm feeling so grateful for baby Kamryn and all of the angels and prayer warriors who have made it possible for her to be here tonight."
Thank you all so much for your prayers and generosity. we love you all. 
Love Kyri, Kori, Katie, The Andrews Kids, And Baby Kamryn
We also wanted to mention that we are not sue how much of the cost of the stay at the NICU  or the surgeries is going to be covered by insurance.  So Kori wanted to let you all know that if it comes to the point that insurance covers most or all of the medical bills, the left over money donated to them will be donated to someone else in need at the NICU. 
Fundraising team (3)
Kyri Schaffner
Organizer
Raised $1,065 from 18 donations
Provo, UT
Trina Fowers
Team member
Raised $50 from 3 donations
This team raised $4,559 from 50 other donations.