The Wilson Family Flood Fundraiser
My identical twin sister, Nadia, and her family have been through an unimaginable experience.  They had to watch as Oolagah Lake slowly swallowed everything on their four acre homestead with no warnings from authorities or government officials. Their home was built with cash over the last five years. Nadia and her husband Cameron did a lot of the finish work in the home themselves. A true labor of love built on their passion for living a more sustainable lifestyle, The Good Land Homestead was a place of peace and prosperity for the Wilson's until now. Today, it is submerged in Oolagah Lake.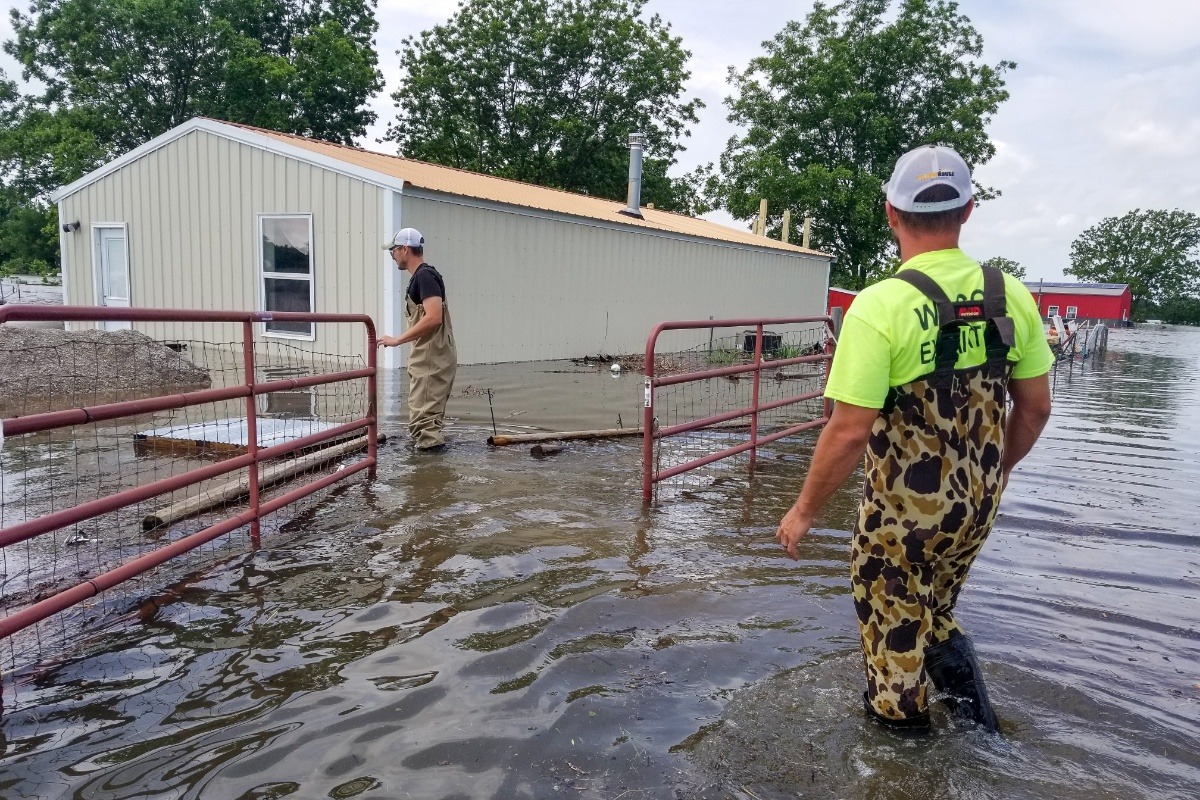 While Nadia's short story, shared below in her own words, does not do the devastation they have walked through any justice, please read it and share it with anyone you know. Together, we can support this God-fearing family through unimaginable circumstances. I am believing for supernatural provision for this family who has always gone above and beyond for anyone in need, whether they knew them personally or not. I would be honored if you would stand with me in prayer for their supernatural provision and restoration as they relocate their family and their homestead. 
I will be praying supernatural blessings for every person who steps out in faith to support my twin and her family during this devastating time in her life. Thank you so much for reading her story below and sharing it. I can't tell you what it means to me, my family, my twin sister, and her family.
"The Flood of Our Home by Nadia Wilson"
Our home is surrounded by Oolagah Lake. Inside, there is standing water 18 inches high and counting. The water has been in our home since the morning of Friday, May 24th, 2019. 
The morning of Thursday, May 23rd, the Army Corps of Engineers were projecting Oolagah Lake to rise to 663 feet above sea level by Tuesday, May 28th. However, these projections did not consider all the rain from the night before. I had begun elevating everything since our home's foundation was built around 664.6 feet above sea level and the projected 663 feet of water would only be a foot below that. When waters continued to rise, I decided to do my own calculations. I ran the rate of change average and applied it per hour. The numbers were clear. Our home would flood by evening or by the next morning at the latest, despite the Army Corps of Engineers insisting it would only be a foot below the home by Monday of the following week. We called them daily when they began holding water above the flood pool, which is supposed to be 661 feet above sea level. The water is now over four feet above the flood pool.
We would have lost everything had I not run my own projections and moved forward with evacuating on Thursday, May 23rd. The water in the home will be there for quite some time because several roads that lead to our home are eight to 18 inches below water, impassable, and several rainy days are in the forecast.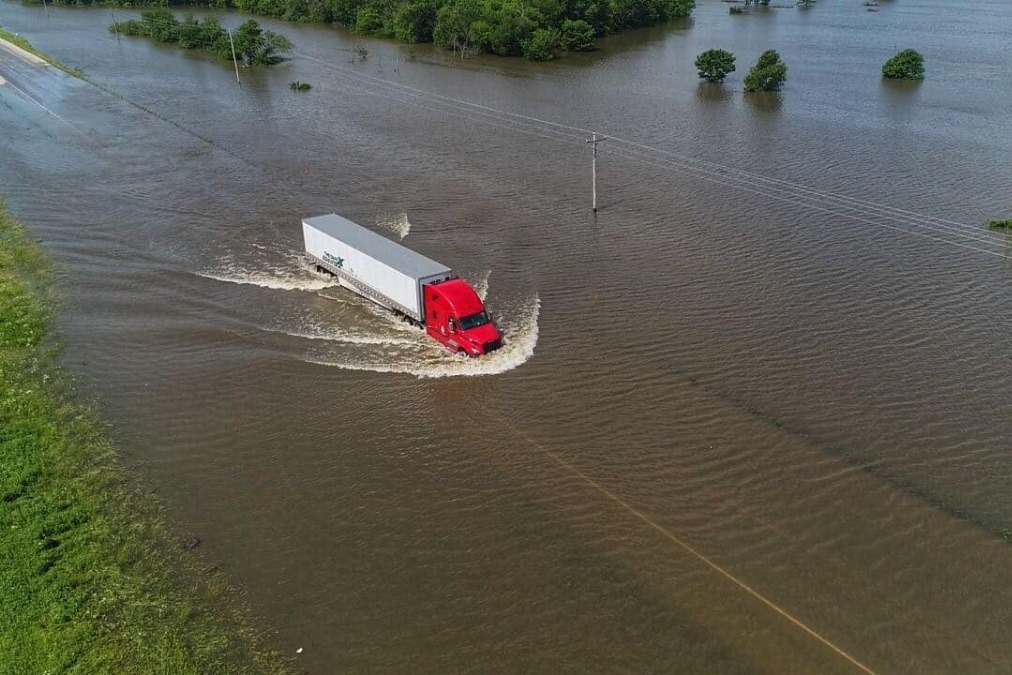 I began calling Roger's County Emergency Management Wednesday May 23rd asking for sandbags. They asked me where I lived and acted as if they had no clue the level of crisis our area was in. They offered me empty bags and told me they might be able to find a little sand I could use.
Roger's County never issued warnings. No one informed the residents in our area that roads, a major bridge, and a portion of a major highway were going to flood. There was no management or communication throughout this series of events. The Army Corps of Engineers allowed Winganon Road bridge, the entrance and exit for hundreds of residents in our area, to flood without so much as a notice to residents in the area. Interstate Highway 169 in Talala area flooded. They held water so long. The only news reported was that they had held too much water and were unable to open Oolagah dam until they released through the spillways. 
Even though we did our best to elevate everything we could, it was not enough. The rising waters and the amount of loss cannot be described. We are beside ourselves in shock.
On Saturday, May 26th, four days after the flooding began, Rogers County finally issued a voluntary evacuation for our area in the late afternoon. We evacuated FOUR DAYS before the county ever even mentioned a risk of flooding in our area.
We need so much right now, it is unimaginable. We are in the place where the eye does not see. We have been through so much shock and trauma that we are functioning on a moment to moment basis, which is why my twin Sister has created this gofundme fundraiser. So many of you have asked how you can help, and I just don't know what we need because I am still in shock. We have so much to figure out, we can't even begin to answer that question. By donating here, we will be able to fill our needs as they arise. Your donations are beyond heartwarming during this catastrophic flood and unexpected heartbreak. 
Any donations will go to providing beds for my children and ourselves as all our beds were lost. Also, to temporary living expenses which could include first and last month's rent, food, water, and toiletries. We will be filling basic needs for survival so that we can continue to be functioning and contributing members of society. My husband needs to go back to work without worrying about our family of six. Your donations will be the foundation of our new life as a displaced family with very little left. We still have livestock to rescue and establish temporary housing for.
Your donations will be used to re-home our family, and any generosity towards our us is seen as an act of ultimate human kindness and faith. For you to have empathy for and compassion on us from afar in our darkest hour is our ultimate grace. We are so grateful for your help and support. On behalf of my four beautiful daughters, my husband, and our extended family, "Thank you from the bottom of our hearts." Thank you to all those who have helped us through these last few days and continue to help us. Your generosity keeps me going on when I feel like I can't go on a moment longer, which is every other moment as of right now."
Nadia and her family have amazed me throughout this entire process. Not once have they felt sorry for themselves. Not once have they complained. Not once have they spoken coarsely against God. They have not been in the victim mentality once in my presence. They have maintained such a positive mindset and kept faith throughout this unimaginable experience. They have inspired me. It is my joy and my honor to create this gofundme page on their behalf. 
Nadia and Cameron are in shock, so identifying their needs and the path to meeting them has been a difficult process. Family members are rallying and we are doing everything we can to help them identify their needs. Below is a basic list of needs roughly outlined as best as we can at this time. 
-Beds for four children and two adults:  Estimated cost starts at $2000. 
-A temporary home: Estimated cost starts at $1800 and could be as high as $5000. This includes moving anything salvagable from their current property and home after waters recede. 
-Toiletries: Estimated costs start at $200. 
-Food and Water: Estimated costs start at $500. 
-Disaster relief and relocation: Estimated costs of cleaning out the flooded home start at $7500 but could easily reach $15,000 or more. While they do not plan on returning to live in their home, they will have to have everything ripped out to prevent the structure from becoming environmentally hazardous.
-Moving livestock to new land. Fencing for cows. Housing for chicken and ducks. This cost is difficult to estimate. The cows and livestock will need food, land to call home, fencing to keep them contained and a safe shelter. Estimates start at $5000. 
Here is a video of Nadia seeing the initial damages for the first time. Waters continue to rise as rain continues to fall. Please Pray for their family and all of the families being effected by this onslaught of severe and unprecedented weather. 
<iframe src="https://www.facebook.com/plugins/video.php?href=https%3A%2F%2Fwww.facebook.com%2FNKaledWilson%2Fvideos%2F4209454161788%2F&show_text=0&width=846" width="846" height="476" style="border:none;overflow:hidden" scrolling="no" frameborder="0" allowTransparency="true" allowFullScreen="true"></iframe>
Thank you for your time.
Nicole Gavrilov 

Organizer and beneficiary
Nicole Gavrilov 
Organizer
Collinsville, OK
#1 fundraising platform

More people start fundraisers on GoFundMe than on any other platform. Learn more

GoFundMe Guarantee

In the rare case something isn't right, we will work with you to determine if misuse occurred. Learn more

Expert advice

Contact us with your questions and we'll answer, day or night. Learn more