The United States of Ammunition
We are blown away by your support!
We set out simply to create postcards, but
you have inspired us to think bigger!
Announcing The United States of Ammunition, a road trip and art tour to create and photograph bullet-casing art installations at sites of gun violence in each of the 50 states of the USA.
We will gather and paint 30,000 bullet casings--representing the number of deaths annually caused by  firearms in the U.S.--and travel with them to places where lives were lost to gun violence.
The tour will end on the sidewalk in front of the U.S. Capitol building, where we will install a large-scale map of the United States using all 30,000 bullet casings.
Your donation will help pay for gas, meals, lodging and spray paint, as well the cost of leasing a vehicle sturdy enough to haul 800 lbs of bullet casings from coast to coast and from border to border!
=============================
For a donation of $25 or more
, we will send you a set of ten postcards.  (Free shipping in the U.S.)
For $50 or more
, we'll send you three sets of ten.
For $100 or more
, we will send you three sets of postcards plus a bundle of ten bullet casings used in these installations
For $250 or more
, we will send the above, plus we'll send 200 postcards to your favorite anti-gun violence organization for distribution to their members
For $1000 or more
, we will send the above, plus we'll travel to your town to create and photograph a temporary installation, in collaboration with your favorite local anti-gun violence organization.
For $5000 or more
, we will create a custom permanent installation at a site of your choice.
=============================


Fifty percent of our proceeds after expenses will be donated to gun violence organizations. 
(
postcard text
: Las Vegas, Nevada. Site of the deadliest mass shooting in modern American history. Pictured are 1,100 casings, the number of rounds fired by the gunman, in 58 stacks, the number of victims killed. Hundreds more were injured.)
----------------------------------------------------------------------
THE STORY:
A Thousand Bullets Appear on My Doorstep
A box of 1,000 rounds of ammunition is accidentally delivered to my address in Seattle. My first thought is, "I'm going to use these to make art."
My daughter Erin has just returned from the Peace Corps and is staying with me while we prepare for a road trip to Arizona. She suggests that it might not be safe for live ammunition to be rattling around in the trunk for 1600 miles, so we call the Sheriff. A cop arrives and takes the bullets away. She tells me she and her colleagues will probably use them for target practice.
But the bullet art idea has stuck. Erin and I visit a local firing range and they agree to give us all the empty casings we can carry. We bring home 1200 casings and several cans of spray paint.
We arrange the painted casings at sites of gun violence from the US-Canada border to the US border with Mexico. We photograph locations where famous people were shot, like the corner where Tupac Shakur was killed and the grocery store where then-US Congresswoman Gabrielle Giffords survived an assassination attempt and six people were murdered.
Mostly, though, we photograph places were everyday people are killed or injured from guns. We photograph sites of school and mall shootings, police brutality, deadly violence against women, road rage, suicide, gang violence, border shootings, genocide and at the site of the largest mass shooting in modern American history.
postcard text
: Marysville Pilchuck High School, an hour south of the US-Canada border. In 2014 a 15 year old boy shot five students, killing four, and then killed himself. 
postcard text:
Las Vegas, Nevada. Site of road rage murder. Photo taken 12 hours after the incident.
postcard text: Nogales, Arizona at the US-Mexico border. Since the 1980s, dozens of migrants have been injured or killed by gun fire from US Border Patrol agents or from vigilantes. Increased border militarization and US immigration policy contributes to hundreds of migrants dying annually near the border, mostly from heat exposure and drowning.

postcard text
: Salt Lake City, Utah. Site of the Trolley Square mall shooting in 2007. Five people were killed and four were injured.
postcard text:
Tucson, Arizona. Inside the grocery store where six people were killed and 13 others were injured by gunfire during a mass murder and assassination attempt on US Representative Gabrielle Giffords in 2011.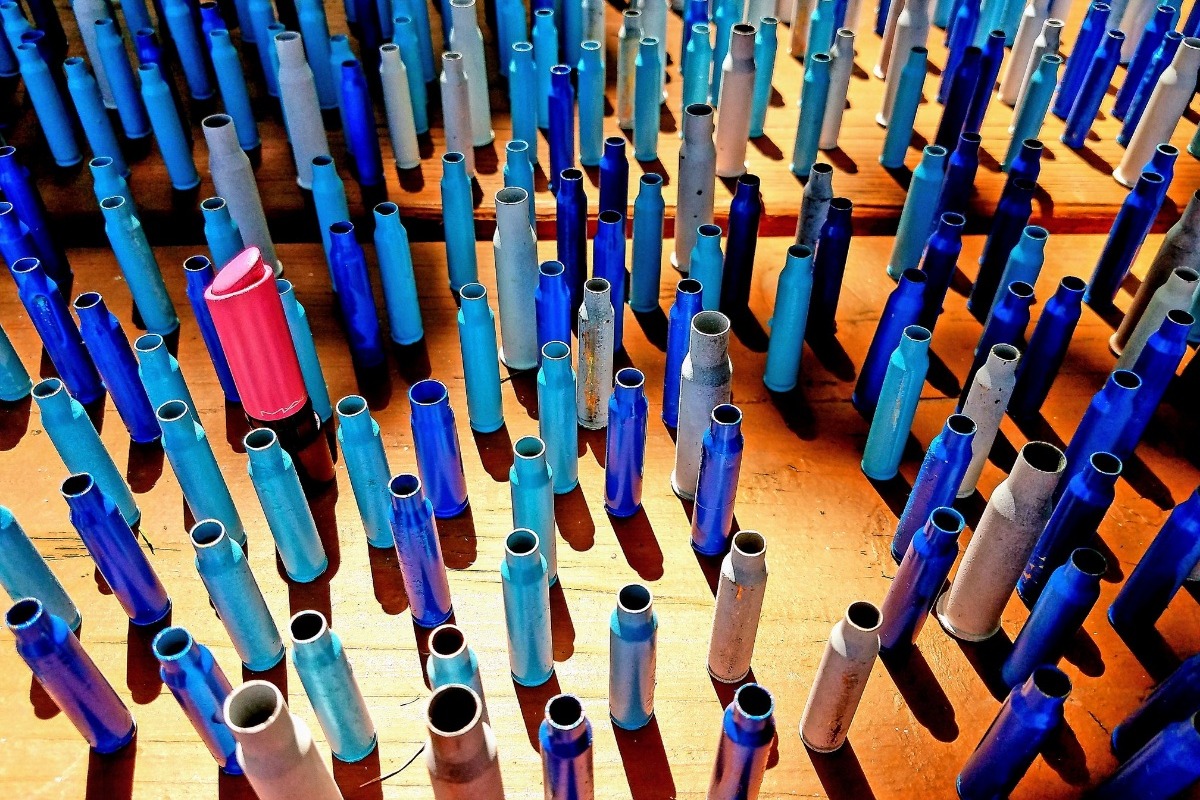 postcard text
: Boise, Idaho. Near the site where a 19 year old woman was murdered. On average 3 women are shot and killed every day in the US by their partner. Women of color are disproportionately murdered in partner-related violence.
postcard text
: Oregon Trail, near Baker City, Oregon. Unknown number of Native Americans killed in genocide by European settlers, many killed by gunfire.
postcard text
: Las Vegas, Nevada. Spot where Tupac Shakur was murdered in 1996.
postcard text
: Las Vegas Community Healing Garden, established in memory of the victims of the October 1 shooting. 
postcard text
: Boise, Idaho. Historic State Penitentiary. This cell held a prisoner who shot and killed a man in the 1960s. There are currently 179,000 inmates in state prisons across the US convicted of murder with a deadly weapon.
---------------------------------------------------------------
We began this project the day a shooter killed 3 people, including 2 young children, and injured 13 others at the annual garlic festival in Gilroy, California.
During our two week road trip, approximately 1500 Americans were killed by gun violence. (That's about one death per mile of our drive.) In these two weeks, there were at least 17 mass shootings, including at a Walmart in El Paso, Texas and a nightclub in Dayton, Ohio. We completed the last photograph on the day six police officers were shot in Philadelphia.
THANK YOU FOR YOUR SUPPORT
. Together we can bring an end to gun violence in the U.S.