Cooperative for Education
Join Cooperative for Education  to help 1,000 indigenous Mayan girls break the cycle of poverty through the Thousand Girls Initiative !
Who We Are
Since 1996, Cooperative for Education (CoEd) has been committed to the mission of breaking the cycle of poverty in Guatemala through education. We accomplish this mission by implementing innovative reading, textbook, computer, and youth development programs in impoverished schools. We work cooperatively with parents, teachers, principals, and students to create programs that improve educational quality long into the future. Our sustainable programs have served more than 188,000 students and gained international recognition.
Thousand Girls Initiative 
The Thousand Girls Initiative is a massive expansion of CoEd's
Rise Youth Development Program
  that will help form a new generation of educated and empowered Guatemalan women!
In Guatemala, indigenous Maya girls are at the very bottom of the social-economic hierarchy. They face discrimination even within their own families: when parents have to decide which of their children to educate on their meager earnings, they prioritize the boys, and the girls get left behind. There are nearly 50% more boys than girls in rural classrooms. Among Guatemalan adults, 80% of men are literate, compared to only 58% of women.
The Thousand Girls Initiative will change this dynamic by keeping 1,000 girls in school each year and by empowering them to transform themselves into the women they want to be.
How It Works
The
Rise Program's
  approach is threefold:
1)
Financial assistance keeps girls in school.
2)
Support services like on-staff psychologists and counselors enable girls to overcome obstacles to staying in school.
3)
Workshops, field trips, and service-leadership projects empower girls to become informed, aware global citizens capable of leading their communities.
The Rise Program has been tested and proven to help girls succeed. 90% of program graduates either get a job or continue their education beyond high school, and over 50% are helping to pay for their younger siblings to stay in school too!
How You Can Help
Any amount will help these incredible young girls.
A gift of $960 will make you the sponsor of an individual girl!
A gift of $480 will make you a co-sponsor of an individual girl.
Sponsors have the unique opportunity to exchange letters and photos with their student and even travel to Guatemala to meet their student in person.
"My sponsors are like family, great people who have been very significant in my life."
—Sandra, program graduate
"We've enjoyed having a relationship with our students very much."
—Rebecca and Marco, sponsors
Meet the Students
Meet just a few of the amazing young women who will join the Thousand Girls Initiative:
Marilena G.
– Marilena works in the fields washing radishes and dreams of becoming a doctor. Several years ago, her father died of cancer because his doctors failed to detect his illness, and Marilena is determined to save other families from the tragedy that affected hers. She, her mother, and her four siblings all work as much as they can, but it is still not enough to cover all of their school costs. Even if Marilena has to drop out of school to work and save money, she plans to come back and finish her education no matter what.
Angélica A.
– Angélica is a very bright student who has been on the honor roll for several years. Her parents are very supportive of her, but they worry that they won't be able to pay for her to stay in school. Her father works in a textile factory, but he has been fighting an illness that limits his ability to perform physical labor, and he may soon be forced to stop working. This would make it very difficult to support Angélica, her three siblings, and her niece, who lost her father (Angélica's brother) to throat cancer when he was just 22. Angélica contributes to her family's income by helping her mom to make tortillas and sell them out of the front of her house. She dreams of becoming a teacher because she likes to teach and think about the future of her community.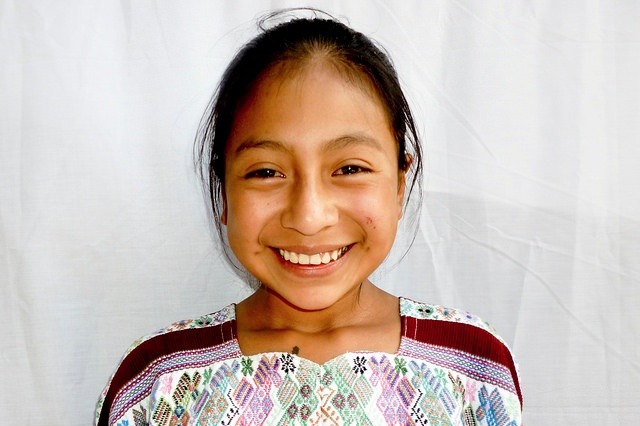 Jenny S.
– Although Jenny has good grades and likes to study, without a Rise scholarship, she will have to drop out of school next year to work full time and help support her family. Jenny is lucky to have stayed in school for as long as she has—none of her three younger siblings are in school because her family can't afford it. Her father does whatever he can to support them, which often means unloading trucks in Guatemala City or working as a day laborer in the fields. Their home is completely unfurnished apart from a single radio.
Elda L.
– Elda's father is a subsistence farmer, working the land to feed his family. Their house has neither furniture nor plumbing. Her father says, "My daughter is very intelligent, and I hope that someday she will become a working professional. I think education is really valuable, but we don't have the financial resources available to afford it." Elda's dream is to be a teacher, but without the support of the Rise Program, she will have to leave school next year to work in the fields with her father.
Evelin C.
– All of Evelin's older siblings had to drop out of school after sixth grade, and next year it will be her turn. Her family's circumstances are limited. Neither of her parents can find steady work, so her family lives in a home with clay walls and a dirt floor. Her mother says, "We have done everything possible to help her in school. We want to give her further education, but we don't have the resources to do it." Even though she knows that without a scholarship, she will have to leave school next year, Evelin hasn't let go of her dream to become a nurse so that she can help other people.
Success Story: Ancelma


Ancelma Ortiz grew up in rural Guatemala, where 3 out of 4 people live in poverty and 1 in 3 cannot read or write. The oldest of five children, she labored in the fields alongside her father and sold produce with her mother in the early morning market to help provide the basic necessities for her family.
After graduating from the Rise Program, Ancelma got a job at an international company making four times as much money as her father. She helped pay for her younger siblings' education, and now she is starting her own family. Her daughter represents the first generation to be born outside of poverty—and she won't be the last.
*Photo courtesy of © Rebecca Wilks, Skyline Images
Thank you so much for your support in this endeavor, and please make sure to help spread the word by sharing!
For more information on Cooperative for Education (CoEd), please visit our sites.


Cooperative For Education
  |
Facebook
  |
Instagram
  |
Youtube
This project is supported by the Girls Opportunity Alliance.
Your donation to benefit this campaign/project will be allocated to the Girls Opportunity Alliance Fund ("GOA Fund"),  a project of GoFundMe.org (a U.S. public charity). The Girls Opportunity Alliance Fund may grant a refund in limited circumstances at its sole and absolute discretion, however, donations are not refundable after the GoFundMe  payment platform has transferred your donation to the Girls Opportunity Alliance Fund. Transfers from GoFundMe  to Girls Opportunity Alliance fund typically occur once monthly.  All donations are subject to the variance power of GoFundMe.org, as stated in the applicable GoFundMe.org policies. Subject to applicable law, donations may be tax-deductible.The GOA Fund is restricted to supporting girls' education and your donation is made for the support of the above described project. Notwithstanding that the campaign description may name a specific organization that is anticipated to engage in the projects, GoFundMe.org retains variance power, that is, discretion and control over how funds are disbursed within the purposes of the GOA Fund generally, and within the purpose of the project specifically. For example, if the project does not reach its minimum fundraising goal, GoFundMe.org  may re-assign money raised to another campaign within the GOA Fund.As of April 11, 2019, the Direct Impact Fund operates as GoFundMe.org.
Girls Opportunity Alliance General Fund Grant

Global Girls Alliance General Fund Grant

Global Girls Alliance General Fund Grant
Organizer and beneficiary
Cooperative for Education
Organizer
Guatemala
Girls Opportunity Alliance Fund, a project of GoFundMe.org
Beneficiary