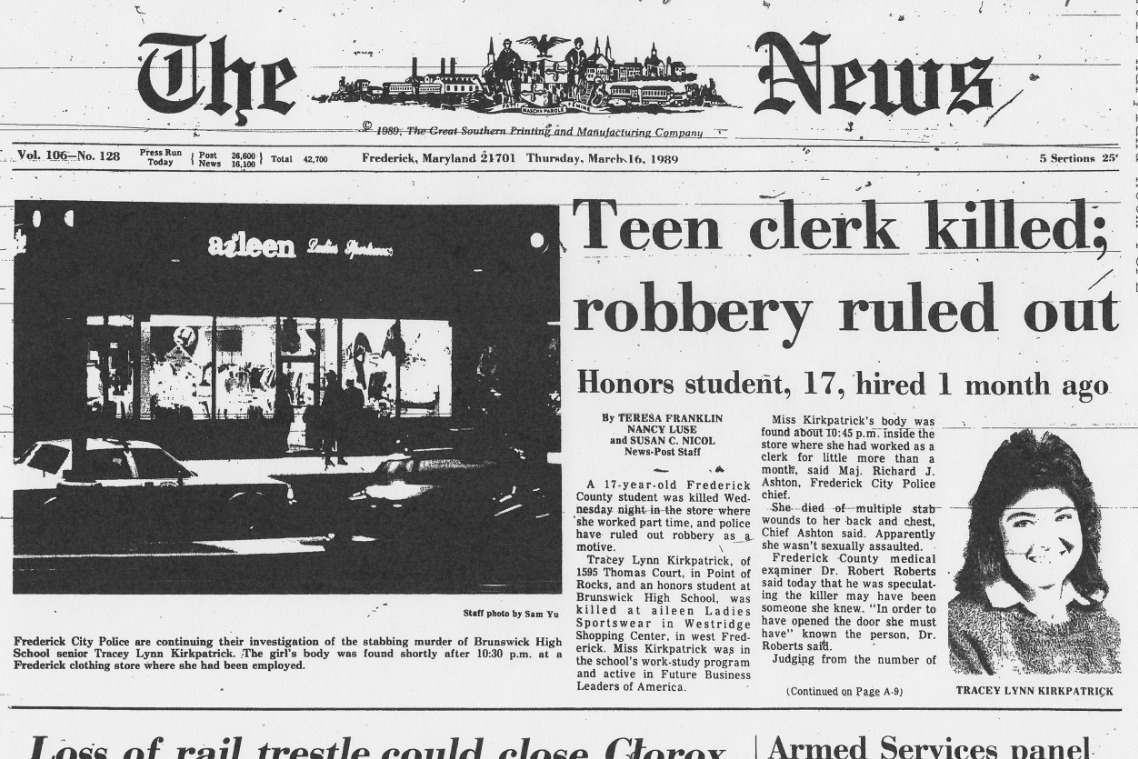 STORY
Over thirty years ago on March 15, 1989, seventeen year old Tracey Lynn Kirkpatrick was brutally stabbed to death in the back of a department store where she was working alone. To this day her murder remains unsolved. Not a single arrest has ever been made. The debilitating pain and endless frustration her family has experienced is unimaginable. They've never gotten any sense of closure, not even a single answer.
Who killed her? Why did they do it? And how have they gotten away with it for so long? Strange details about Tracey's case have swirled for decades. There's a taped confession, a man with multiple identities, a psychic with odd information, a crime scene security guard with powerful connections, inconclusive DNA evidence, a bloody print, and a former detective who said he solved the case before resigning. Suspects in the court of public opinion have ranged from a serial killer, an ex-boyfriend, to theories of a police cover-up.

A SMALL TOWN
Frederick, MD wasn't much different than any other town in the US. If this could happen there, it could happen anywhere. I know because it's where I lived most of my life. The tight knit community wasn't used to murder, let alone one this gruesome. Everyone was shocked. Her case gained national attention in the news and was dramatized on popular crime shows. I remember as a kid seeing the Unsolved Mysteries episode where she was featured. It shocked me then, and it shocks me now that her case is still open.
 
TRACEY THE PERSON
Those closest to Tracey want people to know the loving daughter, the caring sister, the loyal friend, and the insightful poet that she was, not the tragic murder statistic that she has become. She was an honest and caring high school senior who meant so much to people in her community. Her mom told me that one of the many tragic things about her daughter's death is that Tracey never got to realize just how much of an impact she had made on people's lives during her short time here. Countless people, even those who barely knew her, have already expressed to me how special of a person she was. Her published poetry showed her soul was beyond her years. She was a strong, independent spirit who insisted on forging her own path in life – working multiple jobs after school with plans to put herself through college and into law school. The words innocent, sweet and loving have been attributed to her more than any others throughout this film's production. 
 
SHINING A LIGHT 
Why do I want to make this documentary? Throughout years of suffering, her family refuses to give up hope on finding justice, even though everything surrounding her case seems to be against them. I simply want to help. I can't promise anyone this will solve the case, but making this documentary can shake things up and get more people looking at this case with fresh eyes. Details that may have fallen through the cracks could be found. The attention this would bring could re-apply pressure on the person who killed her. The annual stories in the local news about Tracey aren't going to work — they haven't. I'm an award-winning filmmaker. Help me shine a light back onto this case so bright that people will be forced to look.

HOW YOUR PLEDGES WILL HELP
The vast majority of contributions will be for marketing, distribution, licensing archival materials, legal assistance, pset/production design, insurance coverage and travel. With your donation, you can help keep her case and memory alive. Hopefully this can lead to the justice and peace both Tracey and her family have deserved for so long. Please, help make this film a reality. I sincerely appreciate any amount you can pledge.