Raising Money for Yellowknife's Mountain Bike Park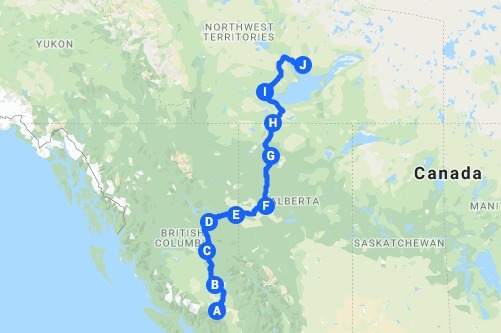 Just a Casual Bike Ride
On May 25, 2019, 10 mountain bikers head north on a 10 day, 2200km road bike ride from Whistler to Yellowknife. It's gonna be sweet.
The group is composed of six guys who grew up riding mountain bikes together at Camp Fortune over the past two decades, and four dudes from Whistler who never turn down a "good" ride. Though we've laid down serious miles on the trails over the years this will be our first adventure on skinny tires. Luckily, road biking is super easy.
In no particular order, the crew is Alex Conlon, Jamie Blades, Mark Taylor, Matt Tirrell, Will Cadham, Quinn Lanzon, Huw Thomas, Dave Kenworthy, and Braedyn Kozman, with award-winning cinematographer Graeme Meiklejohn capturing the whole trip from his trusty Honda Element.
Our mission is two-fold: to have fun and to share our love for riding bikes. Which is why we're raising money, but more on that later.
To learn all there is to know about us, head over to
therideofyourlife.ca
Raising Money for a Mountain Bike Park in Yellowknife
Don't let the skinny tires and spandex fool you, we're all mountain bikers through and through. Which is why we're using this bike ride as an opportunity to raise money for the Yellowknife Mountain Bike Club who have a brand new mountain bike park in the works.
All of the guys on this trip feel really lucky that mountain biking is a huge part of our lives and always will be. If we can help bring that stoke to up north with us on this ride, it'll be pretty damn special.
100% of the money we raise
will be donated to the Yellowknife Mountain Bike Club for their upcoming
Mountian Bike Park.
Why Yellowknife?
So, Quinn came up with this ride because he was born in Yellowknife on May 24th, 1989, but moved away before he turned 2. Riding a bike there on the first day of his 30s seems like a great idea, sort of. 
And now it's way too late to back out so we're gonna try and raise some money and share the stoke for mountain biking while we suffer our way up the road.
We're in for the ride of our lives.
Fundraising team (9)
Quinn Lanzon
Organizer
Raised $1,705 from 24 donations
Alexandre Conlon
Team member
Raised $786 from 12 donations
Matthew Tirrell
Team member
Raised $675 from 7 donations
William Cadham
Team member
Raised $525 from 3 donations
David Kenworthy
Team member
Raised $365 from 14 donations
See all