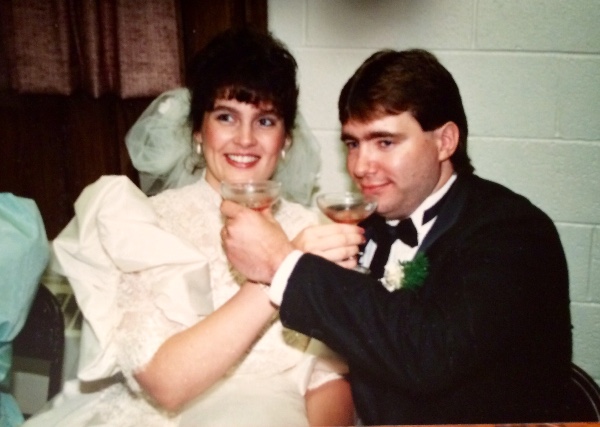 This is a story of love and resiliency, a story about family and old friendships, a story about our friends, Lisa and Kirk Mummert. We all met 30 years ago at our jobs at The Camera Shop, and became lifelong friends, but for Kirk and Lisa, it was love at first sight, and a picture perfect romance after that. Two of the nicest people you'd ever want to count as friends, who started one of the nicest families you could ever hope to know. Their lives changed with Lisa's diagnosis of Parkinson's just a few years after they were married, but they never let it define them, and always found the silver lining by loving and supporting each other. Despite not being able to work a lot, Lisa, with her beautiful smile and easy laugh, did her best as a positive, joyful, and loving mother. There were many ups and downs, for sure, especially while raising their son Kirk, jr., but they made it work through sheer perseverance and love. They have always been a giving couple and continued their generosity by bringing their once foster son, now adopted son, Michael into their family. Despite it being a challenge with the Parkinson's progressing, they made it work, because they wanted to help Michael to give him a home he deserved.
Recently, Lisa's Parkinson disease has taken a turn for the worse, with a second, incapacitating stroke. While Lisa is recovering, her husband Kirk has also had health problems himself and has been unable to work. He has been a wonderful care provider these many years, but now it is even difficult to do what he could before as their health issues are having debilitating effects. Without a job that has good benefits, they are now struggling just to put food on the table and pay bills. Their mounting financial and emotional challenges are becoming a heartbreaking reality.
Kirk, jr. is heading off to college this fall, reluctantly leaving his parents in their situation, with just Michael at home to help. They have urged Kirk, jr. to continue on with school and promised him they would be OK. This financial setback should not put their home or sons in jeopardy, but sadly it could, and that's why we are asking for your support. They still are hopeful, but with limited resources. Without a computer, it is difficult to connect to local support agencies, and with limited mobility, it is challenging to get to where they need to be for doctors' and hospital visits. We are trying to help them, but with many of their old coworkers spread all over, it is hard to mobilize the way we want. Having a site such as this to tell their story and elicit support for them is just one way we want to assist our friends as they deal with this challenging situation.
Even if you don't know Kirk and Lisa, you know people like them --- great neighbors, the lacrosse coach giving his time, coworkers who make coming to work a joy, the foster parents who gave of themselves when others couldn't for a young man in need, a married couple who meant and live daily "for better or for worse", the eternal optimists, the people who don't like their struggles or needs burden others. We all can learn much from their lessons of loyalty and perseverance. Now it's time to do something special for them, even if it is just in honor of people like them. Please help in whatever way you can. Thank you for your generosity and help spreading the love for a truly deserving family
Organizer
Kathy Kinzel Nishimura
Organizer
Hanover, PA