The Mainline
  is an independent print and digital women-led magazine based in Atlanta, Ga., that is devoted to supporting independent artists, musicians, and grassroots movements. Our mission is to provide a means for connection among creatives while supporting an atmosphere of independent thought in an increasingly disconnected and desensitized world. Since we have seen nationwide and international protests in response to George Floyd's murder, we have directed nearly all of our attention to covering the Black Lives Matter movement along with providing resources for those involved in protests and advocacy work. We intend to do this for the foreseeable future. And trust, we're in this for the long haul.
(Cover photo illustration by Joshua Jarrett. Photography provided by Aja Arnold, founding editor.)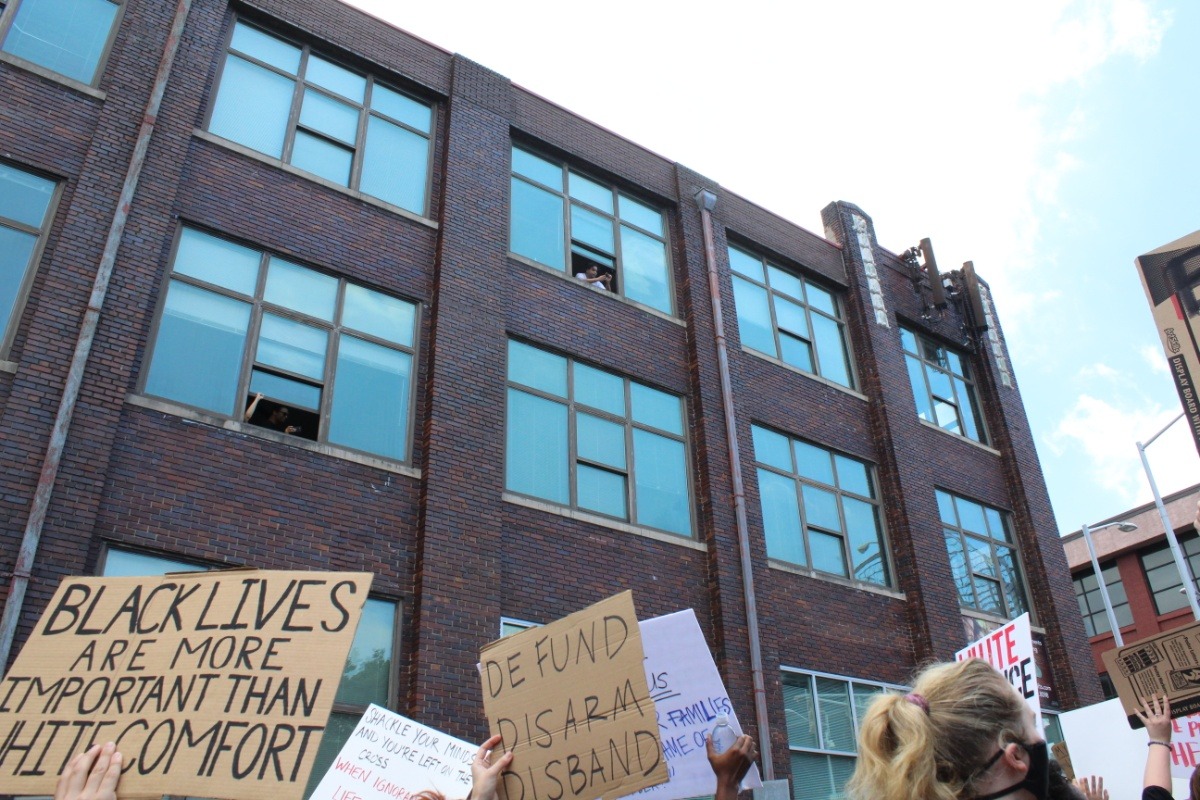 It is an especially challenging time to be a budding, independent publication, particularly with all the turbulence COVID-19 has brought us all. Entering the world of publishing pre-COVID was a major feat on its own. Odds were stacked against us — especially being in print — but we overcame them with help from our community.
Since we launched the Mainline in July 2019 with our first print issue, "The Stand or Fall Issue," which was published in response to the passing of multiple abortion bans across the U.S. that spring, we launched and successfully completed a full Kickstarter campaign and published three outstanding issues. "The Way Out Issue" and "The Gray Issue" joined the world in print, while "The Boundary Issue" was published digitally on our official website.
Like most businesses struggling during this pandemic, it is an understatement to say that our revenue sources have been hit hard. Events and live shows became one of our magazine's greatest means to reach people within our DIY communities in Atlanta, where people could support us in spirit and monetarily. Additionally, advertising revenue has also thinned as countless small businesses also find themselves in the unknown.
While our plans for this year have undergone some major readjustments, we are not shying away from this chance to adapt and transform into an even better publication and media source. But we need help to ensure we can continue publishing and supporting artists, writers, and musicians the way we've always intended. Minimal ads, quality print, refined content.
As the Black Lives Matter movement continues to gain momentum in a post-COVID world, we are seeing that another world is possible. Join us as we step into a NEW EARTH and take a deep dive into a full-on transformation. As they say, let's pivot.
OUR MISSION TO COVER & SERVE THE BLACK LIVES MATTER MOVEMENT:
As an independent publication covering the Black Lives Matter movement, we believe it is our duty to cover the movement accurately in accordance with its principles and free of corporate influence. As history has shown us repeatedly, traditional media outlets control and warp the narratives of human and civil rights movements. This year is no exception. We are here to show up as a source in movement media to elevate and protect the Black Lives Matter movement. We are here to elevate its people and its mission, as well as protect the narrative.
WHERE THE MONEY IS GOING:
Your donations will directly fund this independent magazine and its continuing coverage in social issues, human and civil rights movements (BLM), music, cultural and political criticism, and showcasing an array of artists of different mediums. We run a full digital platform via our website, Instagram, and official podcast as well as biannual print publications. 
SUPPORTING ARTISTS & WRITERS
Today, shifts in newsrooms have caused freelancers around the world to adjust to a newfound uncertainty. (Freelancing in general has always been on some level uncertain, but never like this!) Larger newsrooms have slashed their freelance budgets to accommodate for the exponential decline in advertising dollars, meaning they are not picking up outside writers for the time being and likely, for the foreseeable future. Therefore, there are many story ideas and pieces floating around out there in the universe looking for a home and tons of writers/artists in limbo.
Our first year, we operated on a volunteer-based model since funds were low and just enough to cover print and operational costs. Starting this fiscal year, our operational costs include a freelance budget. While we are not able to pay our staff salaries at this time, we have revised our business model to include funds for our contributors. Starting now, your donations will go to fund artists and writers directly through the magazine. This will help us continue to do the work that we're doing while empowering freelancers, which is needed now more than ever during the global COVID-19 pandemic as many newsrooms have slashed their freelance budgets.
Our compensation numbers to start are as follows. We recognize this is a humble beginning and hope to scale our budget as revenue increases.
PHOTOGRAPHY
Photography of the Black Lives Matter movement — $75
EDITORIAL WRITING
Feature (word count not to exceed 2500) — $125
Op-Ed (word count not to exceed 1500) — $100
Album/Show Review (word count not to exceed [phone redacted]) — $75
Human Experience/Deep Cuts (word count not to exceed 2500) — $100
CREATIVE WRITING
Poetry (up to 3 poems) — $75
Short stories (not to exceed five pages in standard formatting) — $75
GRAPHIC DESIGN/ILLUSTRATION
— $50
OUR NEXT PRINT: THE CONNECTION ISSUE (ARRIVING SEPT. 2020)
We strongly believe in keeping print alive for the purposes of personal sentiment, remembrance, and historical documentation. "The Connection Issue" will be our first print issue since the pandemic took hold in the U.S., and we are committed to making it our best yet as it will also debut submissions from our first-ever open call that took place May 1-25. These submissions will be merged with pieces documenting the Black Lives Matter movement, which saw its uprisings after our open call was closed.
While a significant portion of our coverage is directed to serve the Atlanta community, we've expanded our reach and extended our space to writers and artists all over the U.S. (We're all living through history in this global pandemic and movement together, right?)
We find that in these times, maintaining a deep sense of connection is especially important. We received a good number of submissions from our open call and are looking forward to featuring a diverse range of artists. Additionally, we have shifted our focus to feature more art — both visual and written — in our documentation of America post-COVID. We feel that is one of the things the Mainline is best at: showcasing the human condition in all its diversity and wide-ranged experiences through artistic means and the written word. 
The Mainline will continue with the open call format for its future print issues, which will be even better than our previous ones in terms of the voices, aesthetic, and design we present. We're talking perfect bound, matte finish, the whole she-bang. While our previous issues were high quality, especially for what was then a free publication, we want to provide something of even better quality and longer shelf-life. We're talking periodical instead of magazine. This campaign helps us launch into this transition while making up for projected revenue we lost due to COVID.
THE MAINLINE: DIGITAL
Since our plans for this year have been totally rocked, we have been leaning heavily into our digital platform. Initially, we strove to keep print alive by making it the utmost priority in an effort to bring people together by giving them a reason to get off their screens and into the streets. To lower our overhead in this time, we are dropping down to two print editions a year instead of four, with the biannual prints more stacked and higher quality. This will lighten the burden on our core team contributors and expand our bandwidth to do more online, where we can realistically reach more people, more effectively. This means moving our advertising offers to our digital space rather than mostly in print.
In order to do this successfully, we have begun the process of optimizing our website to hold more space for digital advertising which has been minimal up to this point. We are also going to regularly update our website to remove bugs or kinks. This will require some production costs, but is ultimately the best move we can be making.
Our operational costs also include subscriptions to Adobe Creative Cloud programs which can be used by our contributors and costs the magazine a monthly fee.
THE MAINLINE PODCAST
Our official podcast launched in February in collaboration with Shut Up Mary Productions and it's been a huge godsend! It is available for listening on Spotify & iTunes. We initially branded the podcast as the Mainline Politics Podcast, as we were attempting to cover politics once a week during the insanely hectic election year that was already in swing before COVID hit. Then COVID happened and we were like, NOPE. Time to support art and music instead, and spare our souls from being crushed on the reg. We renamed the podcast simply "The Mainline Podcast," and have been using the space to interview artists, musicians, activists, and share resources so far throughout the pandemic. It has certainly given our magazine some wheels and  provides us with yet another medium to support others and their work!
THE LONG TERM
While the future is uncertain, we aren't going anywhere. Collectively, we are staring down the barrel of major turbulence during an unprecedented time of transformation. We have other big dreams for this independent outfit, but none of them can exist without donations and support from our readers. We work for the people and are funded by the people. Join us today in helping keep independent journalism alive at a time we need it most.
Together, we can do anything
<3 <3 <3 <3
The Mainline