The kids of Shaheen need your help
Next to a dusty playground, down a long alley way, past one-bedroom brick rooms housing entire families, is Shaheen Academy. Shaheen is a martial arts team and academy founded by Bashir Ahmad, a Pakistani-American Army veteran with the goal of creating good citizens and role models from the youth of Pakistan. It is located in Charrar Pind – a slum of about 50thousand inhabitants, at the center of the wealthy Defense Housing Authority or DHA. All of the labor and low paying jobs in DHA are filled by the people of Charrar Pind and they average about 150 dollars per month in pay.


Bashir Ahmad was born in Pakistan and raised in Virginia. He isan Iraq War veteran and known as "The Godfather of Pakistani MMA." In 2009 he moved to Pakistan to promote the sport of MMA. His vision was to use martial arts as a way to get kids off the streets and to teach discipline to youth who may otherwise end up involved in drugs, crime and militancy. He wanted to do something positive for Pakistan. In the process of doing so, hehas been covered by various media outlets for his unique story of being a US Army veteran giving back to the country of his heritage.

Bashir started Shaheen Academy in the summer of 2016. Hismission was to create leaders for positive change from amongst the poorest and most vulnerable youth, using martial arts as avehicle for that change. The free facility works as a third space— a safe space—to help these children to grow into responsible and useful members of society. Shaheen Academy is not designed just for MMA training; it also offers activity-based sessions where the children are encouraged to develop their cognitive and critical faculties as well as problem-solving skills, and build their overall sense of personal worth.



Opening day celebrations at Shaheen.
Kick-boxing class in session.



After-school studying and homework help with our tutor. 

 

Our sports-based life-skills training program is based on strong existing evidence that life-skills training delivered by martial arts coaches can offer an important opportunity for youth to increase their social and emotional competencies and move away from involvement in violence, crime or drug use.

Indeed, under the 2030 Agenda for Sustainable Development, the contribution that sport can make towards the empowerment of communities as a whole, including the particular contribution it makes towards the empowerment of youth, is implicitly underlined as part of Shaheen's mission. This recognition of the role of sport for social progress provides an opportunity to continue joint action to promote sport as a powerful enabler of the Sustainable Development Goals.
Shaheen students cleaning up a field next to the gym.

 

Preparing packages for our Covid-19
food drive.

 
Meet Our Students:


Abu Bakr



Abu Bakr's mother was hired to clean the academy when he was 9 years old. She would occasionally bring him along with her. He would sit on the stairs watch the adults train. He came day after day and just observed, he would even stay behind after his mother had gone home. His friends, some of who had stopped going to school and roamed the streets of Lahore, wondered why Abu Bakr stopped hanging out with them. They wondered why he stopped skipping classes. He later told them that the teachers at the martial arts gym had said he wouldn't be allowed to come if he skipped school. 

Abu Bakr was hooked. Sometimes he would train, sometimes study. Meanwhile, similarly-aged children in his neighborhoodroamed the streets, begging, stealing and/or simply loitering and wasting the day away. Abu Bakr knows he needs to help the children in his community. He knows he needs to become a leader and a good citizen to inspire other children to be a part of the team. He now has a healthy social life outside of school, where he is taking part in activities that will help him achieve his goals and grow into a better person.


 
Tayyab Akram

Tayyab, at 12 years old, is one of the youngest members of our team. He has been coming to Shaheen since its opening. Tayyab has a bright future ahead of him. He loves going to school,(Shaheen is paying for his fees at a private school), and is consistently placing in the top 3 of his class.

Tayyab is highly motivated and ambitious. He is a team member who will show up to class early and help clean the gym before the other students arrive. He is extremely conscientious, and naturally kind and gentle-hearted. Through Shaheen, we are confident that he will be able to attend university and create a bright future for himself.



 Abdul Rehman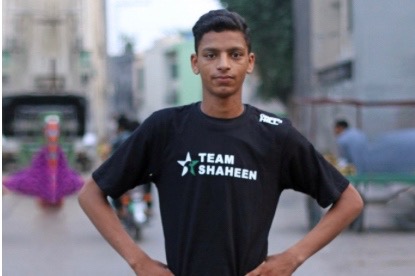 Abdul Rehman is the oldest Team Shaheen member from ouroriginal group of children who joined when we opened our doors 5 years ago. He has just started college (in Pakistan's education system, college is grades 11 and 12). He has shown very strong leadership skills and he serves as a mentor to the other team members, especially Tayyab.

Abdul Rehman, like Tayyab, will show up early to help clean the gym and also prepare the attendance sheets which the students sign before they take a tuition class or training session. Abdul Rehman shows a strong interest in the day-to-day management of the academy. He helps create the monthly accounting sheet, as well other administrative tasks.

Abdul Rehman has a bright future ahead of him. If his current performance continues, we hope to enroll him in university. Abdul Rehman has not decided what he wants to do alongside competing in MMA but we have such confidence in his abilities that we hope he can one day hold a larger share of responsibility in running the academy. This kid is a superstar.

Women's Team



 Shaheen Academy not only provides a safe space for at-risk youth but also to aspiring female athletes. At Shaheen we understand the involvement of girls in sports is a stepping stone towards achieving gender equality in the country. The two newest additions to our team are twins, Maliha and Manisha. Maliha and Manisha hail from Gilgit Baltistan and both began their journey in martial arts when they were 14 years old. They joined Shaheen so they could set an example for other girls and encourage them to break stereotypes in a society that can be otherwise limiting. Sport increases self-esteem among adolescent girls and provides opportunities for the advancement of girls in the face of gender-related barriers. The concept of women in martial arts is still uncommon in Pakistan, and Maliha and Manisha hope to pave the road towards building our female team.

 
Cost Breakdown

Our ultimate goal is to make Shaheen Academy self-sufficient. Until then, we need your help in keeping the facility running for another year. Our vision is a community center that will last forgenerations. Our yearly fundraiser helps us:

• Pay rent for the facility for an entire year
• Pay electricity bills
• School fees for our kids on educational scholarships
• Salary for our after-school tutor to help the kids with their homework
• Salary for our martial arts instructors and our gym manager, who too are an alumni of Shaheen Academy
• Upgrades and maintenance of the gym
• National and international trips for our students (only) to compete in MMA competitions
• Family support for when any of the students' families are in need.


Shaheen represents how people can come together and through their small collective efforts, they can move mountains. Through our work in the Charrar Pind community, we have seen 7 year old kids smoking cigarettes, using drugs and having nowhere to go. Shaheen Academy is a safe place for them. There are kids whose parents don't know and don't care where their children are. They are left out to roam like cats and dogs. This is what poverty does. But we have also seen children's faces light up with hope, knowing they have a place to go to. No matter their state or status, they will always be accepted at Shaheen Academy.