The Keep: It's Your Turn!
As a family, we (the Long family) started a restaurant in 2008 called The Keep Cafe. It was meant to be a service to the community and a ministry in Jinja, Uganda. We wanted to create a safe haven for locals, ex-pats and missionaries and to create an opportunity for our staff to learn above-and-beyond job skills working in a Western-style restaurant.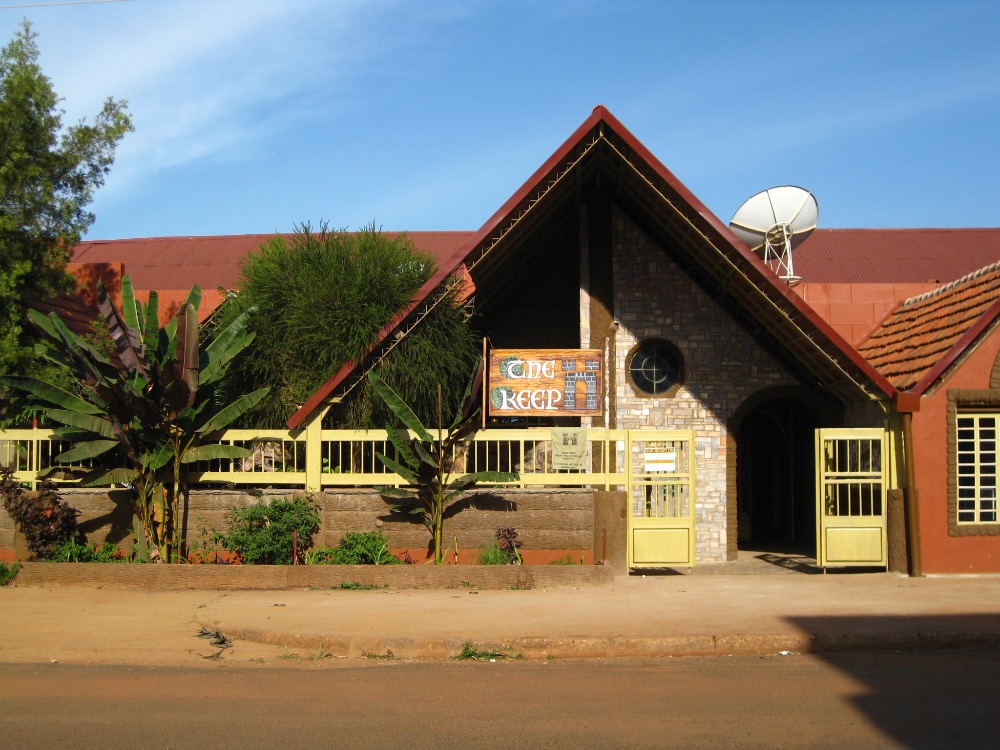 We poured our lives into the Keep, using our savings and funds from Hackers For Charity supporters. We ran music events, ice cream socials, special Thanksgiving dinners, Christmas concerts and more. It was a full-time job, especially for my wife, Jen, and often for our children as we lived in Jinja and worked alongside our staff. This was a very difficult job, as Jen and I had no restaurant experience, our staff had never tasted Western food or experienced Western service, good supplies were extremely difficult to get (developing country), visitors to our scenic tourist town at the Source of the Nile were infrequent and fickle, and lately, competition has become fierce. However, we loved the staff, our staff loved us and together we brought joy to our client's faces -- many of whom really needed a lift as they lived and worked in a harsh environment.
When we left Uganda we were faced with the reality that after eight years, we would have to close the doors, despite the fact that many of you helped us keep the doors open through the years. Without our leadership, we were afraid, the Keep couldn't survive. 
We broke the news to our staff that we would have to close, but we would work to pay the remaining debt and provide severance to our employees. 
Our employees, many of whom are sole providers for their families, rejected our offer. They unanimously agreed to give any severance money back to the Keep to build the restaurant and keep it open. They were literally willing to gamble their futures on making the Keep work. 
We were stunned, but thrilled. This is exactly what we hoped for when we opened our doors: that one day we would be able to turn the restaurant over to trusted staff.
This fundraiser is the last in a string of fundraisers designed to turn over the Keep to our Ugandan staff and leave a legacy in Jinja, Uganda. 
Most of our staff members have written personal letters to us, explaining what the Keep means to them and how it transformed their lives in powerful ways. I'd like you to meet some of them.
Meet Florence (above), who we met "on her last hope". "Married off" at age 13, she lived in "constant fear" and was "beaten up almost every day". A young, single mother turned away by her husband and family, she started as a dishwasher, worked her way up as a Prep Chef and "soon she will become a professional cook". She is now stron, secure and independent. 
Meet Amos, the baker (above), who had no idea how to bake, who is now pursuing a degree in Business Administration and loves to bake. He's even passed the "Jen test" more than once which is saying something. :-)
Meet Sarah, our manager (above), who was once a "lost, scared girl" living in an abusive home, who is now a "happy, independent woman" who "loves to serve" and is living "without fear". It's rare to see Sarah without a big smile.
Meet Levi (above), who had no skills but trained in our home as a barista. He says that, "Everything I have achieved has been from The Keep Cafe. It's my family and my everything."
Meet shy, quiet, Julie aka "Mama Kathy" (above) who came to the keep "without anything, pregnant and hopeless" who now has many friends, a beautiful daughter (Catherine), is doing well enough to help her family and is paying her nephew's school fees. 
Meet Gerald (above), who began as our gardener and part-time security guard. Jen taught him baking, and he began working as a cashier at the Keep. Now, he's a Hotel Management graduate and an assistant Chef at the Keep. 
Meet Andrew (above), whose life was "unspeakably hard" as he barely survived on $3 per week who started as wait staff, is now pursuing his Degree in Business Administration, has passed through his "worst times" and is a Barista who is no longer "lost" and faces each day with "hope and a smile".
Our Goals
Our goals are straightforward. The first $6,000 of our goal will pay off back rent and clear the Keep of debt. The second $2,000 will pay staff salaries, pay utilities and pay the fees to transfer the Keep into Sarah's name. The final $3,000 will pay five months advance rent, which will also reduce our rent by $241 per month
forever
and will give our staff the head start they need to be successful. 
Your donation will make a real difference in the lives of our staff, the families they support, and will provide a solid foundation for their future. We are grateful for any donation large or small, and 100% of the funds raised (excluding GoFundMe fees) are going directly to the Keep via HFC, the dba of the not-for-profit 501(c)3 Ascend. 
Know a restaurant guru with a big heart?
We also are in desperate need of someone in the restaurant business who can come alongside our staff and give them a hand up. They are hard workers, but Jen and I had no experience in running a restaurant. We learned by doing, and the staff deserves better. If you know someone that has a big heart for helping restaurants meet their full potential, please plead with them on our behalf. Their efforts could make a monumental difference.
Thank you for all your support through the years. We could not have sone this without you.
The full letters from our staff
Florence Achieng: Two-Year Staff Member
This letter was translated by Sarah, our Manager:
"The Keep Cafe is more than a restaurant. Driven by love to serve others just as Christ loved the church . What good is it to welcome the professionals yet you can give someone hope and skills to take them through the future. 
Meet Florence Achieng.  The Keep met her on her last hope. She is 24 yrs old.  She was married off when she was 13yrs old (in fact she was sold off). She lived in fear all of her time in her marriage because she was beaten up almost every other day! After the birth of her second child her husband then rejected everyday. She couldn't return to her parents because they would have to pay back a lot that they weren't willing to give back .  
She came to The Keep  and asked to wash dishes as that did not require her to have a qualification or know how to speak English.  She washed dishes for a year, and now she has learned how to prep food. She continues to work hard and progress, soon she will became a professional cook. 
She can speak a few words in English and can understand some english now too!!"
Amos Abutu: Four-Year Staff Member
"Hi Papa and Mama, hope you guys are doing well over there, for the most of the time I get in The Keep to work I look at table seven thinking that at least at one point or one day I would see you guys there having breakfast. I miss you people so much, because you are amazing parents to me.
I want thank you for the chance you gave me to work at The Keep. I came to The Keep when I did not know how to bake, but you guys believed in me until I became a great baker in town. I have achieved a diploma in business administration and am also pursuing a degree in business administration at Makerere University, all these I have achieved because of you Papa and Mama and may God bless you so much in everything you do. Well feel so sad that The Keep a place that has given me all these big things is fading off, the truth is that some days I can't sleep because it feels like a nightmare to me, but then everything happens for the reason.
I will never have wonderful bosses like you, thank you so much for everything once again and may God bless you, I miss Declan, I love you all."
Sarah Kaisoke: Seven-Year Staff Member


"I joined The Keep July 21, 2010. For the last 7 years and 2 month The Keep has been home. Just as you said "my baby" in fact, lately people forgot my name but know me as The Keep. My entire family knows that you are my second Family! And if I am to be honest, all that I am now, the name that I have built, the happy Sarah that people see, independent, the girl that loves to serve, it's all because of you. You taught me right, from how to dress, how to speak to people, how to present myself and all that parents could teach their own.
I came to The Keep when I was so lost with life, I used to complain about the mistreatment from my aunt, and abuse from my former boss before the Keep. I made a family through The Keep, you have always had my back, you took care of me when I was sick (not once or twice), not only me but everyone that I cared about, my friends and family, and you also took care of them whenever we got stranded. 
I overcame my fears and I grew into a woman.
 The Keep has been way more than a job for  me, you may not know it and I think I have mentioned it before, you have been parents to many of us, much more than just bosses!!!! When they speak of selfless people you come to my mind right away. You have served the purpose really and I want to take the opportunity of saying "Thank You", (words alone really can't express how grateful I am for the 'scared-far-off-girl' to the person I have become today.)
Really thank you.
Much love,
Sarah k"
Levi Otuba: Seven-Year Staff Member
"Am so  grateful to The Keep Cafe for all my memorable experiences but before my coming to this beautiful place let me tell you my story. 
It all began after my studies in 2008 when I tried looking for stable work to do but all was in vain. Little did I know that destiny was to link me up with the Long family in Jinja. I did meet up with them through a friend and did my training at their house in 2010. I had no experience in brewing coffee, but with great appreciation to both Jon and Jen they gave me all the necessary support, skills and ample time to express myself and seven years down the road, am still standing strong with my greater love for being a barista.
Everything I have achieved has been from The Keep Cafe. It's my family and my everything. Am still learning though and hope to achieve more with time, God willing. There were times when things got hard but we stood together and sailed through the storm although only a few managed, I am glad to be among the few who are still here from the beginning.
Yours truly Otuba John Leviticus"
Julie "Mama Kathy" Nangobi: Five-Year Staff Member
"Hello, my name is Julie commonly known as  "mum Cathy" because of my daughter Catherine.
I started working at The Keep when I didn't have anything and no one in my life. I used to help Sarah's aunt and Sarah herself at the house and she introduced me to The Keep. This was a period when I was pregnant and helpless. No sooner had I given birth to Catherine that is when I started working at The Keep.
I have been able to get many friends which have helped my family members. I have been able to pay some of my nephew's school fees and also helped him survive. I have also been able help mum with rent for the house we all stay in.
I would love to thank mama Jen Long for the love and support they have given and also the Long family at large. I have grown to love The Keep and I am ready to support it in any way I can because all I am right now is because of The Keep (more so the people in it) it has really brought me and my family from afar. I am so grateful because God knew that my life needed The Keep to be meaningful.
I love The Long family so much because they have loved me beyond my expectation. And by the way I have loved cleaning The Keep for the last 5 years and helping out with laundry. I am also grateful that instead of closing up the projects we have faith in, you gave us an opportunity to choose from the options and so far you have already given us the chance to run it on your behalf.
We are always grateful, may God give you love peace and all that your hearts desire .
Julie"
Gerald Irege: Four-Year Staff Member


"It has been a long time since you left us.  Hope everything is well with you all. We miss you as our beloved family and the distance between us. Most of the times we miss you per each passing hour, you know what it means and what it takes away from me . 
Just as a dry seed could say its story from seeding to a plant, likewise to GERALD too.
I came to know the family of Johnny Long through the family of Mr & Mrs.P.and I was working for them has a gardener .So when P. family went back to USA the family of Johnny Long moved to their house but just as I was living in the compound with the P. family, the Long's also allowed me to stay with them in same compound.
 I kept on working as gardener and also some time work as a security guard at home when they are away with the family.
Johnny long and the wife picked interest in me and and they gave me a chance to go back to school for further studies so that I could follow my passion as a caterer, for they did not limit me from reaching their set projects and charity business such as THE KEEP CAFE and HACKERS FOR CHARITY.
  At times I was at The Keep in the evenings I got interested in baking so I went home and asked Jen if it OK for me to learn baking from home.She said yes and madam Mary who was their home cook and the same time a head chef at The Keep started teaching me how to bake while the Long's marked my mistakes. From there she gave me an opportunity of working at The Keep as an assistant cashier during my free time of school and this helped me to know my career and it also helped me to develop my future job .
While working as a cashier I was also able to go in the Keep kitchen and learn how to do some cooking with the chefs, and I also started cooking for the guests at home. After my A levels I went for hotel management course at YMCA College of Business Studies. The Longs still stood with me and supported me while still working at The Keep and living at Long's place. 
I went for a six month training at Munyonyo Hotel where I was in an accident after serving for five months. The Long's couldn't see me suffer so far away from them and I ended up returning to The Keep again as the assistant chef up to date .
So The Keep has been so important to the development of my life, and I also love The Keep in a way that it would break my heart to do without The Keep. Just as the founder of The Keep based at getting a seed into a plant, it has given me a bright future by opening my eyes and mind towards business. We cannot wake up one day and forget all about The Keep. In this I want to thank all who are willing to make The Keep their home away from home with its best food and drinks .
I can go on and on writing but one word for The Keep is that it's a place of hope for the future.
Long live Johnny and Jen
Kind regards,
Gerald"
Andrew Mulondo: Three-Year Staff Member
"My name is Andrew Mulondo currently working as a barista at The Keep Café.
I started working here during my second and last year at the university, where I was pursuing a diploma in business administration. Things were really bad for me and my family since my three cousins and my kid sister and I were all being catered for by my single mother. Even with the little my mum had she asked me to go apply for university, which I did. But then she couldn't be able to help out entirely. I had to survive on less than 3 dollars a week. I tried but the handouts from school on a weekly basis would range between 5-6 dollars, I had to find my own food at times when she couldn't afford to, and had one meal a day. Life was unspeakable but I had to survive.
During my second semester I started looking for jobs but without qualifications or any relatives in any entity, it's usually impossible to get a job, so I failed in all attempts. I started helping out my neighbors with any work, some were really good to me because they saw my need, and started making do their work i.e. shop keeping, attending to their children among others. I did this for seven months until I got called to The Keep Café for a job as a waitstaff.
When I started working at The Keep, that's when life changed for me entirely. I got to practice what I was studying at school, which was business. I met a 'family' where some were students like me struggling to survive. Other people that had passed through worst times then I have ever imagined but had gotten hope at least. I just lived more when I was told we had shifts because school was really important. The founders "John and Jen Long" have been really supportive in each and every step, in school and work; they encouraged us in anything just like any other parent would do. I love them so much, because most of us in the organization are from broken families, but they have not only given us hope but also put a smile on our faces. I am really grateful for their love and support.
Through the training and experience I have gotten from The Keep, I have and still am helping many other people like me who were lost, been in problems and have or might thought it was over for them. We have given them hope to survive through praise, worship, and words of comfort among others. But GOD has been our guide. 
With lots of love and hope from Uganda 
I still remain Andrew Mulondo barista the keep café."

Organizer

Registered nonprofit
Donations are typically 100% tax deductible in the US.
Learn more
#1 fundraising platform

More people start fundraisers on GoFundMe than on any other platform. Learn more

Expert advice, 24/7

Contact us with your questions and we'll answer, day or night. Learn more