People are Dying - We have a Solution
The RE-inventilator Project
People are Dying Because There are not Enough Ventilators; We Have A Solution and You Can Help                                                         
A top engineer with a background in sophisticated laser technology,  has developed plans for a new, quick to manufacture and inexpensive ventilator for mass production.  It has drawn the attention of medical schools, hospitals and research institutions throughout the nation, all focused on eliminating Covid-19.      
The effort is called "The RE-inventilator Project". The ventilator is called the Voyager SDV (Software Defined Ventilator). It will cost under $1,000 per unit as opposed to ventilators now in use which cost between $30,000 and $50,000 each and take much longer to manufacture.      
The new ventilator engineer is Don Sipes, 60, CEO and President of Optical Engines, Inc., a Colorado, Co. with numerous government contracts. Clients also include Raytheon and Lockheed.  Previously, Don worked at the NASA Jet Propulsion Laboratory, Pasadena, California.  Sipes holds over 30 U.S. patents and invented the technology that is in all the green laser pointers everyone uses.   
Now he has the plans for a novel life-saving ventilator - again, quick to manufacture and less expensive than those you see on television.        
To bring this project to life, your contributions are needed. This ventilator will help eliminate the virus scourge. The technology is compelling. It follows:
DESCRIPTION
The Voyager SDV, the world's first Software Defined Ventilator (SDV), is a ground-breaking, patent pending, full-featured, ARDS protocol ventilator design that is inexpensive and immediately scalable. 
In response to the COVID-19 crisis, our group of dedicated engineers-physicists, scientists and medical professionals have switched our attention from developing high-end laser systems, to creating the world's first Software Defined Ventilator (SDV). We formed the RE-Inventilator Group, and in a few short weeks, took our concept from paper to prototype.  We repurposed components from the millions of available donatable CPAP and BiPAP machines into
FULLY FUNCTIONING INVASIVE VENTILATORS
with the necessary features to successfully treat an ARDS compromised COVID-19 patient.
Our mission is to Re-Invent the ventilator.  Instead of duplicating the existing complex, purpose-built, full featured ventilators, we started with the patients' breath profile needs and worked our way back to create a direct digital control system for a ventilator's components and inputs. RE-Inventilator Group's Voyager SDV is the result of this effort.
The Voyager SDV will be the most compact, lowest cost, and simplest to manufacture ventilator with a large stock of available component parts, the ability to deploy in large numbers, and with a minimal amount of training.  Deploying the Voyager SDV will make a significant difference to this current crisis.
We are ready but time is ticking.
The RE-Inventilator SDV Advantages
Full Featured
o Performs ARDS ventilator protocol - pressure, volume, breath rate, PEEP, I/E etc. control
o Includes inspirational hold; a best-in-class diagnostic tool necessary for effective treatment
o Industry standard user interface; no training required.
Invasive (Trachea Tube)
o Trachea tube protects the lung from contamination from gastric contents and nasopharyngeal matter such as blood and mucus.  Face masks can't do this.
o Face masks produce atomized virus-laden moisture posing a health hazard to health care workers.
Short Term Rapid Scalability Utilizing (3) Sources
o Upgrade existing CPAP/BiPAP/older ventilator machines to full featured state-of-the-art ventilators.
o Re-purpose motors and blowers from used CPAP, BiPAP, older ventilators.
o Utilize the large stock of off-the-shelf standard component parts such as 3-phase motors.
o Thousands to millions of units quickly and easily assembled with ordinary hand tools.
Long Term Stockability
o Post COVID-19 units' software can be upgraded at future time of use, no obsolescence.
o Anticipated kit version will allow economically constrained communities to utilize local salvage components and local assembly labor with ordinary hand tools.
Inexpensive - Under $1,000 per unit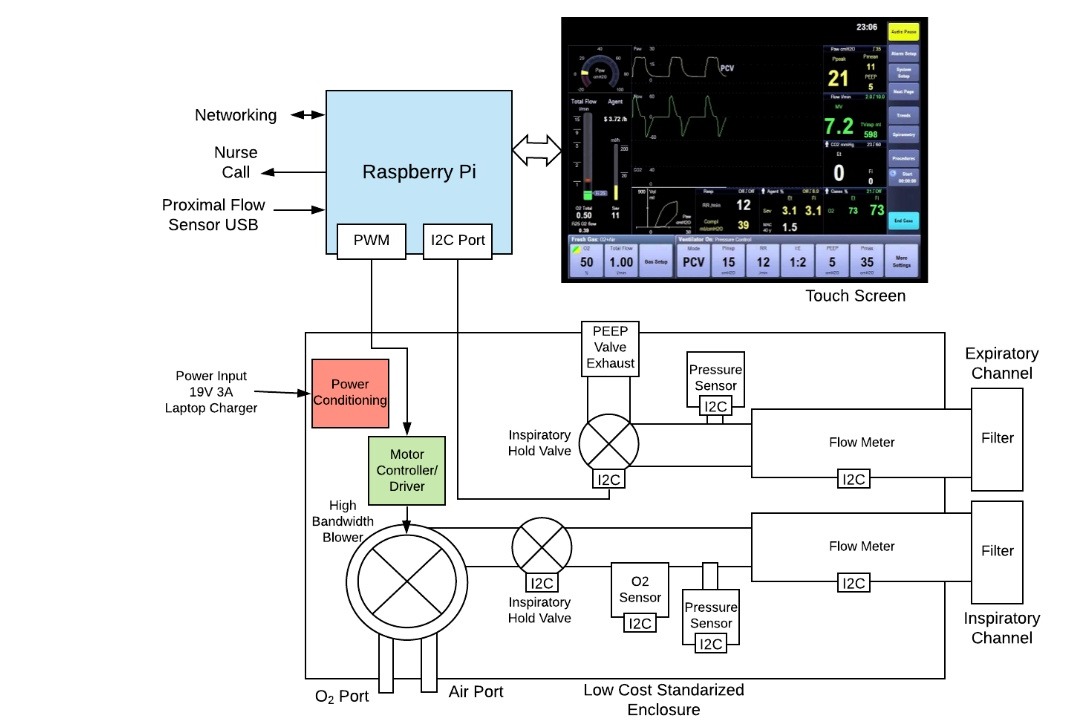 Organizer
The Re-inventilator Group 
Organizer
Colorado Springs, CO
#1 fundraising platform

More people start fundraisers on GoFundMe than on any other platform. Learn more

GoFundMe Guarantee

In the rare case something isn't right, we will work with you to determine if misuse occurred. Learn more

Expert advice, 24/7

Contact us with your questions and we'll answer, day or night. Learn more