The HEART of San Francisco Tribute to TONY BENNETT
This year's
HEART of San Francisco
will be a Tribute to the great
Tony Bennett
Antenna Theater's Heart of San Francisco has appeared over the Golden Gate Bridge for several years.It is drawn by a sky-writing plane, one-mile high. It is meant to be a virtual manifestation of the essence of San Francisco's soul and visionary spirit. This year Antenna Theater will dedicate The HEART of San Francisco to the late Tony Bennett..
Our HEART of San Francisco is in fact Tony Bennett's heart, the one he left here, as the song says.
But it's not just Tony's heart.
Many people have sung the song as an expression of leaving their own heart here in San Francisco- that's many hearts left in San Francisco from people worldwide and over the years.
San Francisco is clearly filled to the brim with hearts (and love) from everywhere.
No other city on earth has been as exalted as a near utopian metropolis.
"A Coney Island of the Mind" as Ferlinghetti would say.
I believe Duke Ellington put it right:
"San Francisco is one of the great cultural plateaus of the world
~ one of the really urbane communities in the United States~
one of the truly cosmopolitan places, and for many, many years,
it always has had a warm welcome for human beings from all over the world"
To be beloved by nearly everyone in the whole world is a joy not to be denied, and yet it also means that the residents and power brokers of the city don't own it.
What?
Yes, we are not the owners of the Heart of San Francisco.
We are the caretakers, the trustees of this immense amount of love that has been invested in our city.
And recently, we have not been doing the job that has been asked of us.
Sadly SF has lost sight of itself, and now we must find the direction
we were going when we were going in the right direction.
Tony is mostly known as a great American singer.
But he also devoted his life to civil rights.
He joined the Selma Montgomery in March of 1962.
Harry Belafonte says Dr. King enlisted him to bring artists into the civil rights movement. One of Belafonte's first calls was to friend Tony Bennett.
"I said I'm not walking away from this," Bennett remembered.
"This is just insane, so ignorant and but then he told me what went down, what was going down, how some blacks were burned, had gasoline thrown on them, and they were burned.
When I heard that, I said, "I'll go with you."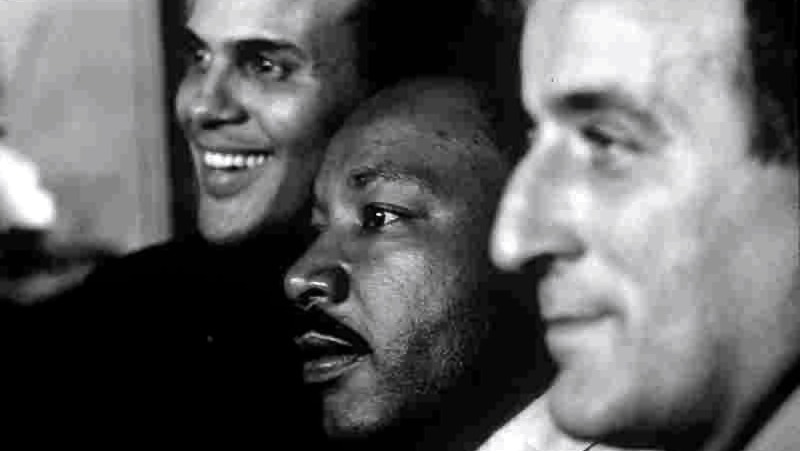 Tony Bennett stands with Martin Luther King, Jr. and Harry Belafonte
Selma Montgomery March 1962
So the point is that "I left my Heart in San Francisco " was premiered by a man of immense integrity. A man who not only talked the talk but walked the walk.
When he gave his heart to San Francisco, it was a gift beyond reproach.
Let's celebrate and honor this.
The TRIBUTE Event
Look to the sky over the Golden Gate Bridge Sunday afternoon, 2:30 pm, October 1st, to see Antenna Theater's tribute to Tony Bennett in the form of The Heart of San Francisco. When the Heart is completed bells and fog horns will fill the air. Raise Heart flags and/or fly Heart kites, be creative!
Support the HEART
Seeing the HEART of San Francisco is FREE to the public.
To help us fund this Tribute you can make a donation on EventBrite. YOU WILL RECEIVE ACCESS TO THE LIVE AUDIO PROGRAM and more surprises!
EventBrite
Get your tickets to the live audio stream here:
go-fund-me
Make a donation here:
Cheers,
Chris Hardman
Thoughts, questions, or whatever you wish to impart, write me; chris@antenna-theater.org
Pass this on to all your friends and family. and everyone else you know.