The Bible Geek's Emergency Relief Request
How did we come to find ourselves with a gaping hole for a kitchen, no hot water?  With our personal things strewn all over the lawn in a hasty effort to remove items in order to perform the emergency work at hand? With all our retirement savings exhausted by the hidden surprises unearthed by our trusty construction crew.
***See photos***
Nearly 20 years ago our family moved into this century-old house, knowing it would need work but scarcely expecting how much. Things would not be so financially precarious had we not pursued our dharma of independent teaching and research, writing, podcasting, and hosting discussion groups, all of which enrich our lives and we hope, yours. This is why we humbly seek any help you may be able to supply.
Do you think The Bible Geek, The Lovecraft Geek, The Human Bible, The Journal 
of Higher Criticism, Crypt of Cthulhu, Eldritch Tales, new fiction anthologies, and works of radical Biblical criticism are worth supporting? We think these things are as valuable as they are rare. Frequently our readers and listeners report that their lives have been changed and improved by what we offer. It is an especially difficult time right now, not the ideal time to make such a request. But we must keep a safe roof over our heads and a floor under our feet. Thank you for understanding and for your generosity.
***
A.  After removing the sink and refrigerator from this spot, a hole was cut to access the area where new piers were to be built and to repair the load-bearing joist (B).
B. But wait...the damage to the joist, as is now revealed, is beyond repair. (See close up in next photo) This changed everything! It would have to be replaced and that meant having to build a more elaborate support structure within which to work to ensure the workers' safety by preventing a deadly collapse. This would mean more materials, more time, more money. (The original plan had already exhausted the retirement funds that had been earmarked for this project. The estimate after this discovery had doubled!)
C. Harley wanted to show you where the laundry room is located because it will figure in future developments.
D. Behind this wall is a bathroom, the origin of a secret leak that was responsible for the damage to the joist over some decades.
________________________________________________________________________________________
A. Close-up of the deteriorated joist
B. NEW SET-BACK DISCOVERED - the soil under the expanse of the kitchen and laundry room was a dangerous mix of ash and dirt 18 inches deep. Had there been a fire at some point in the house's history? It is against code to build on such conditions since it is like building on sand. This whole layer of powdery dirt had to be removed by hand! Either that or knock out the side of the house to get a backhoe in there. But in order to shovel the dirt out, it would be necessary to remove the entire kitchen floor so they could stand while shoveling. (See next photo) Imagine shoveling in a crawl space without removing it?
________________________________________________________________________________________
A. The kitchen floor has been removed and subcode soil removed.
B. In order to remove the necessary soil from the other side of the joist, they would have to remove the floor of the laundry room.
C. The laundry room.
________________________________________________________________________________________
A. Laundry floor removed to create access for digging out sub-code dirt in the area behind the ridiculously rotted joist.
B. Support structure created to allow safe working conditions while preparing to remove said joist and adding new piers.
________________________________________________________________________________________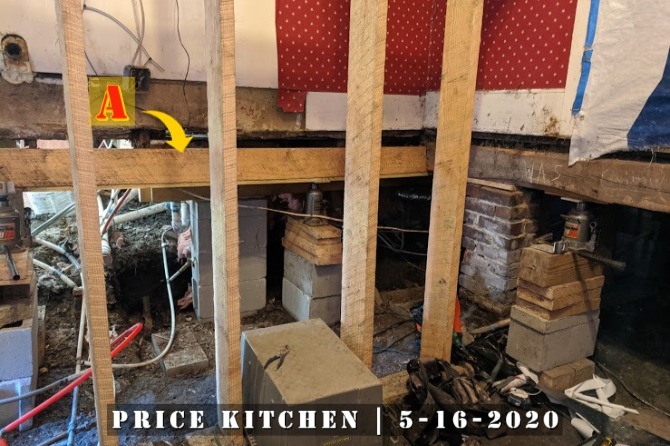 A. The new joist is successfully installed!!! Now onward to rebuild the flooring, and putting our kitchen back together again.
                                                                                    *****
We are most grateful to Blake, of Blake Holmes General Construction, for his amazing expertise and his commitment to remedy this colossal booby trap that no one else wanted to touch. He and Alan Salmon work diligently at our house after putting in a day's hard work elsewhere. How lucky we are to have two highly qualified men on the job who also have a special love and respect for the older homes in Johnston County.
We will continue to update you!

Organizer
#1 fundraising platform

More people start fundraisers on GoFundMe than on any other platform. Learn more

GoFundMe Guarantee

In the rare case something isn't right, we will work with you to determine if misuse occurred. Learn more

Expert advice, 24/7

Contact us with your questions and we'll answer, day or night. Learn more