The Ben Vivanco Memorial Fund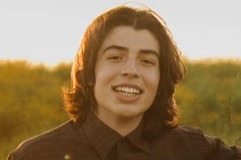 The Vivanco Family requests that
ALL
proceeds collected here on this gofundme page be donated to
"The Ben Vivanco Memorial Fund"
at
Sustain Recovery
located in Irvine/Anaheim Hills to help assist those adolescents in the community who struggle with their addiction and mental health.
Sustain Recovery
has also generously agreed to match all donations $1 to $1 in Ben's honor to help those juveniles in need who seek help, but lack the financial means to do so.
The following was written by Mrs. Tiffany Vivanco, Ben's mother, on January 16th, 2021. This reflection from Mrs. Vivanco captures the family's feelings, the family's sadness, and the family's hope.  
"Ben is no longer in his physical body.   He died between 1:30 and 3:00 this morning and met Jesus face to face.  His mind will no longer tell him he needs to vape, drink, or take a pill to feel better.  His heart will not race when faced with an uncomfortable situation.   His chest will no longer tighten with anxiety.  His palms and feet will no longer sweat when anxious.  He will no longer be hostage to boredom.
His body will no longer crave escape and peace, for he is at peace, the Ultimate Peace.
He is experiencing joy.
His depression has been banished.
He is feeling forgiveness.
He has been made whole by the Holy One.
He is witnessing our Creator and all its creation.
He is meeting his Nona (grandma) for the very first time.
He is seeing his Tadonne (grandpa) once again.
Shasta and Taba (our dogs) run to greet him.
Alli, Oakie & Callie hop over to give a sniff.
He is at home in Heaven where we will see him, hold him, and be with him for eternity someday." 

Thank you friends for caring. This picture was taken on December 2nd. Ben, the boy with the
BIGGEST
heart, fell in love with Quinn and wanted her to be his therapy dog. He took great care of her and she loved her master.
WE MISS BEN SO MUCH!
Love, 
The Vivancos
Our last Christmas together.  He was so happy with his puppy.

Fundraising team: Team Ben (8)
John Paul Hernandez 
Organizer
Raised $3,830 from 44 donations
Irvine, CA
Donna Lack 
Team member
Raised $825 from 11 donations
Krista Elliott 
Team member
Raised $300 from 3 donations
Melissa Hutton 
Team member
Raised $50 from 2 donations
See all