The Ansonia Quartet Japan Tour
(日本語は下にあります)
Thank you for visiting our project page!

We are The Ansonia Quartet, a string quartet based in New York City, comprised of four Masters' students at The Juilliard School: Byungchan Lee (Vancouver, Canada), Meagan Turner (Toronto, Canada), Isabel Kwon (Michigan, U.S.A.), and Sumire Hirotsuru (Oita, Japan).

We are honored and excited to have been selected for the Honors Chamber Music Program at Juilliard - through the program we will begin to develop our own voice as a quartet and have numerous performance opportunities, including participation in master classes by leading professors and performances at Lincoln Center.  

The Ansonia Quartet has an acute interest in outreach and community involvement, and has been awarded a Gluck Community Service Fellowship position; as part of the fellowship, we are aiming to bring our performances to a variety of venues that may otherwise not have access to live string quartet performances; for the 2017/2018 season, we have developed an interactive concert program .  We are hoping to present free concerts primarily for children in schools, community centres, and children's hospitals throughout New York, but also in regions we have each called home - Vancouver, Montreal, Toronto and surrounding areas, Michigan, and Japan . We are currently coached by Juilliard String Quartet violinist, Ronald Copes.

We are excitedly planning the coming year, and have organized a concert tour through Japan as well as numerous community engagement concerts throughout Japan, Canada, and the U.S.A.

In 2012, Sumire Hirotsuru (violin) co-founded a non-profit organization Summer in JAPAN , which hosts an annual summer education program for Japanese schoolchildren aged 6-18 in her hometown Oita (scroll down for details).  To kickstart our year, we are traveling to Japan to perform in their annual classical concert, hold workshops for children in Japan, and to perform at other venues throughout Japan, including Otonoizumi Hall and International House of Japan.  

Now, we must begin looking at funding for the coming year. Securing funding is our last step - and that's where you come in! We are turning to our communities of mentors, teachers, colleagues, friends, and family asking for financial support to help realize our goals for the year.

Our goal is to raise $10,000 to help cover costs associated with our concert season this year.  Once we have reached our goal, our designated finance person, Isabel Kwon, will be responsible for the management and withdrawal of the funds from the campaign and, and subsequently we will begin to put our plans into motion and finalize dates and engagements. Each member will pay for their own transportation, accommodation, travel-related costs and Isabel will reimburse them retrospectively from the fund.

First, the money will be used to help fund the Japanese tour - our Japanese colleagues have graciously donated our domestic travel, accommodations, and hall rental costs, but we will be covering international flights and rental of rehearsal space.  We will also be using the money to launch our own concerts this coming year; as noted above, we are expanding on our Gluck Fellowship to present concerts throughout New York, Michigan, Vancouver, Montreal, and Toronto.  Accommodation and venues will typically be covered by our presenters, but we will be using donations to cover travel and concert costs (program printing, marketing, and the purchase of interactive materials for children's concerts - small toy instruments and visual aids associated with our program).  Finally, any additional funding will go towards application and competition costs; we love what we do and hope to take it to the highest level possible.  This year, we will be auditioning for various programs and residencies worldwide and also travelling to international competitions.

Any and all help in realizing our goal is greatly appreciated - we are excited at the prospect of performing and sharing our passion with our communities!  We strongly believe in the transformative and uniting power of music and know that by performing and providing workshops of the highest calibre we can truly make an incredible contribution to our communities. 

Thank you!

Ansonia Quartet
Byungchan Lee, Sumire Hirotsuru, Meagan Turner, Isabel Kwon 

*Scroll down for a message from Sumire about the Summer in JAPAN program!*

(We would like to list names of all of our kind supporters on our programs during the tour. If you do not wish your name to be listed on our programs, please add comment on the donation page. With donation of $3,000 or more, your name will be listed on our programs for all of our performances during 17/18 academic year.)

–––

初めまして、アンソニア・カルテットです!ニューヨークにあるジュリアード音楽院の修士生4人で結成された弦楽四重奏団です。私たちは、結成からわずか1年で、オーディションを経て来年度の学校でのHonors Chamber Music Programに選ばれました。これは学内の優秀な室内楽団のみが選ばれる選抜グループで、来年1年間ニューヨークのリンカーンセンターなど各地での演奏やマスタークラスの参加が決定しています。

そのキックオフとして、私たちは8月にSummer in JAPAN への参加、子供達への演奏会とワークショップの開催を中心とした日本ツアーを計画しています。

Summer in JAPAN (SIJ)とは、アンソニア・カルテットメンバーの廣津留すみれが2013年に大分市に設立した2週間のサマープログラム。日本全国のみならず世界10カ国から約75名の小中高生が集結、ハーバード生・スタンフォード生10名を講師として迎え、英語でのワークショップを開催します。さらにクラシックコンサートを開催、ハーバード生演奏家や地元の演奏家による本格的なコンサートを行うことで、勉強だけでなく課外活動の大切さを訴え続けてきました。



医療機関での演奏活動を行うジュリアード音楽院のフェローシップ、Gluck Community Service Fellowshipに合格した私たちアンソニア・カルテットは、日本で演奏会とワークショップを行うことでアメリカ・カナダにその経験を持ち帰り、より多くの子供たち・お年寄り・地域の方々に音楽を楽しんでもらえる工夫ができるようになることを目標にしています。今回は

・8月7日のiichiko音の泉ホール(大分市)でのSIJコンサート
・期間中のSummer in JAPAN参加者への音楽ワークショップ
・8月10日国際文化会館(東京)でのコンサート(予定)
・希望者への室内楽レッスン

を含め、8月5日から8月12日までの1週間のツアーを予定しています。

日本ツアーの開催にあたりメンバーの交通費・宿泊費が必要なため、$10,000を目標として現在資金集めをしています。特に音楽に触れることの少ない日本の地方の子供たちに本物の音楽に触れてもらい、広い視野を持ってほしいとメンバー一同願っています。ご支援いただければ幸いです。
右側の"Donate Now"ボタンより、どうぞよろしくお願いいたします!(名前を公開したくない方は、名前下にチェックを入れてください。)

(寄付してくださった皆さま全員のお名前を、プログラムに掲載させていただきます。匿名希望の方は、コメント欄に一言添えていただきますようお願いいたします。また、$3000以上ご寄付いただいた方・団体様は、来年度の全ての演奏会のプログラムに名前を掲載させていただきます。)

Summer in JAPANについての詳細はこちら から。
ツアー中の演奏のご依頼は、メッセージよりお願いします。

メンバー一同
チャン・リー(カナダ・ヴァイオリン)
イザベル・クウォン(アメリカ・チェロ)
ミーガン・ターナー(カナダ・ヴィオラ)
廣津留すみれ(日本・ヴァイオリン)

–––

Hi everyone! This is Sumire, one of the violinists from The Ansonia Quartet. I was born and raised in Japan, and moved to the U.S. for college when I entered Harvard College in 2012. In my freshman summer, I co-founded Summer in JAPAN (一般社団法人 Summer in JAPAN), a non-profit organization in my hometown Oita.



Our annual two-week summer camp teaches around seventy-five Japanese schoolchildren in each of two cities, and invites 10 current Harvard students & Stanford as instructors to teach workshops such as computer science, academic writing, performing arts, and presentation skills. I have served as one of the instructors every year, and served as a music director for our annual classical concert, where Harvard instructors and local musicians in Kyushu collaborate to create an evening of chamber music and theatrical performances.

In Japan, it seems that there is a social norm that students should focus on studying over anything, but I realized that most of the successful students in the world are those who have passion besides studying (e.g. music, sports, politics, debate, etc.) and I wanted to show how passionate Harvard students are even outside the classroom. That was the initial reason why I started an annual classical concert series, where instructors from Harvard gather to perform beautiful music together on stage. It is an important message to Japanese students that pursuing multiple passions would open up their minds and give them wider perspectives.

To mark the 5th year of the program, I am aiming to expand the program by inviting the Ansonia Quartet to the camp as Artist in Residence to hold workshops for schoolchildren and perform at the annual concert. Since there are no youth orchestras or string ensembles at school in most of the regions in Japan, exposing students to classical music carries a huge value in the society.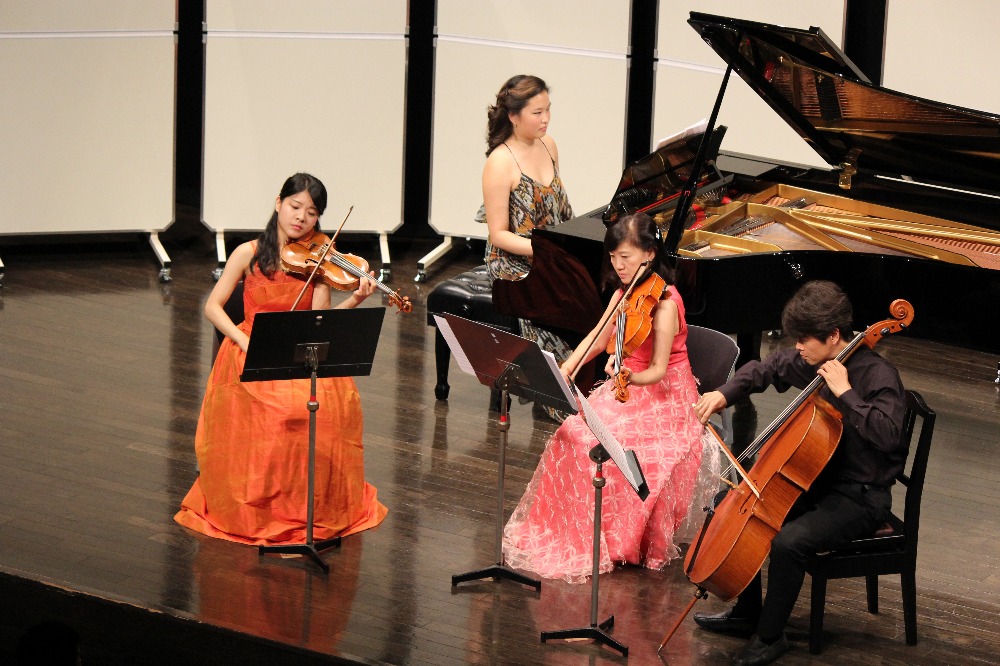 After one year together at Juilliard, I am extremely excited about the future of my string quartet, The Ansonia Quartet. The quartet was formed at The Juilliard School in September 2016, when the four members met during their first days of graduate school and immediately bonded over a mutual passion for string quartet. Though a new ensemble, we have recently been awarded a position in the Honors Chamber Music Program for the 2017/2018 academic year through The Juilliard School.

The Ansonia Quartet also has an acute interest in outreach and community involvement, and has been awarded a Gluck Community Service Fellowship position; as part of the fellowship, the Ansonia will give performances to metropolitan hospitals, nursing homes, and alternative care facilities. We are currently coached by Juilliard String Quartet violinist, Ronald Copes.
 
I believe that the Ansonia will help opening up perspectives of SIJ participants by providing the top-level music performance and workshops, and that this opportunity will also teach our quartet about community engagement, which we as a quartet is aiming to do more in the coming year.

Thank you so much!

Sumire Hirotsuru
Byungchan Lee
Isabel Kwon
Meagan Turner

More about Summer in JAPAN:
Visit our website | Facebook page
Watch our promo video from SIJ 2016:

Organizer and beneficiary