Catur's "Making it Count" Campaign
Just another Cancer story?  WRONG!!!


This is a love story about LIVING Cancer, not surrendering & making every moment count! 
And we are asking YOU to jump on board this journey train with us for the ride.. It's not about the destination but rather the ride in between, accomplishing dreams & building memories for our 2 small boys (9 & 3yrs) to remember their father outside of his illness.
So here goes... Grab your ticket, find a seat & welcome to our life, we are glad to have you on board the Love Express - The Journey of a Lifetime! 
It started with a dream, 4 simple words - 1 dollar, 1 million..

3 months later Sarah (that's me!) boarded her 2nd international flight in 2004 from Sydney, Australia to Bali, Indonesia..
In a jungle styled reggae bar in the heart of Bali nightlife, her world as she knew it for 27yrs was about to change forever!
The unfamiliar thunderous roar of African Drums filled the air & there he was... Surrounded in a colour spectrum of orange, yellow, pinks & red, capturing my full attention.. 
"Who is that guy?"
What followed was a conversation more like playing charades as we stumbled through each other's language barriers, asking how much he sells his drums for..
"Hhmm 1 dollar"..
"1 dollar!!! Oh no they ripped you off, are you sure?"
"No no no, not 1 dollar, 1 million (Rupiah)"..
and back & forth & back & forth the 4 simple words kept rolling around until all the little hairs on my body stood up & danced - I dreamt you!!!
On 7th February 2005 we married in Catur's home town, a tiny village in Banyuwangi, Java in a simple & perfect traditional ceremony..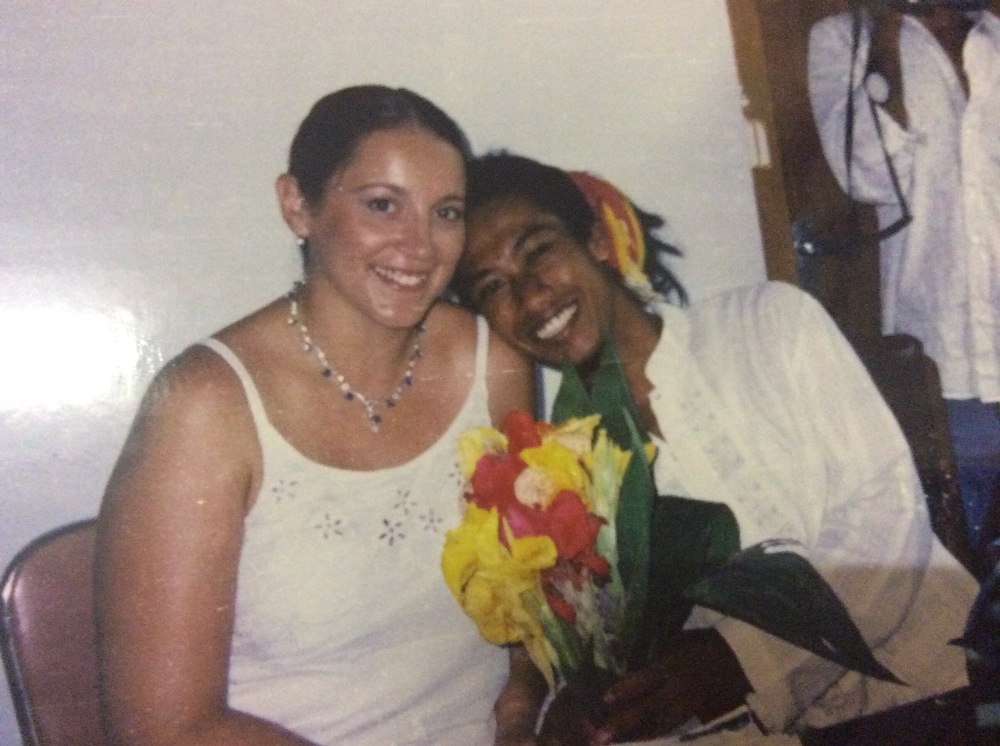 I was quite the spectacle for all the village folk seeing a western girl in town & I was loving every moment!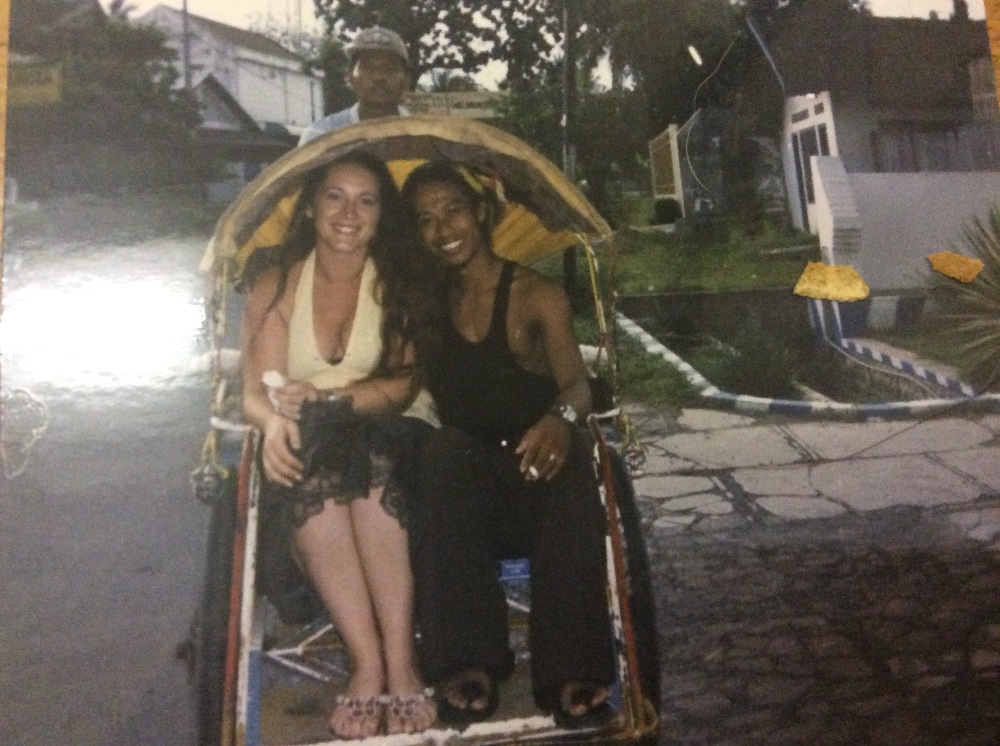 On the 12th July 2005, back home in Australia we welcomed into the world our 1st son Jala, a child made from LOVE..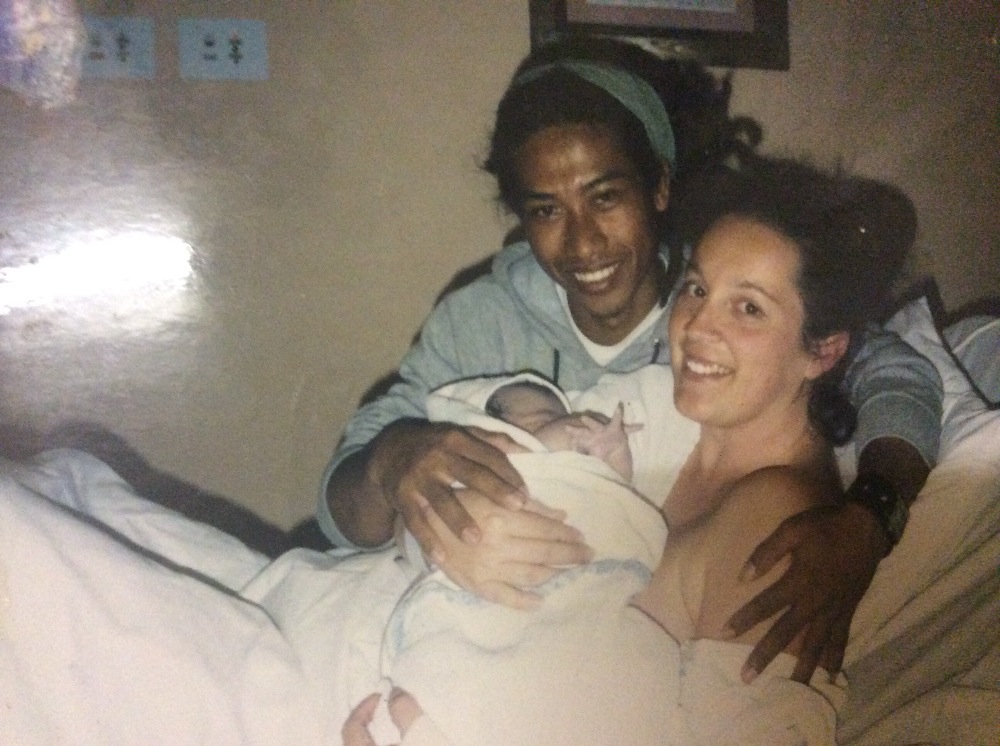 Adapting to Australian life at first was difficult for Catur but before long he knew more people in my home town then I ever have known & was busy playing in bands, handcrafting djembes (African Drums), playing festivals & exposing us to the most incredible community of people that would become our family of friends..
However Bali was calling us back home!

In January 2009 we packed up our amazing, loving life in Australia & set off chasing a dream - to start Indonesia's 1st African Drum N Dance company, Hamanah Drum N Dance..
We had no idea if we could make it happen & serve African culture in a way it deserved but I knew the world had to see what we both were capable of & oh boy did we shake up Bali for 5yrs running, having the times of our lives!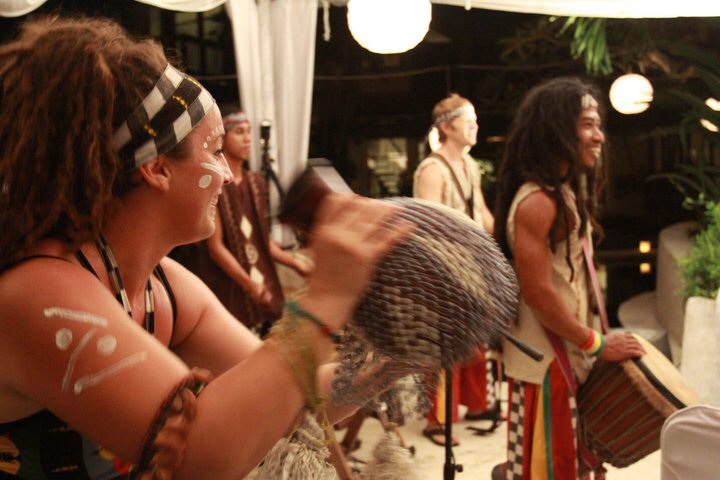 Life was amazing, we worked hard, literally drumming & dancing each day making an honest living, spreading our joy all over Bali, in schools, for weddings, 4yrs straight at Bali Spirit Festival & our biggest gig, over 200 shows at Bali Safari & Marine Park..
On 5th December 2011 our 2nd bundle of LOVE shot down from the stars, Kyan Amani..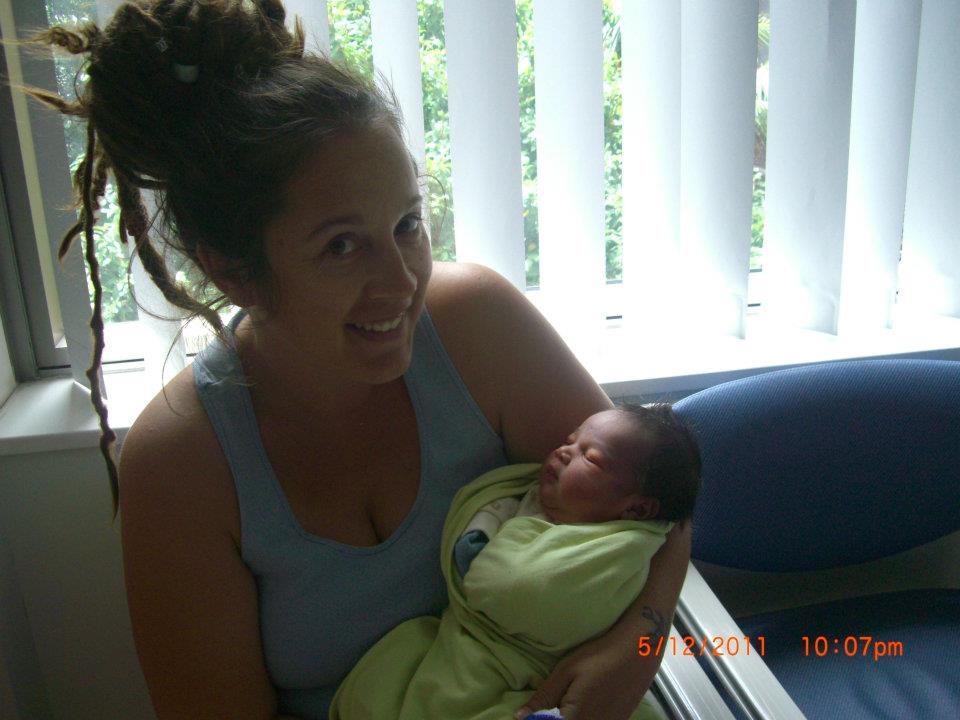 But something was about to go terribly wrong!

All year Catur kept pushing through our gruelling daily entertainment lifestyle with severe stomach cramps, frequent diarrhoea, swelling belly & a growing fatigue..
International hospitals happily took our hard earned Rupiah sending us home with a spiel about IBS..
During our typical summer holiday home to Australia was when our world smashed into a million pieces..
After 3 weeks of silently dying inside unable to speak the words to anyone, we hung onto every word the doctors were telling us.. "Catur has Cancer but we don't know the source"..
Finally we were sent to St George Hospital to the only Professor in the country specialising in his disease & were diagnosed with Pseudomyxoma Peritonei, PMP for short or "Jelly Belly".. 
On 2nd March 2013, 2 months shy of his 31st birthday, Catur underwent what is referred to as a MOAS (mother of all surgeries) which included a radical Cytoreductive procedure of stripping his stomach wall, scraping his diaphragm, removing his spleen, gallbladder, 2/3 large bowel & creating an illeostomy (stomach bag)..
What we didn't appreciate at the time but have recently learnt is that Catur was classified "inoperable" due to a PCI of 39/39..
The procedure included HIPEC, chemotherapy heated above 41 degrees & poured directly into his abdomen cavity for 90 minutes.
A chemo port was sewn into his chest where they fed his weak body cold chemo for what was supposed to be 5 days but ceased on the 3rd because he was just too ill to continue..
3 months in hospital, 6 months Xeloda chemotherapy at home, 6 mth CT scans & bloods all had us believing he was on the home stretch of beating this monster..
In October 2014 the terror returned when Catur buckled over in enormous pain, was rushed to hospital & prepped for surgery to relieve a bowel obstruction..
For 5 days I held my breath waiting for the team to tell us if it was caused by tumor or scar tissue..
It's ok they said, it's only scar adhesions causing the problem.. Phew!!!
After 2yrs of waiting for good health, we were finally setting off, returning to Bali, our family, our friends, our life we once lived.. It was time to finally exhale & celebrate! 
Life was back to normal.. NO, better then normal! 
We had a new zest for life, a deeper love for each other then ever before & a new dream of becoming healers together - me studying a Bachelor of Traditional Chinese Medicine & Catur becoming a Sound Healer/Therapist..
On the 7th February of this year we re confirmed our love & renewed our vows for our 10yr wedding anniversary in the most amazingly beautiful ceremony surrounded by family & loved ones..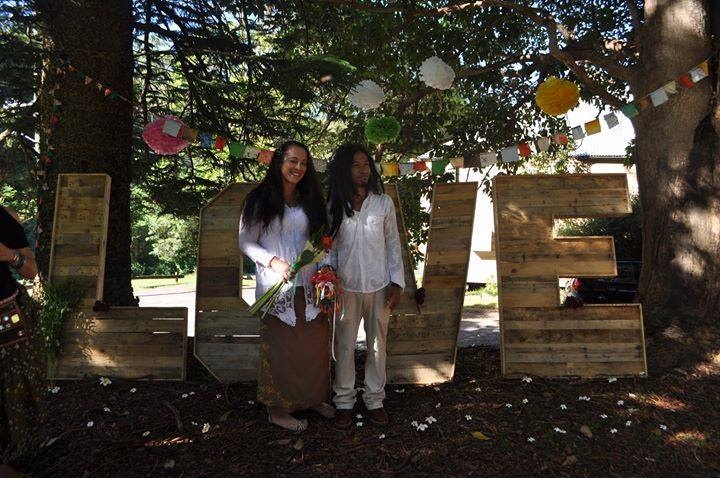 Circle of LOVE with the most amazing friends..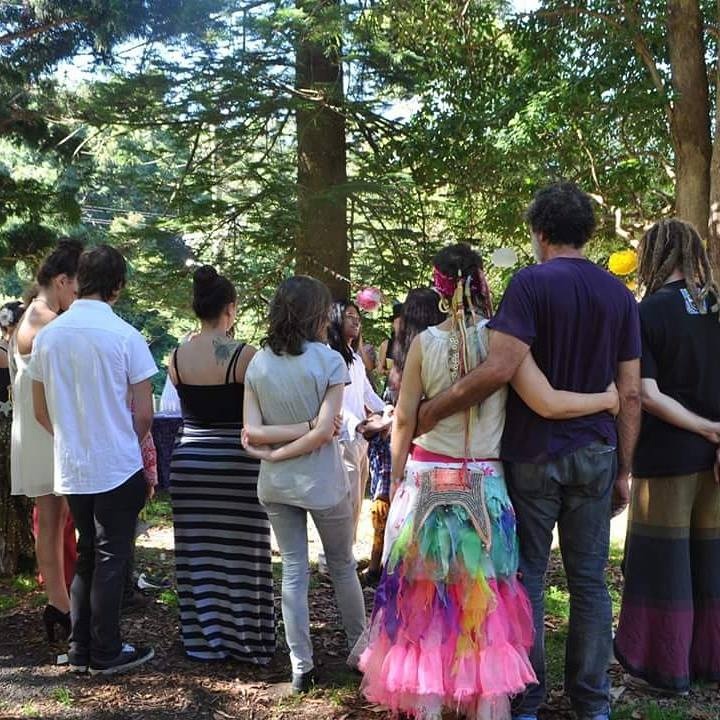 All our tribe.. Our 5 babies (3 from my previous marriage), my sister & brother, mum & nan..
And then the world cracked open & swallowed them whole...

The 9th of April was supposed to be a day of completion & triumph.. Catur was scheduled for his stoma reversal or how we like to say "reconnecting the plumbing"..
A phone call came to me at 10am, only 3 hrs after I left him delivering the news that the Cancer had returned with a PCI of 18/39 - his abdomen was half full of Jelly again, silently growing inside for the past 2yrs..
Catur underwent a 2nd MOAS, removal of entire large bowel (secondary bowel cancer), 5cm of small intestine & resection, tumor removed from pelvis attached to bladder & hard jelly removed from his stomach.. HIPEC was given again..
Femoral nerve damage during surgery left his legs feeling somewhat paralysed yet they reassure us this will improve in time..
Just a few days ago he celebrated his 33rd birthday at home with friends & family enjoying a day of "normal"..
What we now have come to realise about this disease which is described 1 in a million (just like him & just like my dream) is that it has no cure..
Peritoneal Mucinous Adenocarcinoma is an aggressive, invasive disease difficult to treat.. 
And going by these past 2 yrs it's on its own mission with little sign of giving up! 
With only 1000 people diagnosed in the world, it commonly goes misdiagnosed as IBS (Irritable Bowel Syndrome) & is often missed entirely by radiographers. 
By the time its detected, it has grown into its late stage viciousness, stripping the person of a chance to beat it..
Cancer is just a word...
It doesn't have to be our reality.. It may dictate the quantity of time we have but it doesn't control the quality we can create.. We choose that & we choose to LIVE, building memories, chasing dreams, loving ourselves up & making this our story - a story of love & happiness... Pity & sorrow don't have seats at our table today or tomorrow! 
"If you want to go somewhere quickly, go alone.. If you want to go far, go together!" 
an African proverb..
As a collective, we all can help us achieve a life outside of Cancer.. Your help can give our boys precious memories & gift Catur some life achievements..
It's expensive being sick.. I'm about to defer University & am unable to work, full time caring for Catur..
The bills don't stop coming & with the realisation of maybe not having a lot of time left to play with I would like to get Catur out to see parts of the world while his body is still capable.. 
If you have made it this far, there is a good chance you're staying on this journey train with us & it is with the upmost respect & appreciation, our family thanks you for your love & support & for being on our team, going far together!