The Terence McKenna Archives
"Kevin has put an incredible amount of time and effort into this exciting and important archival project. From his careful collection, preservation and transcription of the vast material that is my father's work to his thoughtful and extensive interviews and biographical sleuthing, he has shown himself to be skilled, effective, respectful, meticulous and utterly devoted to the many facets that a project of this depth requires and for this I am most grateful. Not only is his dedication profound but he has also been a good friend to me and my family through this process and I place complete trust in his abilities and intentions. I am excited and honored that he has taken such care with this endeavor and I look forward to great things resulting from this including but not limited to future publishing projects and the necessary advancement and growth of Terence's online presence. I urge anyone who appreciates Terence's ideas to help us make this happen by contributing to this monumental project."
-Finn McKenna



[To clear up any potential confusion: this campaign launched publicly on Friday Feb. 23. GoFundMe lists the campaign as beginning on Feb. 7 only because that was the day that the GoFundMe page was created]
The Terence McKenna Archives is a multi-pronged effort to collect, digitize, transcribe, store, and preserve the imprint of Terence McKenna's presence from his birth in 1946 to his death in 2000 as well as the persistence of his influence into the present. The project aims to work closely with Terence's family, friends, colleagues, acquaintances, and those who have been sufficiently influenced by his work in order to find and preserve traces of his life that might otherwise go missing or disappear and collect them in a single archive.
A much more detailed, jam-packed, crowdfund incentive catalog
(which has photos of the items and many more books and photo & art prints than are available here on the GoFundMe page can be found at:
https://terencemckennaarchives.com/crowdfund/
(I will try to update this catalog as often as I am able to show items that have been sold-out, so please do check back to make sure you have the latest version to help make it less likely that you'll donate for an item that has already been claimed).
There are five major sub-projects at present, all under the banner of The Terence McKenna Archives:
1) A Collection Project: to find, collect, store, and preserve, either physical (or at least digital) copies of any material related to Terence McKenna. A full list of the physical & digital holdings are available at terencemckennaarchives.com.
2) A Transcription Project: to transcribe all of Terence McKenna's 500+ hours of audio/video material that is freely available on the web into a searchable database. This crowdsourced, volunteer-based project is already ongoing and incredibly successful and can currently be found at terencemckenna.wikispaces.com. If you would like to help contribute by transcribing Terence's talks, please join the effort there and on The Terence McKenna Transcription Project Facebook Page.
3) An Interview Project: to interview any family member, friend, colleague, acquaintances, workshop attendee, correspondent, interviewer, critic, collaborator, or any person suitably inspired or influenced by Terence McKenna.
4) TerenceMcKenna.com: Terence's son owns this domain and it currently houses the Terence McKenna Bibliography, but we need resources and talent in order to build into the online McKenna hub that it can ideally be, eventually hosting the searchable transcription database, an online digital archive, and much more.
5) I should mention, as a fifth, long-term, goal, that there is a lot of potential for future publications, including a comprehensive biography based on the collected archives and extended research, a volume of interviews
about
Terence, unpublished or out-of-print writing and interviews, etc. But, these projects will require some further development and time.
If you have any questions, please don't hesitate to ask. For more details on the project along with
a much more detailed PDF catalog of all of the available crowdfund incentives
, please visit
terencemckennaarchives.com
.  Finally, if you have items that you would like to contribute to the archival collection, please contact us with details.
Thank you very much for your support of this massive archival effort!
[Important Note: GoFundMe has an all-or-nothing policy about donors providing their mailing addresses. Either everyone has to provide them or nobody does. Since some donors will only be receiving digital items or no items, and since some of those donors who are not receiving items by mail may wish to donate anonymously, I am not requiring donors to enter their mailing address. Please note that this means that if you are receiving items by mail, you will have to send an extra message with your mailing address. I apologize for any minor inconvenience, but thank you for helping to allow donors to maintain more anonymity if they choose to.]
For those who prefer to be even more anonymous or who simply prefer to support The Terence McKenna Archives through cryptocurrency,
we have the following cryptocurrency wallets
available to you:
Bitcoin address: 1CvZ6AeoRDwwSYt94haPGEN9EffKUyTiDB
Bitcoin Cash address: qrzvpkx735tguwaxwfc7nu9y8vcd7us50c9s4c9lxa
Ethereum address: 0xb3cc6e13F36AB91008Fe636E255980CCe7017c76
Litecoin address: Lfk2u84QNHtteGVCL3WGja2R5NaSKT4QcP
Rare Terence McKenna Radio Debates
As Motivation for Timely Donating
One of the reasons the crowdfund is happening now is that I have an offer on the table for a rare and expensive art book, called 'Synesthesia,' that Terence collaborated on with artist Timothy Ely. Only 75 were made. Each was hand-painted and the typography (from Terence's text) was set uniquely for each before being hand-bound and boxed. Each originally sold for $1,750. Most are in major research libraries. Several are in the homes of private owners. One such owner has accepted an offer of $2,012. There are three copies available online, ranging in price from $2500-$4500, so this is, despite the expense, quite a fair offer. However, in order to secure the deal, I need to make the payment by March 15, 2018. In order to help ensure that this happens, I have some rare & unusual radio interviews with Terence that I'd like to entice you with in hopes of reaching this amount more quickly. Here's my deal:
If we receive $3000 in donation by March 4th...
I will post on YouTube, freely + publicly, a radio debate between Terence McKenna and a representative of the Young Republicans.[Note: I have another much-desired radio interview/debate with the chief of Police of Los Angeles, Daryl Gates, that I will offer in a similar fashion after this first milestone is reached]




Contributing artists, authors, and other helpers
:
Ralph Abraham -
http://www.ralph-abraham.org/
Ken Adams -
https://vimeo.com/user26500981
Lucy Barritt -
https://lucyhannahbarritt.com/
Peter Bergmann -
https://www.facebook.com/wpahp/
Steven Clay -
https://www.granarybooks.com/
R.S. Connett -
http://www.grotesque.com/
Mike Crowley -
https://www.amazon.com/Secret-Drugs-Buddhism-Mike-Crowley/dp/0692652817
Jeff Drew -
http://jeffdrewpictures.com/
Timothy C. Ely -
http://www.timothyely.com/
Robert Forte -
https://ciis.academia.edu/RobertForte
Elysium Foundation -
https://www.facebook.com/TheElysiumFoundation/
Michael Garfield -
https://michaelgarfield.blogspot.com/
Adam Gorightly -
http://www.adamgorightly.com/
Kat Harrison -
http://botanicaldimensions.org/
Charles Hayes -
https://www.amazon.com/Tripping-Anthology-True-Life-Psychedelic-Adventures/dp/0140195742
James W. Jesso -
http://www.jameswjesso.com/
Jonathan Laliberte -
https://www.asktmk.com/
&
https://www.facebook.com/groups/terencemckenna/
Tao Lin -
http://www.taolin.info/
MAPS: Multidisciplinary Association for Psychedelic Studies -
http://www.maps.org/
Chris Mays -
http://www.terencemckenna.com/tmbib/
Finn McKenna -
http://www.terencemckenna.com/
Mesloes -
https://mesloes.nl/
Sheldon Norberg -
http://www.healinghouses.com/
Matthew J. Pallamary -
http://mattpallamary.com/
Lex Pelger -
http://www.lexpelger.com/
Joanna Sasso -
https://www.etsy.com/shop/SassoJoArt
Ben Sessa -
http://www.drsessa.com/
Chip Simons -
http://www.chipsimons.com/
TMA T-Shirt (black, navy, charcoal, dark read, olive)
Stoned Ape Theory by Jeff Drew:
Terence McKenna photo prints by Chip Simons (see
full catalog
for all 17):
'Every Day is a New Year' art print by Michael Garfield
'Crustaceopods' by R. S. Connett art print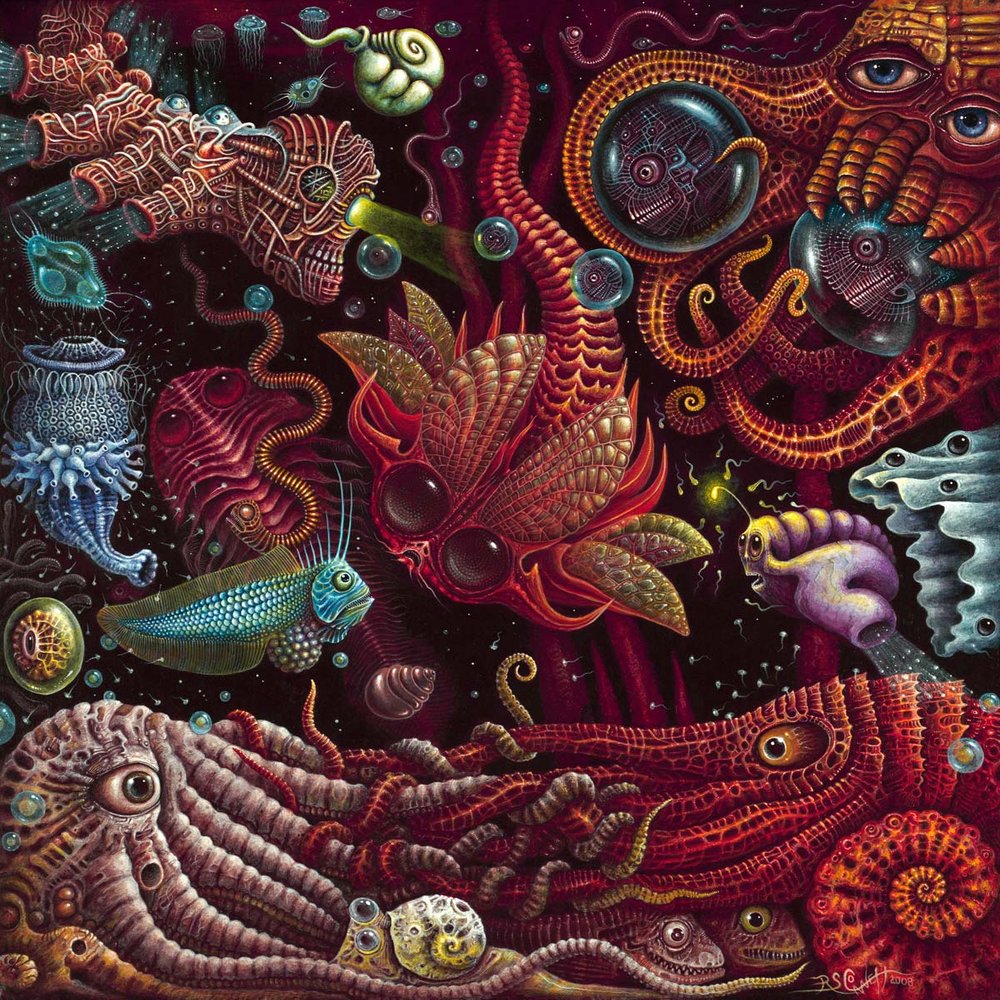 'The Night Trawler' by R. S. Connett art print:
'Microcosmic Garden' by R. S. Connett art print:
'Illuminatus' by Robert Venosa w/ Text by Terence McKenna:
'Some Simple Tryptamines' (2nd ed.) by Keeper of the Trout & Friends
16-Photo Chip Simons Collage (20"x20"):
MAPS Bulletin:
Terence McKenna Bookmarks (Double-Sided):
'Buddhasphinx' by Robert Venosa (Poster):
'Alien Wind' by Robert Venosa (Poster)
'Terence McKenna' by Matthew Scott Lawrence
'Shamanistic Explorer' by Aaron Raybuck
'Terence McKenna' by Joanna Sasso
'Timothy Leary' by Joanna Sasso
'Alan Watts' by Joanna Sasso
'Dennis Hopper (Easy Rider)' by Joanna Sasso
#251 of 300, Deluxe Edition, 'Persephone's Quest: Entheogens and the Origins of Religion' by Stella Kramrisch, Jonathan Ott, Carl A. P. Ruck, and R. Gordon Wasson
Organizer
Kevin Whitesides
Organizer
Goleta, CA