Help Ted Rall Fight the LA Times
I'm Ted Rall. I'm a 55-year-old syndicated political cartoonist, columnist and occasional war correspondent in New York.

This is your chance to help defend free speech and freedom of the press against the police.

About Rall v. LA Times:

Did you know it's legal for a police department to buy stock in a newspaper? It shouldn't be, but it is. Ted Rall was the cartoonist at the LA Times between 2009 and 2015. During that time Rall did what cartoonists do: he made fun of and criticized those in power, including America's most militarized and corrupt big-city police department, the LAPD.

Unbeknownst to Rall, in 2014 the LAPD pension fund became the #1 shareholder of Tribune Publishing, parent company of the Times. Midwifing the deal was Austin Beutner: vulture capitalist in post-Soviet Russia, billionaire hedge fund guy, Times publisher, and a man with political ambitions to become either mayor of LA or governor of California. Beutner wasn't popular with voters but he had a powerful political ally: Charlie Beck, Chief of the LAPD.

In July 2015 Charlie Beck, then-Chief of the Los Angeles Police Department (subsequently forced out as the result of scandals), visited the office of Austin Beutner (subsequently fired for boardroom skullduggery) to ask his friend for a favor. Beck asked Beutner to fire award-winning artist Ted Rall from his position as Editorial Cartoonist at the LA Times to put an end to Rall's consistent, principled criticism of police brutality and corruption and of Beck's corrupt rule over the department.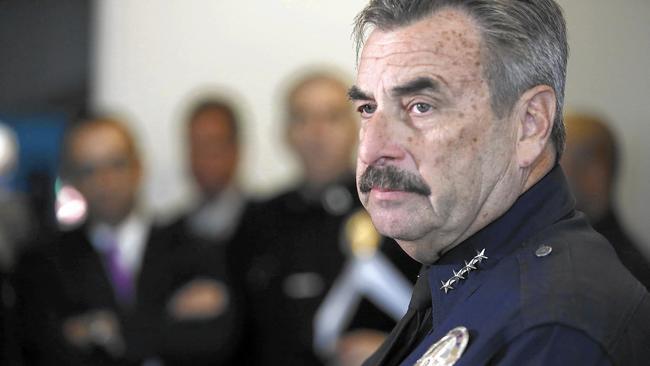 Charlie Beck, Chief, LAPD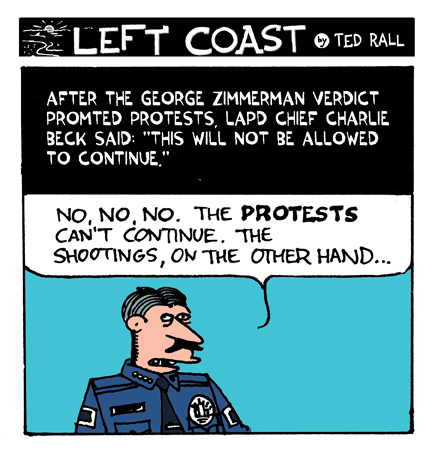 A Rall cartoon mocking Chief Beck.


The LAPD and specifically Beck were the target of numerous critical Rall cartoons since 2009. To nail Rall, Beck illegally passed unofficial documents, including a secret audio recording, to the LA Times that supposedly proved that Rall had lied about a police encounter (an arrest for jaywalking) from 2001. He hadn't. These documents were carefully cherry-picked in order to misrepresent the truth and smear Rall.

The audio, made by the arresting officer way back in 2001 (!), was mostly static and noise. The Times said it didn't back Ted's account. But Ted paid to have it "enhanced" (cleaned up). Guess what? It proved Ted had told the truth .

The Times didn't bother to check if the documents or the audio were legitimate. Rall was nevertheless fired within less than a day, without an investigation, without consulting his editors, without even being brought into the office to discuss what actually happened in 2001.

What did they do after they learned they'd screwed up? Most papers would have apologized and Ted would have gone back to work drawing cartoons.

Not the Times.

They forbid their editors from talking to reporters, shut down their website's section for reader comments, censored letters to the editor and refused to discuss the matter with Ted — because the LAPD wouldn't let them. At a court hearing, a Times reporter confessed to Rall that "I am not allowed to talk to you." This is mafia behavior, not journalism.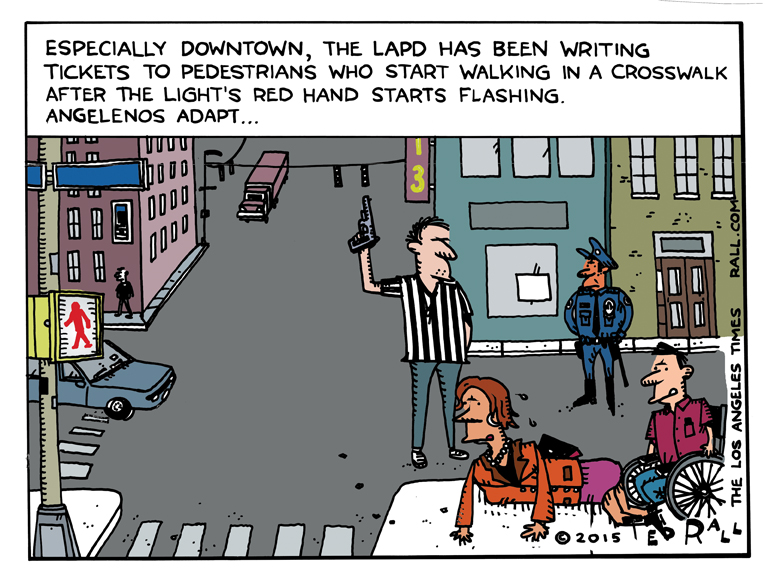 The May 2015 cartoon by Ted Rall in the LA Times that prompted LAPD Chief Beck to demand Rall's firing.


The Times brazenly violated its own Ethical Guidelines, which state: "People who will be shown in an adverse light must be given a meaningful opportunity to defend themselves. This means making a good-faith effort to give the subject of allegations or criticism sufficient time and information to respond substantively. Whenever possible, the reporter should meet directly with the subject in a sincere effort to understand his or her best arguments."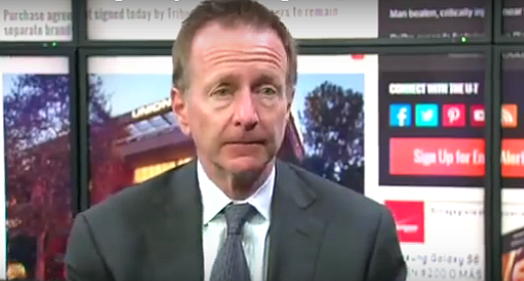 Austin Beutner, billionaire, ex-publisher, LA Times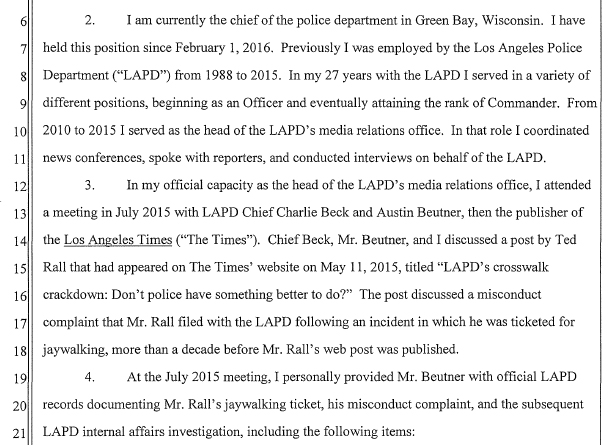 Smoking gun: Deposition that reveals the secret meeting between Beutner and Beck, where they conspired to fire Rall as a favor to Beck. Violating its own Ethical Guidelines, the Times continues to protect Beck as an anonymous source.


There is a history of Southern California newspapers colluding with police to fire critical journalists. At the San Diego Union-Tribune in 2009, "anti-cop" members of the editorial board were targeted for dismissal after the LAPPL police union bought stock in the company. At the time of Rall's firing, the LAPD union was the #1 shareholder of Tribune Publishing , the parent company of the Los Angeles Times and the San Diego Union-Tribune . (The police union even gloated over Rall's firing on their blog.)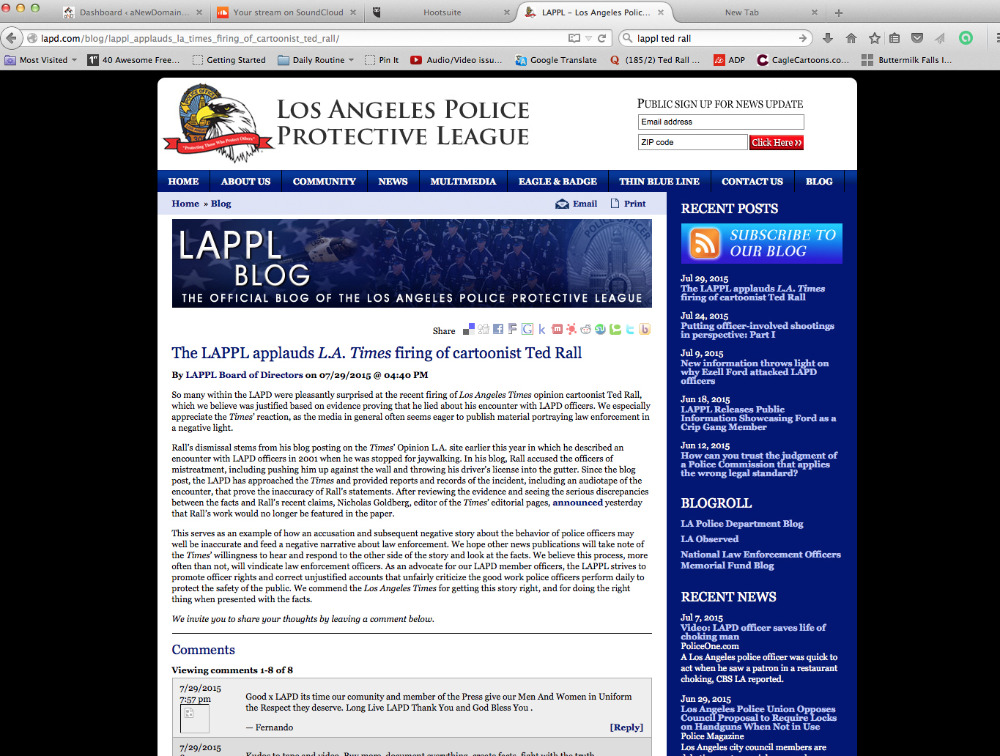 The Los Angeles Police Protective League's blog gloating over Rall's firing. The LAPPL has since taken it down.


To defend his account of events, Rall hired an audio company to analyze the police audio tape used to fire him. Extensive analysis revealed that Rall had been telling the truth about the encounter all along, but the Times provided no comment and no retraction until three weeks later — only after outrage over Rall's firing went viral online — when they provided their own forensic analysis which supposedly found less evidence on the tape. It later turned out that the Times had again lied to their readers about what their experts had discovered — and the fact that they refused to pay their experts to do a real analysis.

The well-respected journalists at the New York Observer — owned by President Trump's brother-in-law, so hardly on the same page politically — agree that Ted, not the LA Times, told the truth. They even published an editorial supporting him.

Famous best-selling independent journalist Greg Palast says Ted is telling the truth and that the Times needs to take him back .

The publisher of the Pasadena Weekly, where Ted used to draw before he went to the Times, confirms that local law enforcement officials repeatedly pressured him to fire Ted.

The Association of American Editorial Cartoonists has issued a formal statement demanding an independent investigation of the Times' actions.

R.C. Harvey of The Comics Journal, which has been critical of Ted in the past, has a detailed account that supports Ted.

Even right-wing bloggers — Ted is progressive — are on Ted's side.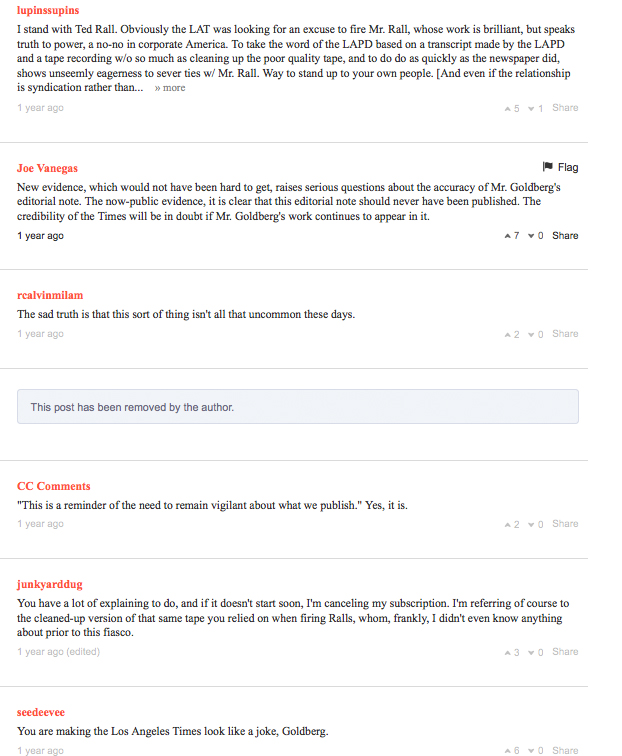 Angry LA Times subscribers' comments supporting Rall.


In the aftermath of the Ted Rall scandal, Beutner was unceremoniously fired and escorted out of the Times building by security guards. He wasn't even allowed to use his latimes.com email account to say goodbye.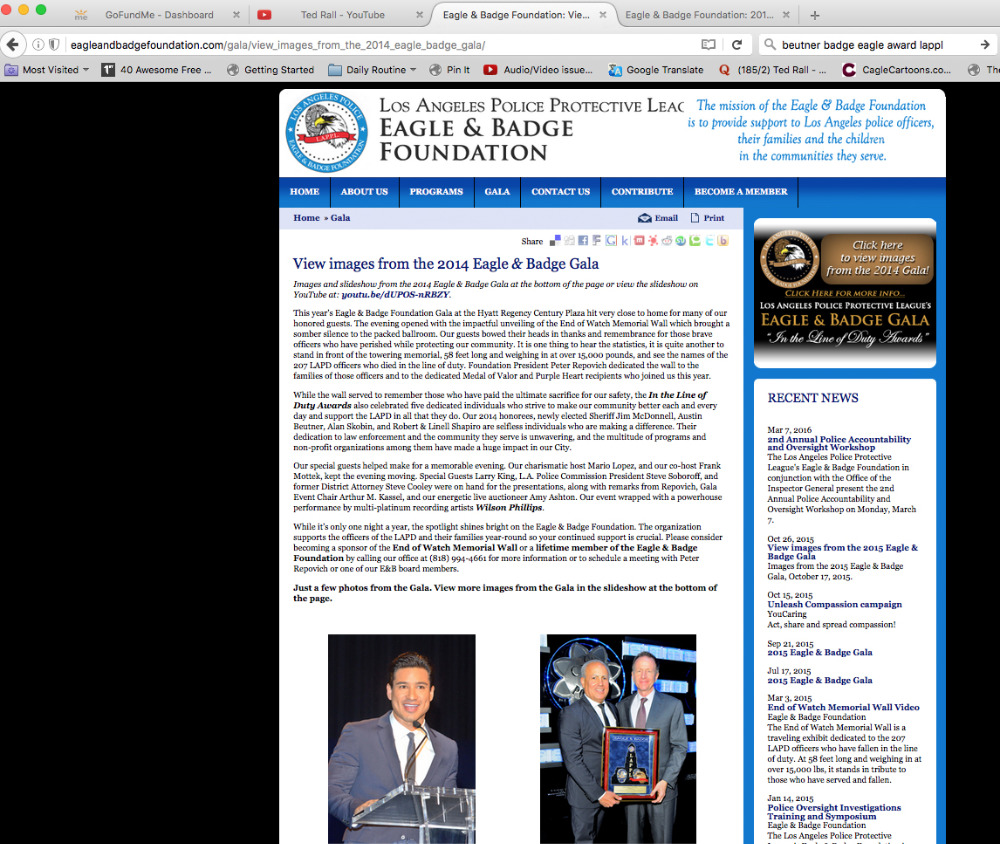 Weeks after being named publisher of the LA Times, the LAPPL gave Austin Beutner its 2014 Badge and Eagle Award for "support[ing] the LAPD in all that they do." Beutner is in the photo on the lower right.


After all this, all Rall wanted was his job back, and a retraction. That's standard journalistic practice. Despite Beutner's ouster, however, the Times continues to attack Rall.

Even after Rall provided copious exonerating evidence to the Times, an Editor's Note remains online that states the Rall falsified his claim, injuring his professional journalistic reputation. So does a second Times screed doubling down on their false claims.

A third article , about Ted suing them, was written without bothering to call or email Ted for his comment.

What's going on?

Times management can't/won't admit they were wrong, because it would hurt their cozy relationship with the Los Angeles Police Department — at the time their de facto corporate owner, and now the source of many of their stories now that they've laid off so many beat reporters.

Now, Ted is suing the LA Times for defamation, wrongful termination, blacklisting and five other counts. As they've tacitly conceded in court, the Times has no legitimate defense, so they're trying to bully their way out of the case by filing stalling and delaying tactics.

Read the entire text of Ted's lawsuit here .

All Ted wants is for a jury of his peers to hear his story. He is confident that they will agree that what the Times did was illegal. Before that can happen, however, Ted has to get past California's notorious "anti-SLAPP" law. According to the LA Times' own editorial board, anti-SLAPP was passed to protect small individuals from big corporations, as when "a deep-pocketed corporation, developer or government official files a lawsuit whose real purpose is to silence a critic, punish a whistleblower or win a commercial dispute."

In this case, however, the Times -- part of a huge $420 million corporation called Tronc (formerly Tribune Publishing) -- is Goliath pretending to be David, turning the statute on its head in order to try to bankrupt Ted into a "pay to play" legal maneuver. Under anti-SLAPP, Rall has to prove that he is likely to prevail in his lawsuit before he begins depositions, discovery, and the actual lawsuit process...which are likely to reveal  more skullduggery among corrupt Times officials.
 
The Times backed away from their assertions that Ted lied, as they realize that they have made a huge mistake. Now, they're trying to prevail through technicalities. The Times' lawyer Kelli Sager of the pro-corporation law firm Davis Wright Tremaine filed a motion demanding that Rall post a whopping $300,000 bond . This is in case the Times wins their disgusting anti-SLAPP motion, which would allow the Times to be awarded their attorneys' fees...to be paid for by Ted.

Fortunately, the judge ordered the amount reduced to $75,000. Still, that's a lot of money. Most states ask for a few hundred bucks, maybe a thousand. It's a lot more money than Ted, who earned $300/week at the Times, has access to. Which is where you came in. More than 750 supporters came through with $75,000!

But that was just the beginning. The Times' lawyers are aggressive, highly-paid and well-connected — and  ruthless. They will do anything they can to stop the Times from being held accountable, including destroying Ted.

Recent Developments

The Times filed three anti-SLAPP motions against Ted. On June 21, 2017 a judge heard the one by the individual defendants at the Times (ex-publisher Austin Beutner, editorial page editor Nick Goldberg, reporter Paul Pringle and ombudsman Deirdre Edgar). After a timid and tepid defense by his lawyer during oral arguments, Ted lost that hearing and ordered Ted— the victim— to pay the Times $330,000 for their legal fees!

That loss is automatically appealable. Ted appealed to the California Court of Appeal, which heard Ted's oral arguments December 20, 2018. During the hearing Times/National Enquirer attorney Kelli Sager had the nerve to compare Ted, completely out of thin air, to a "pedophile." The judges did not chastise her.

We are awaiting the court's ruling.

Ted could lose everything. If the Court of Appeals rules against Ted, a judgement awarding the Times' legal fees would be entered in the amount of hundreds of thousands of dollars.

One of Ted's Facebook friends recently posted something that explains what this is all about:

I am speaking out of turn, but having followed Mr. Rall's writings/cartoons for greater than 20 years, I believe Mr. Rall recognizes that the final decision of the court is immaterial. A win would be nice, but the point is to stand up, to fight against injustice. To take a stand, regardless of the cost. I imagine Mr. Rall spoke with several attorneys who advised him to let this go, that even a positive result wouldn't justify the financial costs and emotional toil. (At least I hope someone told him this.)

Mr. Rall is smart enough to realize that the sure path to financial success is to ally one's self with the powers that be, and to gang up on the under-dog. He clearly has eschewed this path.

Ted will continue this fight. But he hasn't gotten this far by himself and he can't keep it going without your help.

This GoFundMe campaign began as an effort to raise  funds required by LA Superior Court in response to the LA Times' motion (under something called "Code 1030") that I post a bond in order to be allowed to be allowed to argue my case against the Times in court. Amazing that anyone would need to pay $75K just to begin a lawsuit! But even more amazing that, thanks to more than 750 generous contributors, the LA Times bond got funded on time!

Now the fight is underway.

This fundraiser remains active for those who want to support ongoing expenses in my case, Rall v. LA Times et al.

If you'd like to support my fight against corruption and collusion between the LA Times and the LAPD by contributing to my ongoing legal expenses, including court costs and expenses, cross-country travel to attend hearings and consult with my attorneys in LA, you may do so here.Your pledge helps to keep our fight going. Your pledge tells the LAPD and other police agencies that interfering with the free press and with editorial commentary is not acceptable behavior. Sadly, Ted's case is not unique. In Oregon, police conspired with a hard-hitting reporter's publisher to fire him because he editorialized against their illegal searches of high school kids during a basketball game.

Your pledge tells newspapers that kowtowing to local authorities and law enforcement is a violation of their public trust, and that using a newspaper as a vehicle to stifle legitimate criticism of police misconduct will not be tolerated.

Help Ted get justice and show the media that journalists cannot be bullied!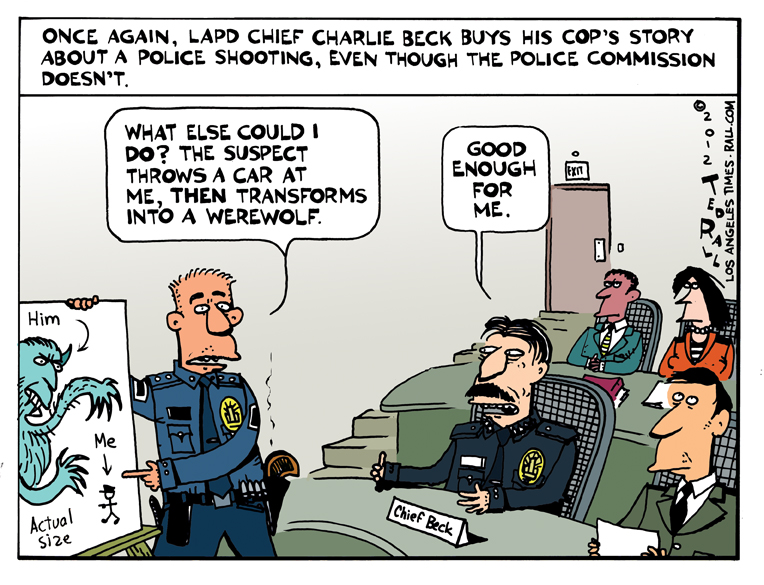 A cartoon by Ted Rall in the Los Angeles Times making fun of LAPD Chief Charlie Beck.