Madisyn Grace Woolett (Suzie Coker)
July-2017- Madisyn just turned 7 and unfortunately still battling High Risk Stage 4 Neuroblastoma. While she was on her recent Study Drug DFMO, she showed signs of progression. One tumor in her bone grew and a new spot was found on her leg. They sent some of the bone with the tumor off for testing. It has come back positive for a genetic mutation, this may open up some more treatments. Please continue to pray for my baby.JAN-2017- Madisyn is now 6 yrs old.She's still battling stage 4 high risk Neuroblastoma. This beautiful brace smart little girl of mine is a fighter. Her disease is still there, it spread a tiny bit in the marrow of her left leg but for the most part it's stable. We are doing a study drug trial at choa in Atlanta. At her last scans she still showed no improvement but nothing more has progressed. It doesn't appear that the study drug is working like a cure but for the moment it's keeping it from not spreading, so we're going to continue for now. With that we are having to borrow vehicles to get back and forth to Atlanta, we go there every other Monday and then for a whole week every 3 weeks as well as going to Jacksonville in between. This has become very costly and any help you can give would be appreciated...a dollar or two can go a long way. If we can't get funds in soon I don't know what we'll do, I can't stop treatment....bless everyone and thank you for all your help.2016
- Madisyn is now 5 yrs old and still going through her chemo treatment for
high risk stage 4 Neuroblastoma.
She goes to the Wolfson's Children's hospital in Jacksonville every 3 weeks for treatment and at least 1 day a week in between for counts. As well as driving to Jacksonville when she has her scans to check her progress. I'm still out of work and due to not working we unfortunately recently lost our home. Madisyn said the other day all she wants is a home with her own room. We are blessed for any help we are able to get and thank you to everyone that has helped.
2015-
I am doing this page to  raise money for my amazing four year old niece Madisyn Grace Woollett. She was recently diagnosed with stage 4 Neuroblastoma. This money is being raised to help with Madi's medical bills, other bills that Suzie has due to her not being able to work as well as gas for them to drive from Brunswick to Jacksonville. Madi is the most amazing four year old I know. I just put a goal amount up but any little bit helps. Thank you so much. ~Shannon Coker (Ammons)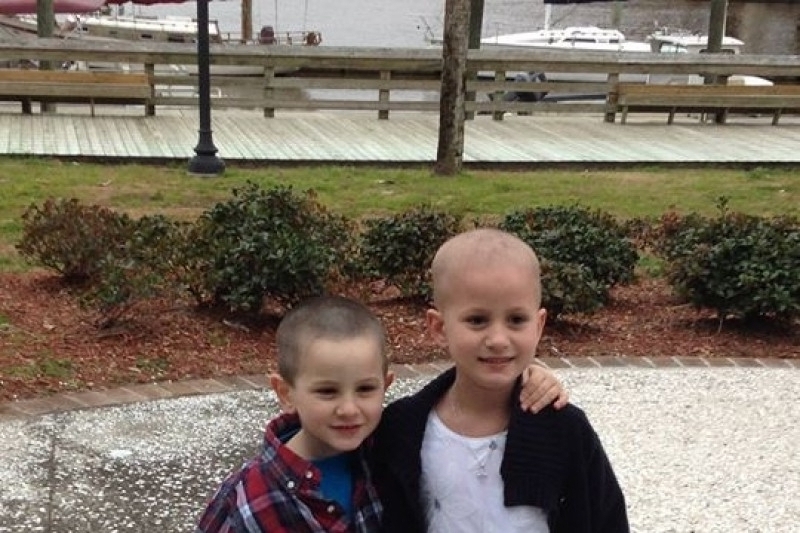 Madisyn with her little brother Andrew.

Organizer