For Michael and Lauren, August 2018 delivered both the best and the worst life has to offer.The day before Michael's wife Lauren went on maternity leave, Michael found out that he had Stage 4 Bowel Cancer.
Starting chemotherapy almost straight away, Michael then contracted a viral infection and was admitted  to hospital, just days before the birth of their first child, Margot. 
The night before he was due to be discharged, and desperate to be with Lauren at another hospital where she was to be induced the next morning, Michael was told that the results from his primary tumour biopsy indicated he had a rare and aggressive type of bowel cancer, BRAF mutated metastatic bowel cancer which is of poor prognosis and for which chemotherapy has limited benefit.
Michael was told his life expectancy was 12-19 months.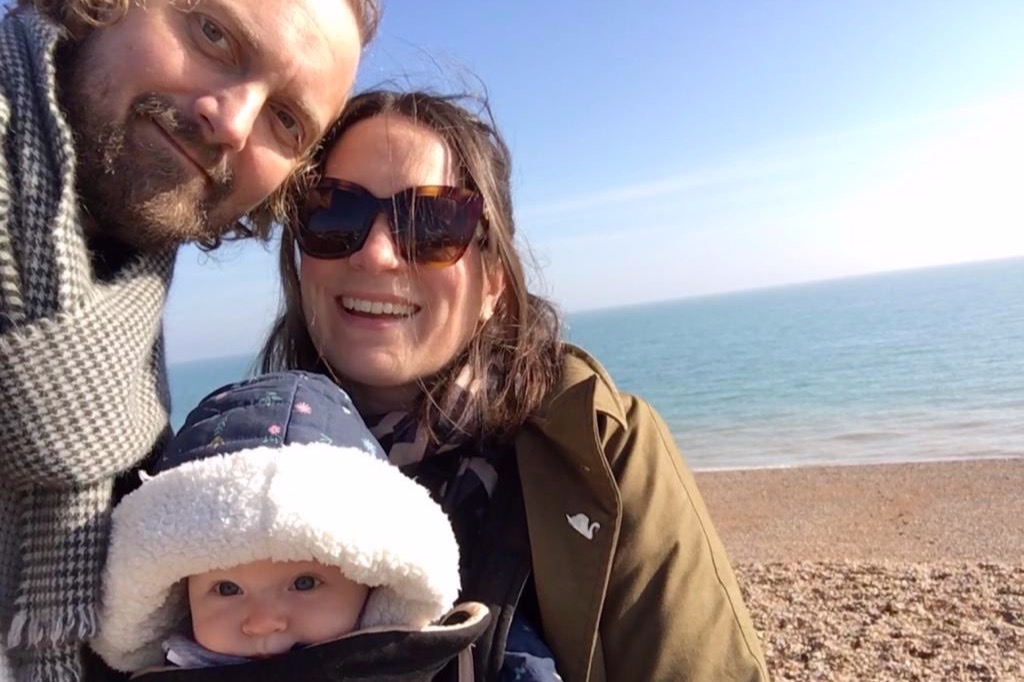 The background

Michael and Lauren spent the end of December 2017 in Melbourne, Australia, where they were visiting their best friends. Unbeknown to them both, Lauren had just conceived the baby that they'd been planning for. Baby Margot joined them in September later that year.
Michael and Lauren decided to visit many of their favourite places as well as some new ones before the baby arrived. 
They went on a Portuguese road trip. Then had wonderful family holidays in Holland and Mallorca. They discovered some beautiful beaches and towns on the east coast of Italy in June, before finally going to a best friend's wedding in Umbria in August.
It was around this time that Michael started to notice pain in his abdomen and difficulty breathing, especially before bed and when lying down. After a number of scans and biopsies, Michael was finally diagnosed with Stage 4 Bowel Cancer, that had already metastasized to his liver. There were  no signs or symptoms of this until August 2018.
On his way back from the consultation on the afternoon of his diagnosis, Michael was heartbroken knowing he would have to tell a heavily pregnant Lauren this horrendous news, just as she was going on maternity leave.
It was even more heartbreaking because Lauren's Dad, who was desperate to meet his grand-daughter was terminally ill with prostate cancer and bed bound at home.
Michael's Treatment
Michael and Lauren have been helped by a leading team of oncologists in London. Michael had been receiving the most toxic form of chemotherapy since September, but is now reaching the limit of what is viable for his body.
The next best treatment that Michael's health insurance will cover will help stabilise his disease for only a few months, but after that there are no other options available for this type of cancer that are covered on insurance.
Certain trial drugs and treatments have been highly effective in preventing disease progression (and in some cases even producing a complete response) for patients with Michael's type of cancer, but because these drugs are still on trial and not licensed, the insurance company won't recognise or cover Michael for such treatment. So he and Lauren are having to look at self-funding in order to make sure that  Michael makes it to his daughters first birthday and beyond.
And that's where you can help...
The money
This treatment is very new and is a positive step toward improving Michael's quality and length of life.
There's a problem, though…
It's eye wateringly expensive… projected to be in excess of £400,000 for two years treatment, not including scans.
This is something Michael will have to have once a week for at least a year to see the benefits, and maybe even a small miracle can happen.
The future
Michael will be regularly scanned and monitored to check that the disease is under control and, hopefully, regressing.
Who is Michael?
Michael is a  kind, easy going and loving person. He loves his friends and family and their kids, for whom he would do anything. He has been looking forward to having his own family for years and found his perfect woman to do that with in Lauren, his best friend and favourite travelling buddy.
Friends affectionately know him as Monk, Migzy, Miguello, Mikhail, Monkerchev, M Squared or simply Mike (though don't let his mum hear you call him that unless you're his best mate Woody).

What is Team Monk?
Team Monk is a collaborative team of friends and family who have come to together, determined to help the future look brighter for Michael, Lauren and most importantly baby Margot, through fundraising and some fun activities. Margot just absolutely loves her Daddy. And he wants to see her grow up into the beautiful strong woman he knows she'll be, just like her Mum.
Michael lives in Walthamstow, London with Lauren and Margot. He is currently on sick leave and takes Margot out for a walk almost every morning, to see if they can see a koala in the eucalyptus tree in the local park, as well as the easier to find ducks. He is determined to continue to be the best Dad, husband and friend to all his loved ones and has an unbelievably positive attitude against all the odds and a terrible situation. 
A huge and heartfelt thanks goes out to anybody who can help us raise funds, be it through donations, your own fundraising 
activities
 or just sharing our story.Not only can this transform Michael's life, but of course the lives of Lauren and Margot and of all the loved ones around him.Go Team Monk x

Follow Team Monk on Instagram - @team_monk_uk

Fundraising team: Team Monk (4)
Mikhail Monkerchev
Organizer
Raised £24,167 from 187 donations
Lauren Holleyoake
Team member
Raised £24,134 from 285 donations
Helen Keogh
Team member
Raised £4,805 from 76 donations
Ben Keogh
Team member
Raised £275 from 6 donations
This team raised £171,619 from 3450 other donations.