UPDATE: 
Team Exuberance regrets to announce that we are postponing our planned Team Exuberance CW CQ WPX CW operation until May 2021. We plan to compete from K3LR in the M/2 category for CQ WPX CW 2021 with the same team! While this decision was not taken lightly, it was clearly the appropriate action in light of the coronavirus pandemic.
Thank you to all individuals and clubs who financially contributed to our fundraising efforts. While we would prefer to save current funds for our 2021 endeavor, we understand that some donors may request their contributions to be refunded. If you would like a refund, please contact me ([email redacted]) or Marty Sullaway NN1C ([email redacted]) in the next 30 days. We will resume fundraising in 2021. All funds retained will be held by Team Exuberance Inc for our next operation.
Stay tuned for updates. For now, 73 from Team Exuberance CW 2021!


BRING DOWN THE AVERAGE!
The average age of today's CW operator is 67.  Team Exuberance CW "TE CW" 2020 is out once again to take a swing at the radio sport establishment, disprove the adage that old age and treachery will always beat youth and exuberance, and to bring down the average age of the contesting community. 
The first Team Exuberance contest operation (CQ WPX Phone 2019) was led by Violetta Latham, KK8AT and won first place MULTI TWO in North America. 
Seven of the world's top youth CW operators will descend on superstation K3LR for CQ WPX CW 2020.  For 48 hours they will battle over the radio waves in the MULTI TWO category using only their keen and lethal CW skill to prove that youth contesters are legit contenders.  
TE CW 2020 Operator Team
David Samu VE7DZO
Marty Sullaway NN1C 
Philipp Springer DK6SP
Bruce Yang KN8U/BH4EPL
Tomi Varro HA8RT
Mathias Acevedo Von Frey CE2LR 
Bryant Rascoll KG5HVO  
TE CW 2020 needs your support!  This international team will be traveling from six countries and four continents to Western Pennsylvania.  To make this happen, the team needs funding for air fare, hotel, transportation, and meals for the duration of the contest.  Projected costs for these expenses is $8000. We know we are in a generous community of not only radio sport and CW enthusiasts but also all amateur radio operators who wish to see a youthful revival of the world's greatest hobby.  Your donation will not only help our team achieve the goal of participating in the CQ WPX CW 2020 but also keep the momentum of bringing more youth into the hobby and ultimately BRING DOWN THE AVERAGE!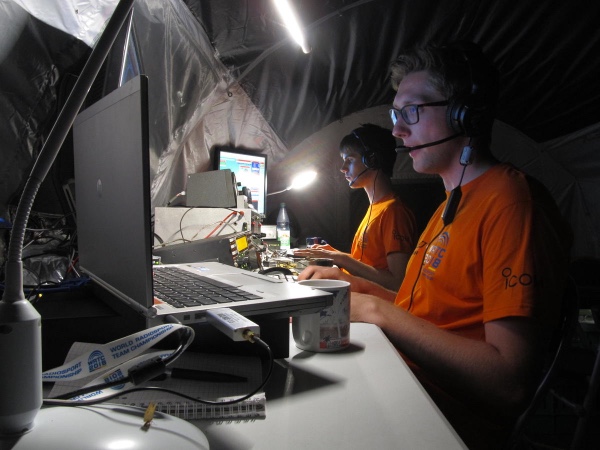 Organizer
Team Exuberance 
Organizer
West Middlesex, PA