Helping Youth in Memory of Chicken
Tayshana Chicken Murphy Foundation Programs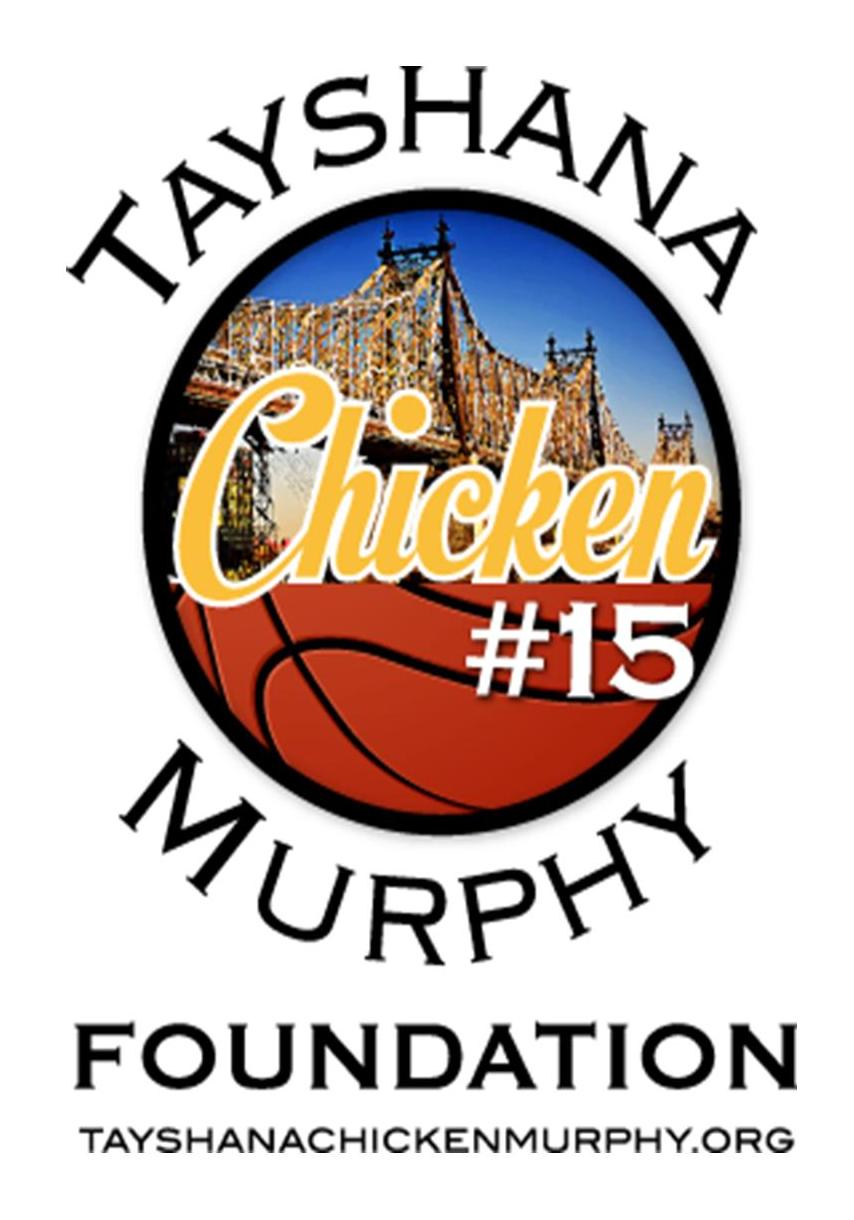 TAYSHANA CHICKEN MURPHY FOUNDATION
We are asking for funds which can be utilized toward our Gun Violence Prevention measures.
Follow our story as we watch Taylonn Murphy Sr travel New York City and nationwide to not only honor the memory of his beloved daughter, but to help bring an end to senseless gun violence.
All the money generated through our campaign, will be used to provide for our S.I.M.B.A. and Both Sides of the Gun programs, Family Response Team, Ball N Peace, Kids Behind The Camera, and other initiatives that will focus on gun violence prevention in the tri-state area.
OUR MISSION IS TO CREATE AND SUPPORT PROGRAMS THAT CULTIVATE AND NURTURE THE MINDS OF AT-RISK YOUTH, WHILE TEACHING THEM THE SKILLS TO PROMOTE PEACE THROUGHOUT SOCIETY.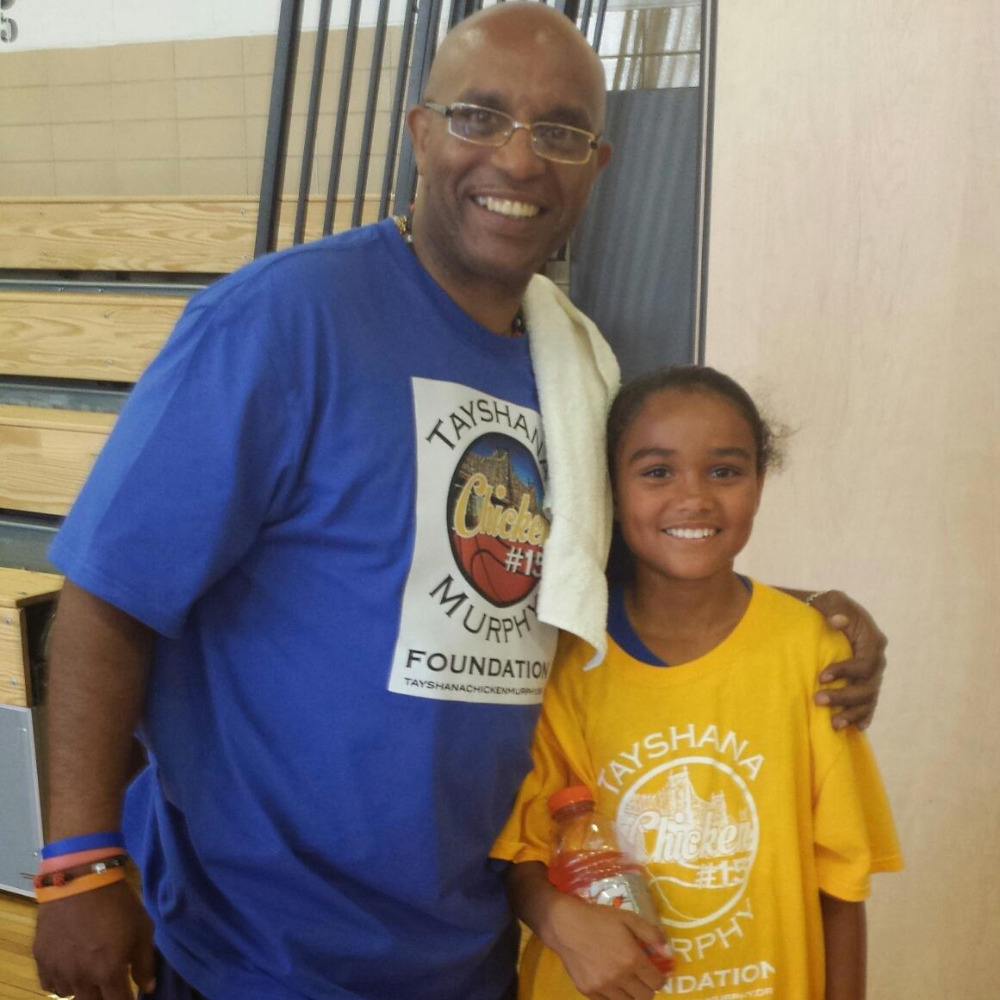 S.I.M.B.A. – STRONG INTELLIGENT MINDS BUILDING ALLIANCESMission of S.I.M.B.A.
S.I.M.B.A. is a youth empowerment skills/discipline employment program. The objective of this program, is to provide the youth with the necessary life skills for gainful employment and/or starting their own small business. S.I.M.B.A. is also an alternative to youth violence. S.I.M.B.A. deals with our youths' similarities, instead of exploiting their differences. S.I.M.B.A. teaches our youth teamwork, discipline, and self worth. S.I.M.B.A. also teaches basic economics and shows our youth how to become entrepreneurs. My belief is that all young people have an inner greatness that needs to be groomed, nurtured and cultivated. S.I.M.B.A. is one of the answers.
FOUNDER OF S.I.M.B.A PROGRAM
TAYLONN MURPHY
DOCUMENTARY FILM PROJECT
We have created a photography and film production team called "Chicken #15 Productions". This team of young people will be responsible for creating the documentary based on Tayshana Chicken Murphy. As of September 2016 "Chicken #15 Productions is teaching the "Kids Behind The Camera" free photography/video class for kids ages 6 -16 at 696 QueensBridge, Urban Assembly School for the Performing Arts, and West Harlem.
Please view the trailer for the documentary film "Tayshana Chicken Murphy - The Life The Love & The Legacy"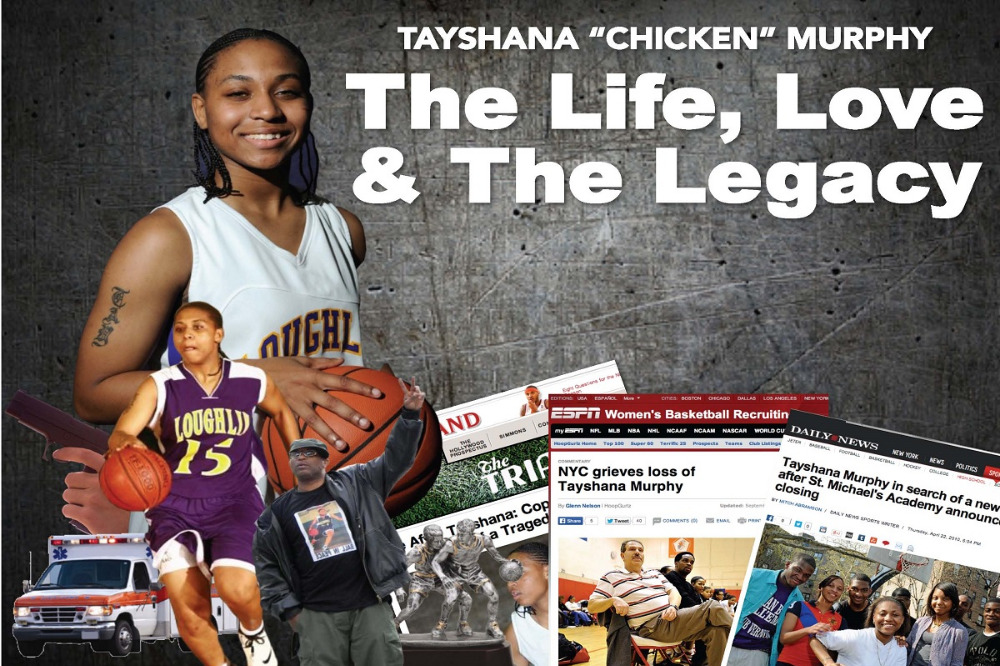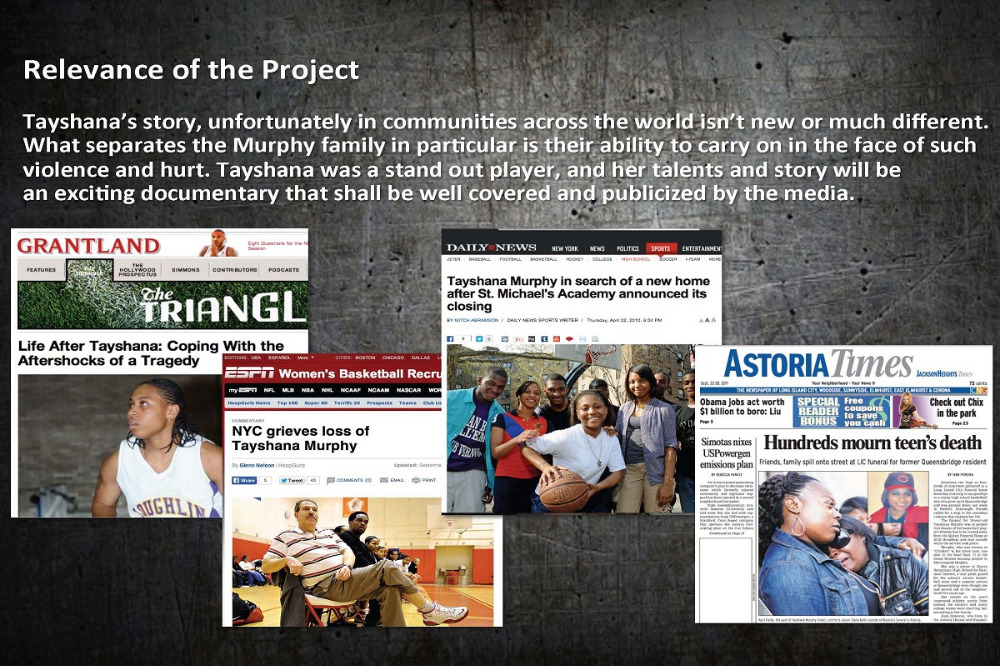 Both Sides Of The Gun: An In Depth Look Into Gun Violence  
The objective of this seminar, is to be a deterrent to gun violence by examining the effects gun violence has on both sides of the spectrum and community.   The seminar will be an hour long in-depth look into the feelings and viewpoints of the victim's family (i.e. the father) and the perpetrator's family (i.e. the mother) using the case of Tayshana "Chicken" Murphy. Tayshana "Chicken" Murphy was a nationally ranked rising female basketball star that was gunned down in her building, a NYC Harlem Housing Development. Seven categories are highlighted during the seminar:
1. Cause.  Conflict between two rival housing developments, resulting in the death of one person and the incarceration of another person.
2. Initial Shock.  Feelings and reactions when first learned of murder.
3. Funeral/Arrest.  Both parties' feelings during this time.
4. Bereavement.  Coping after the murder.
5. Aftermath.  Effects murder and media had on community and family.
6. Conflict/Turmoil.  Physical and psychological impact murder had on family and community.
7. Solutions.  Thoughts on healing and preventing further victims of violence.
The seminar Both Sides Of The Gun, examines the pain of two families from opposite sides of the gun, which shall serve as a powerful deterrent to gun violence. We pray that this forum changes the hearts and minds of our youth.
Family Response Team
 We are here as a support system and network for the families of those who lost a loved one to gun violence.
 2018 Ball N Peace Citywide Showcase

This summer come out, enjoy yourself, and remember "Chicken" during our annual all girls basketball tournament the 2018 Ball N Peace Citywide Showcase. WE CREATED BALL N PEACE TOURNAMENT TO HONOR TAYSHANA CHICKEN MURPHY AND ALL OF OUR YOUNG FALLEN SOLDIERS WHO LOST THEIR LIVES DUE TO SENSELESS VIOLENCE. Round robin games scheduled for the BALL*N*PEACE Citywide Showcase at Lindsay Park/Sternberg Park, 54 Boerum Street, Brooklyn, NY 11206. Championship Game at a Location To Be Announced.
All donations and sponsorships for the 2018 Ball N Peace Citywide Showcase will go to the Tayshana Chicken Murphy Foundation to promote peace and empower men and women through positive programs and initiatives.
The Ball N Peace Basketball Tournament was established in August 2012. The tournament was formed in honor of Tayshana "Chicken" Murphy and all the young people who met their physical demise due to gun violence and destructive acts. The purpose of the tournament is to utilize anti-violence organizations, youth empowerment groups as well as positive entertainment to sow seeds of peace in our youth. Ultimately we use the platform of basketball and entertainment to gather young people and discuss solutions to the violence in our community.
We are thankful for any donations received
Organizer
Taylonn Murphy
Organizer
Brooklyn, NY

TAYSHANA CHICKEN MURPHY FOUNDATION
Registered nonprofit
Donations are typically 100% tax deductible in the US.