Tangkoko Conservation Education
Become a supporter of Tangkoko Conservation Education!

My name is Mathilde Chanvin. I am the funder and manager of
Tangkoko Conservation Education
  (TCE), the educational project of the
Macaca Nigra Project
, a research programme studying the crested macaques (Macaca nigra).
TCE is a conservation education programme for local communities created in 2010 and based in North Sulawesi (Indonesia). I am raising fundings to help TCE implementing its 2019-2020 school year.
The main goal of TCE is to increase positive behaviour of local people of North Sulawesi towards their local environment, using the crested macaque (Macaca nigra) as a flagship species.
Crested macaque (Photo: Jerome Micheletta)
Listed as 'Critically Endangered' (IUCN Red List 2016), the crested macaque population has decreased by more than 75% since the last 30 years, and they are now part of the World's 25 most endangered primates. There are currently fewer than 5000 crested macaques left in the wild.
This programme aims at helping people to acknowledge the highly-endangered status of this species as well as its ecological and economic importance, to reduce the negative anthropogenic impact on the local environment.
Therefore, urgent actions such as education are needed, to change the attitude and to raise awareness of the local population for them to better protect the remaining wildlife of North Sulawesi, and especially the crested macaques.
 Through its local team, numerous volunteers and young ambassadors, TCE implements activities in villages around the Tangkoko reserve and other protected forests of North Sulawesi in regions of Bitung, North Minahasa and Manado. TCE's main work is to design and conduct school interventions for local pupils (7 lessons in class, 1 field trip in the Tangkoko forest). TCE currently reaches 6 schools over 5 villages, for a total of 180 pupils. These activities are complemented with conservation education trainings for school staff and awareness campaigns for local communities.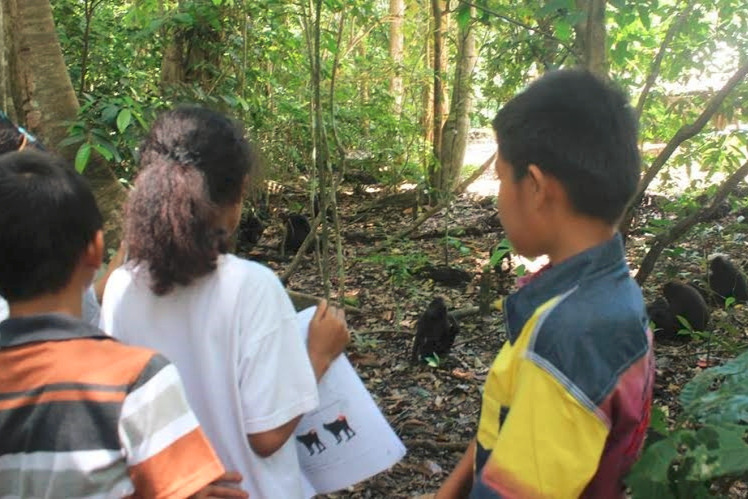 Pupils observing macaques in the forest
Since 2011, TCE has reached 3600 pupils!
Pupils with their TCE environmental lessons 
Ultimately, TCE's is to create a sustainable and effective education programme in all the villages surrounding the forests of North Sulawesi until all threats disappear.
Help us to help Indonesian children to Learn from Nature and Act for Nature! Help us to protect the beautiful crested macaques.
Thanks a lot/Terima kasih banyak!
Organizer
Mathilde Chanvin
Organizer