Tammy and Ruben Recovery Fund
Tammy and Ruben Benavidez are  a wonderful couple who love each other and their family members very much. 
Unfortunately they were involved in a serious motorcycle accident while returning from a Sunday in the country in South Florida on October 22nd.
They suffered severe injuries and will have an extended and painful recovery. 
This campaign is intended to help pay for medical treatment, rehabilitive services and day to day expenses until they can recover sufficiently to return to work.
Please watch the video to see Tammy and Ruben's daughters speak about their parents, their family, the accident and their futures.
Here are Tammy and Ruben at Biketober fest in Daytona in October of 2016. One of their favorite things to do is to travel to motorcycle-themed events together. They participate in the Toys in the Sun Run to benefit kids, every Christmas season. They also attend Blessings of the Bikes every year. In addition, they have traveled to Daytona Beach for Bike Week in the Spring; the Sturgis Black Hills Rally in North Dakota and have the annual Loudon Motorcycle Classic during the Laconia Bike Week on their bucket list.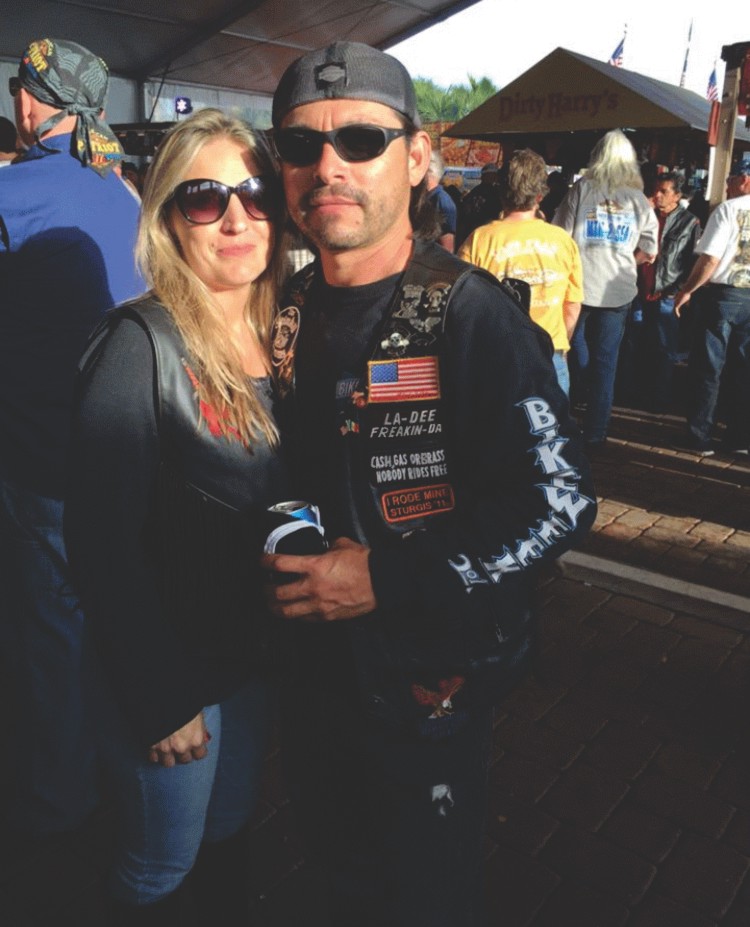 This is one of the boots that Tammy was wearing when the accident occurred. It saved her toes from being worn off of her foot. The road racer's mantra "better leather than skin" applies here. Look closely and you can see where the contours of her toes were worn into the leather.
While suffering her injuries, Tammy was able to roll back the throttle on the bike and hold up Ruben to prevent him from slipping down to the road. Those actions can only be described as heroic.
Ruben and his daughters in happier times. Makes being a Dad seem like the best job in the world.
The kids with Tammy on her recent birthday in May.
The Benavidez family at Corey's induction into the Marine Corps in 2012. Everybody except Corey seems happy. It looks like he might be thinking, "What the heck have I gotten myself into now?"
A few original members of a circle of friends that formed the "Stinky Clams", at Café 27 in Weston, Florida in 2016. Urban legend has it that the name for the group was hammered out in a raw-bar in Coral Springs, Florida in 2013 by the three original members, who were and are best friends that had been riding together for 20 years. The goof moniker was never intended to be taken seriously and evolved on its own. Left to right, Dino, Ruben, Ron, Todd and Joe.
The group with some of their family members at the Toys in the Sun Run in Weston, Florida in 2013.
I have seen photos of Ruben's injuries, which are too disturbing to be shown here. Much of the muscle in his right arm has been worn away from being dragged along the concrete traffic barrier. He has also suffered abrasions to his right chest that exposed several ribs, has severe abrasions on his left arm and a few on his face and several cracked teeth. He has undergone painful skin graft operations to cover the damaged tissues.
Tammy suffered a severe break to a bone in her left ankle that required a metal plate to stabilize. Her ankle was so severely twisted that the tendons ruptured, which required surgical repair.
That Tammy was able to hold on to Ruben to keep him from slipping down on to the road, while rolling off the throttle, while sustaining serious injuries of her own, is amazing. Her actions can only be described as being heroic.
These injuries will prevent Tammy and Ruben from returning to work for many months.
The situation that the Benavidez family finds itself in would be a difficult in any case, but some peripheral factors have made the task much more difficult. Ruben recently accepted a new position as Manager for an automotive parts chain and his health insurance will not become affective until after they have incurred most of the medical cost of recovery.
Tammy, who is an RN, has minimal medical coverage, which is typical for medical professionals.
Thus the family must cover the majority of the cost of their recovery – which is expected to exceed $75,000, without the benefit of significant health insurance. In addition, there are day to day expenses that must be covered. Ruben does have a short term disability benefit and there is a small motor vehicle insurance policy, but this will only cover a fraction of their medical cost and some of the day to day expenses.
With the holidays fast approaching, the burden will feel all the more difficult to bear.
We are asking for your help today – to reduce the burden of recovery on the family, to alleviate the weight of concern that Tammy and Ruben feel as the heads of the family and to allow the children to resume a plan for their lives that I am sure will add much to the lives of others in the future.
Please know that the money raised will be used only to cover medical and day to day expenses until such time as Tammy and Ruben can resume normal lives.
Thank you for visiting the site and viewing the video today. Please share the gofundme site address (www.gofundme.com/tammy-and-ruben-recovery-fund) with friends and facebook, then contribute whatever you can to the Benavidez family recovery campaign.

Organizer and beneficiary
Phillip McClure 
Organizer
Pompano Beach, FL
#1 fundraising platform

More people start fundraisers on GoFundMe than on any other platform. Learn more

GoFundMe Guarantee

In the rare case something isn't right, we will work with you to determine if misuse occurred. Learn more

Expert advice, 24/7

Contact us with your questions and we'll answer, day or night. Learn more