Little Roxy is a two and a half year old full of love, laughter and personality.  At the age of two Roxy was finally diagnosed with a very rare genetic condition affecting the ATP8A2 gene. This genetic abnormality is so rare that the chances of being born
with the condition are a 1 in 500 million chance.  To date there are only 12 people ever diagnosed with this condition - WORLDWIDE.


Roxy is a very lucky country girl, living in regional NSW with a wonderful family supporting her and attempting everything they possibly can to give her the best chances.  Alongside her parents Will and Lyndal, brother Ben and sister Evie, this is a strong, independent and loving family that keep the strongest vision of happiness considering the cards little Roxy has been dealt.
From the age of six months Roxy has undergone test, after test, after test trying to find the right diagnosis for her symptoms.
This condition currently affects her with the following: hypotonia (whole body floppiness, cannot sit unsupported, walk or stand); optic atrophy (clinically blind by only being able to see fuzzy shapes and colours); language delay (currently classed as non-verbal); poor coordination and motor skills; and reflux.
Along comes the NAPA centre, three week intensive therapy courses that can be tailored to Roxy and her needs. She has been extremely fortunate to receive a place in two this year and is desperately hoping to be accepted into as many of the eight courses offered for 2020 that they can.  This is the Hail Mary pass Roxy and her family have been waiting for. But this comes with considerable financial challenges.  These include, but are not limited to, up to $10,000 cost for each three week course and expenses in excess of $8,000 for travel and accommodation for Roxy and her Mum to attend them.  And to top this off there are always many additional costs required for things such as helping Dad and her siblings at home while Mum and Roxy are away, renovations at home to accommodate Roxy and her walking frame as well as the much needed pieces of equipment to help her move about.
NOW……. How can you help?
This is not a short term play. Ongoing treatment, and with it the ongoing expenses, to give Roxy the best life she can possibly have are all vital.
We all have our own lives and challenges but to help the life of Roxy and this wonderful family is something that cannot pass you by.  Every donation, big or small, will help change little Roxy's life.
Roxy has everything to gain right now, what do we have to lose!  We would love for you to be a part of her taking the world by storm!!
 We ask that, whether or not you are able to donate, that you pass this page onto as many people as you can.  Continue to spread the word for this gorgeous little girl, ROXY.
A LETTER FROM ROXY (written by her much loved Aunty)
I am Roxy. Hear me roar!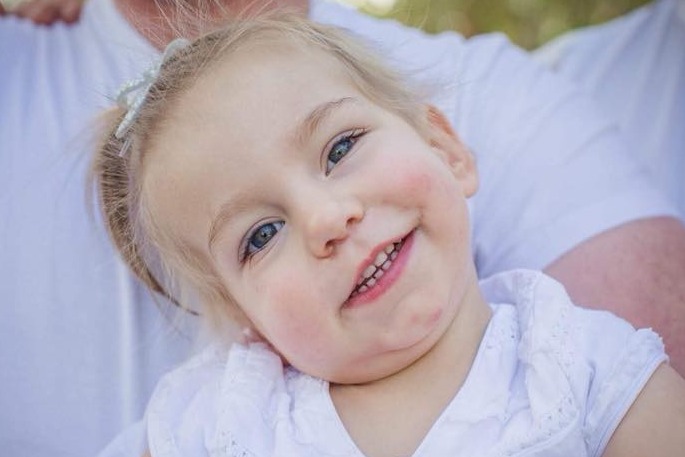 A beautiful bundle of love, light and laughter with just the right amount of sass to melt hearts and move mountains.
At just 2 and half years old I have figured out how to run the show and almost always get what I want.
Almost.
What I want most is to be able to play with my big brother and sister. To be able to sit up at the table like a big girl. To be able to run into my mum's arms for a cuddle, and to climb up for a piggyback from my dad. I want to be able to learn new things and experience life.
I have been diagnosed with the very rare ATP8A2 gene. Only 12 people in the world have been recorded as sharing this gene and relatively few studies have been done into the cause and outcomes for kids like me.
This means that life is just that little bit harder for me. I need equipment at home and at daycare, all of which cost thousands of dollars and take months to order and be delivered. This means that my mum and dad are in for the fight of their lives and they will stop at nothing to give me the fighting chance I need to show the world what I'm made of.
I don't even know it yet, but I am going to be the one. The one who beats all odds, the one the fancy doctors learn stuff from, the one who sets the standard for the saying "You can do anything you set your mind to!".
I'm that girl.
I think i might be what boys call 'high maintenance'. I have my own Paediatrician, Neurologist, Geneticist, Ophthalmologist, Physio, Chiro, OT, Speech Pathologist and NDIS case worker. They love my uniqueness and make sure no page is left unturned. I even have my own entertainment coordinator (brother Ben) and event stylist and overall manager (sister Evie). They light up my world and treat me for what I am. A kid.
I am about to start NAPA, an intense kind of therapy that costs $10,000 per treatment block, and i have two blocks booked this year. My NDIS grant will not cover this and all of the associated costs.
We live in Narrabri, regional NSW. My entourage is in Sydney. The driving, the petrol, the road tolls, the meals, the hotels, the parking, the days off work, the days off prepaid daycare, the babysitting for my siblings, the hours in the car, the road side stops, the break in routine, the packing and unpacking of bags as we live out of suitcases, my very vocal hatred of my car seat for 8hrs on the road, the hospital waiting rooms for hours at a time, navigating our way through a city we don't know, the hideous voice of SIRI as we try our best to get to where we need to be in a time frame that exceeds human capability, kids missing their parents, babies missing their family, my parents' thorough exhaustion and the fact that after all of this on repeat, for 2 years, we still don't know what the future holds. It takes it's toll in so many ways.
Follow me on Instagram @roxyrockinit
Thank you for helping me!  Love Roxy.