HELP Taiwan Support NY Pride Parade
HELP Taiwan be represented at the 2016 New York Gay Pride Parade, which is coming up soon on June 26th!
幫助台灣在2016年紐約彩虹遊行中發聲!
Did you know that Taiwan is the home of Asia's largest Gay Pride parade? But the last time we had a float representing Taiwan in the New York Pride Parade was in 2010!
你知道台灣有亞洲最大的彩虹遊行嗎?但台灣唯一一次在紐約的彩虹遊行中有花車已經是2010年的事情了!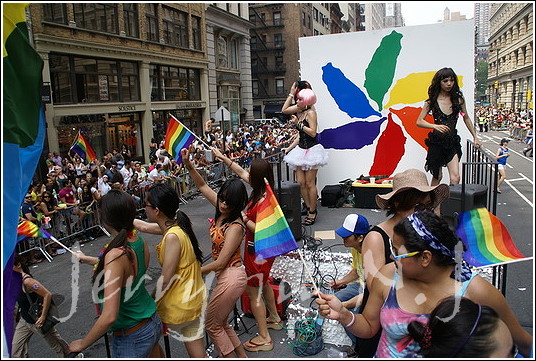 We haven't had a Taiwan float these past couple of years because registration fees and the cost of a putting together a float are quite high.
紐約的遊行註冊費高,一台花車的花費也很驚人。
But now more than ever, in the wake of the June 12th shooting at the Orlando nightclub Pulse, we need to show our support for the LGBT community. You can help us do that by making a contribution to cover parade-related expenses.  
但是,在奧蘭多事件發生之後,我們更該支持酷兒社群。請大家幫忙一起來贊助一台台灣花車。
In my many years of work within the Taiwanese American community, I've made quite a few queer Taiwanese friends who have taught me about the struggles of the LGBT community. The fight for equality for the LGBT community in the United States and Taiwan has not been an easy one. But we have hope that with the growing legalization of gay marriage and a new leader in Taiwan, things are now changing. And that's why I'd like to see Taiwan represented at this year's New York Pride Parade.
我在紐約僑界當義工,也認識了不少酷兒朋友,也了解了LGBT爭取平權的努力。不管在美國還是台灣,平權運動都有很大的挑戰。但同性婚姻註記跟新的總統,台灣也慢慢在改變。
We had such a great time in 2010 participating in the New York Pride Parade and here are some photos to prove it:
2010年我們初啼試聲。大家可以看一下照片。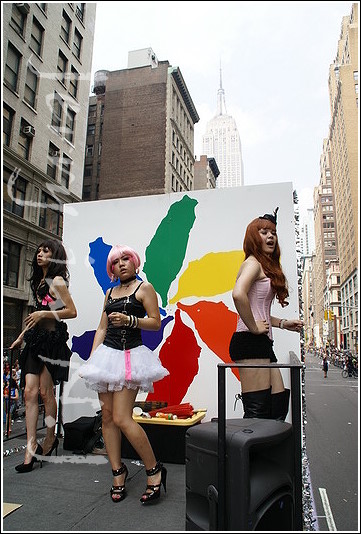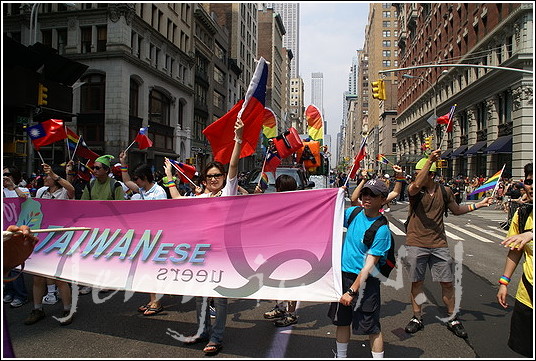 Our goal was to promote that Taiwan has Asia's largest Gay Pride Parade and I think we looked quite fabulous doing so!
我們當時的目標就是宣傳台灣有亞洲最大的彩虹遊行。來參加的朋友看起來都超美超漂亮的。
With the growing legalization of Gay marriage in 2015, and a greater representation of LGBT characters in film and television, the parade has attracted many more commercial participants. Consequently, floats from all major companies in the New York metro area have been booked for two months before the parade! We thought that we might have to cancel our participation this year, but at the last minute, we were able to rent a flatbed truck! Decorating the truck is going to be a challenge but it will definitely be a fun one. In fact we are looking for some creative, energetic volunteers to help us with this!
美國在去年同性婚姻合法化了,在媒體中LGBT的比重也增加,遊行也因此吸引更多公司參加。鄰近的花車也早就被訂光光了。本來真的無法遊行了,但現在將用平板車來改裝,會有點挑戰,但應該是可以完成才是。
All of the expenses associated with participating in the New York Pride Parade add up and that is why we are asking for your help. Funds raised will be used to cover the following expenses: registration fee, flatbed truck rental, other truck-related expenses (decorations, fuel and cleanup), and the printing of signage and promotional flyers for distribution. We'd love to keep the momentum going and to let people know that Asia's largest Gay Pride Parade in Taiwan is coming up on October 29th.
台灣花車所需的費用加起來不少,所以我們在此希望大家能來幫忙。募集的款項將用來支付遊行註冊費、卡車租借費及相關的里程費及油錢、裝飾的費用還有文宣,然後當然有這個募集網站的費用:(。
My team and I can't thank you enough for your generous support for this important cause! Thanks for making this happen!
花車義工感謝大家的支持!謝謝!
Fund Distribution:
Registration Fee: $900
Truck Rental, Mileage, Driver, and gas: $900
Sound System: $1000
Decoration for the Truck: $1000
Carpenter: $500
Flyer Printing: $300
Misc: $150
Gofundme's Fee: $250(5%)

Organizer
#1 fundraising platform

People have raised more money on GoFundMe than anywhere else. Learn more

GoFundMe Guarantee

In the rare case that something isn't right, we will refund your donation. Learn more

Expert advice, 24/7

Contact us with your questions and we'll answer, day or night. Learn more