Who I am
My name is Kyle Lima. I am an actor, writer and singer born and raised in Cardiff. I discovered my love for theatre and my passion for singing through my exceptionally inspiring drama teacher in high school who introduced me to the world of performing arts. She saw a talent in me for performing and encouraged me to pursue it.  I have worked with the Artistic director of the Bristol Old Vic and the visionary mind behind the world renowned production of 'War Horse', Tom Morris, in his BOV world tour production of A Mid Summer Nights Dream in which i played one of the young lover Demetrius. Most recently I have worked with the artistic director of the Shakespeare's Globe, Emma Rice, in her production of The Little Match Girl in The Sam Wanamaker Theatre at the Globe, as well as Emma's 'Kneehigh' production of 'Tristan & Ysulte' in which i played the scheming right hand man of the king, Frocin. Last year I was in Charlotte Churches 'The Last Mermaid as part of the Wales Millennium Centre's Festival of voice and my relationship with the WMC has continued in to a partnership on this project.
Tristan & Yseult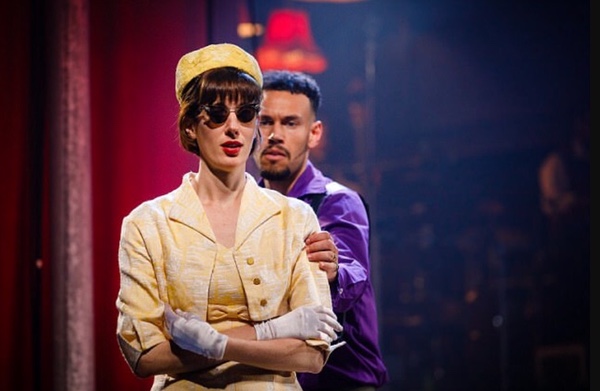 The Little Match Girl and Other Happier Tales
Charlotte Church's The Last Mermaid

The Show: Heart and Soul
Heart and Soul is a one man show about the great 'heart' and spirit of the Welsh, combined with the influential 'Soul' music, as well as other genres of music of the black culture.
The Wales Millennium centre has been kind enough to offer to house the production but we are in need of funding to bring it to the stage.
Heart and Soul is a show, celebrates the unique multicultural community of Cardiff, performed by myself portraying characters based on different generation of my family and the people of Cardiff. It will be a combination of historic and comedic stories inspired by different periods of my family and other members of the Cardiff communitie's lives, interwoven with live music and songs of each characters heyday sung by me while accompanied on piano. The songs vary from Vocal-Jazz, classic soul, 90's RnB & Garage and perhaps a few other surprises too.
It's a show set in three parts; the first of which I perform as a character based on my Grandfather who travelled the world in the merchant navy during the 30's and 40's, after leaving his home country of Cape Verde, off the west of Africa, and settled in Cardiff. The second part I perform as a character based on my dad and talk about him being a first generation black son born and raised in Cardiff and his experience of the night life in the 60's & 70's. I end of the show from my perspective as I little boy observing my much older brother, sister and there piers navigating the soul, RnB and Garage scene of the 90's. I sing songs from each era accompanied on piano by the accomplished RWCMD music graduate, Chris Hyson. Our dramaturge will be actor, director Anita Reynolds who directed the black writers collective show 'Sounds of colour' and who has just finished her terrific run in 'Hung' at The Other Room theatre.
'Heart and Soul' talks about how unique a place Cardiff is and how ahead of its time it has been in regard to integration, interracial relationships and how influential music has been on the people and culture of the city.
Benefit to the public
This project will culminate in the presenting of a new cabaret/theatre show about different generations of people from the Tiger Bay, Butetown, Ely and Splott area. I want to make work which will shine a light on the communities within these places by using my family's personal stories, whilst proving that there is space for these communities to use theatre as a platform to represent themselves and tell their stories. In order to deliver a high quality show, I will be interviewing different generations of my family and the multicultural community of Cardiff to ensure I authentically represents accounts of Cardiff life.
I want to make work which will shine a light on the community of Cardiff and places like it by using my family's personal stories through theatre to show a wider audience a reflection of their lives that they don't see often enough on the stage.
Wales has a diverse population and as such theatre has a potentially diverse contemporary audience, however I believe that the theatre sector still has some way to go in order to represent this population. As a young man of mixed-ethic heritage from Splott, I think there is a lack of representation in theatre in Wales of individuals with my background as well as others of multicultural heritage. By supporting this project you would be providing the opportunity for people from a similar background as me, as well as all audience varieties, to watch high quality art which will entertain, enlighten and potentially inspire and encourage others to make their own theatrical work.
I feel that there is a great need for a show like this given our current climate, where so much divisiveness is being seen in the media. What I will have achieved with Heart and Soul is to share and celebrating with an audience the grate example Cardiff has been in terms of unity between cultures. Cardiff is of course not perfect but the diverse people that inhabit it are all unified by one defining fact, that they can all proudly call themselves Welsh. My hope is to initially perform Heart and Soul in Cardiff and to eventually take it on tour around the UK and potentially further in order to share the great stories of Cardiff with as wide an audience as possible.
Accessibility
I want to make the show as accessible as possible and with funding support I will make at least one performance both captioned for audiences with hearing impairments and audio described for audiences with visual impairments. The performance space at the WMC is completely accessible for those with physical disabilities.
The production itself is in the English language as I am not a Welsh speaker; however with the help of the Wales Millennium Centre, I will ensure that all promotional material for the production will be bilingual so as to not exclude the Welsh language audience.
What you funding contributuion will go towards
*Research, interview and development work
*Musician rehearsal time
*Musician relocation
*Musician travel
*Actor rehearsal time
*Director
*Dramaturg/assistant director
*transitioning source materials in to theatrical work
*Marketing coordinator
*Marketing budget
*Costume
*interpreted performer
*Captioned performance facilitator
When we need the funding by
November 24th & 25th 2017. This would ensure that we can go ahead with the production and deliver the show to the best possible standard.
Dramaturge - Anita Reynolds

I trained as an actress at the Royal Welsh College of Music and Drama and graduated in 1994. Although I am not originally from Wales, I have lived and worked in Cardiff for 27 years and proudly call Cardiff and Wales my home. Since graduating I have gained extensive knowledge and experience of the Acting and Theatre industry. Throughout my 23 years in the industry I have undertaken various roles.
As an Actor
I have performed in many productions on both Stage and Screen working with companies such as Theatr Iolo, Hijinx, London Bubble, Theatre Centre, Sherman and Shared Experience. I am currently working with The Other Room and RunAmok on their latest co-production of Debbie Tucker Green's 'hang'.
My TV credits include Holby City, Casualty, Gwaith Cartref, Being Human and Stella.
As a Director
My directorial experience involves mainly working with the BAME community.
In 2010, I was commissioned by St Pauls Community Centre (Bristol) to devise and direct a theatre piece working with 20 young people of Afro-Caribbean heritage aged 14-18 years. Even though the piece was devised from issues affecting them and was explored dramatically using many improvisation techniques, the end result was a fully scripted play. The 12- week process culminated in a piece of theatre performed in both Bristol and Cardiff.
Black History Month:
On two occasions, I created with the BAME students at RWCMD a theatre piece celebrating race, gender and diversity.
Sounds of Colour and Shades of Brown, although performed for different years, were similar in their mission. We wanted the opportunity to vocalise poems (published and personal), songs and excerpts from plays that catered to our diverse and ethnic needs. We wanted to hear 'Our voices' for a change on a stage in Cardiff. My job was to find the scripted material, to edit and formulate the content to produce an adhesive and dynamic piece of work.
As a Tutor
Outreach
In 2003 the Royal Welsh college of Music and Drama asked me to write a report on widening access and raising aspirations, especially in relation to young people from black and minority ethnic backgrounds. To garner the appropriate information, I visited and talked with many youth and creative organisations throughout South Wales and Bristol. My role was to seek out the external perception of the college, as viewed by these companies, and suggest ways in which the college could bridge the gap and develop collaborative relationships. One of the recommendations that highlighted in the report was a need for RWCMD to provide a drama outreach programme.
So, before the Young Actors Studio (YAS) was established, it was my job to coordinate an outreach drama facility. My duties and responsibilities were workshop compositions (which were often bespoke), Schools liaison, budget allocation and building creative relationships with schools and community centres. This role I undertook for 5 years.
As a RWCMD outreach tutor I have devised many successful short courses and bespoke workshops in subjects as diverse as communications skills for young Muslim women, confidence building for BAME young people dealing with Bullying to supporting workshop leaders in many educational settings.
I am also a lecturer on the MA Musical Theatre course. Specialising in improvisation, my module focuses on becoming more present, interacting with spontaneity and exploring performance and text.
As a Facilitator
In my spare time, I help budding actors (on an individual basis) with their audition technique. During the sessions my role is director, facilitator, dramaturge and friend. The overall aim is to advance the acting process and presentation of the text detailing areas such as:
• Character analysis
• Exploring and Breaking down the script
• Physicality
• Authenticity of Character
• Dissolving creative blockages
RE-LIVE Theatre Company
Not all my experience is in relation to young people. Historically, I have worked with Re-Live Theatre company, empowering older people and carers to share their personal experiences of Dementia as a cathartic performance.
Glyn Derw- Top up drama
Top up drama is a project that I set up as a freelancer with Glyn Derw/Michealston College drama department. The project gives extra curricula support to the Year 11 GCSE drama pupils from diverse and deprived backgrounds. The sessions focussed on creatively supporting the young people when working towards their practical exams. Most of the pupils had never seen a play or ever been to the theatre. Over the past 4 years of working with the School, I have used my knowledge of the industry and connections within Cardiff to help them fulfil their developmental needs with exam pass rates increasing year on year.
Here are some of the things I have undertaken:
• Locating new and contemporary scripts
• Editing scripts
• Directing the plays
• Organising trips to watch plays
• Arranging their exams to be held in a theatre with lights/sound!
• Emotional support
• Creative support
Musician - Chris Hyson


Biography
Chris is a London based composer, producer and multi-instumentalist. He has toured extensively throughout Europe, Canada, the US and UK playing in venues such as Royal Albert Hall, Ronnie Scotts, Royal Festival Hall, Queen Elizabeth Hall, the 606 club, Wilderness Festival, The Sugar Club, Bimhuis, Band on the Wall, The Sage Gateshead, Shoreditch Town Hall, Glastonbury, Rochester Jazz Festival, The Union Chapel, St Pancras Old Church.
Chris has played with musicians all over the world including Josh Arcoleo (Joss Stone, Michael Kiwanuka, Pee Wee Ellis) Jason Rebello (Sting), Jeff Williams, Emilia Martensson, Josienne Clark (Rough Trade Records), Huw Warren (ECM), Mike Outram, Kit Downes (2010 Mercury Prize Nominee), Liam Noble, Martin France, Bobo Stenson (ECM), Josh Blackmore (Troyka, Squarepusher), James Gardiner-Bateman (Paloma Faith, Boy George), James Maddren, Iain Ballamy, Tom Skinner, Bill Laurance (Snarky Puppy, Grammy Winner) and Richard Spaven (Jose James, Flying Lotus).
In 2011 he was awarded a 'Yamaha Music Scholarship' for outstanding musicianship. He is well known for his work composing solo piano music for the Mercury Prize nominated Kit Downes, which has been showcased on BBC Radio 2 and Jazz FM amongst other well known radio stations.
Studying at the Royal Academy of Music, Chris was able to focus on his passion for writing as well as performing and is currently developing his own work for various upcoming projects this includes the very highly commended 'Snowpoet' (Lauren Kinsella, Matt Robinson, Dave Hamblett, Nick Costley-White) who recently released their debut LP 'Snowpoet' to great critical acclaim. Singles from the LP were played on BBC 6 Music and a live performance from the Royal Albert Hall was broadcast on BBC Radio 3 as part of the BBC Proms 2016.
As well as working on a second album and a score for an independent film, Chris has spent the last two years touring extensively with two time Grammy Award winning pianist and keyboard player Bill Laurance playing electric bass, double bass and synths. The Bill Laurance Project played some of the worlds most prestigious venues and festivals including The Cotton Club (Tokyo, Japan), North Sea Jazz Festival (Rotterdam, Holland), Privat Club (Berlin), O2 Academies (Liverpool, Manchester), Festival Gnaura (Essouaira, Morocco), Time Out Studios (Lisbon, Portugal), Istanbul Jazz Festival and headlining WOMAD Festival (Wiltshere, UK).
'Beautiful beautiful music' - Jamie Cullum (BBC RADIO 2)
'Just Brilliant' - Jon Kennedy (XFM)
'One of the most original composers on our music scene today' - EARMILK.COM
"an exceptional musician" TIME OUT
'His music exhibits a remarkable self-assurance' - New York Times
Kyle Lima CV

•THEATRE
Tristan & Yseult | Frocin | Kneehigh | Emma Rice
The Little Match Girl and Other Happier Tales | Solider/Singer/Toad/Beetle/Lieutenant Sparrow | Shakespeare's Globe | Emma Rice
Charlotte Church's The Last Mermaid | The Fisherman | Wales Millennium Center | Bruce Guthrie
Things Will Never Be The Same Again | Agent Wolf/The King/The Oracle | Tricycle Theatre | Harry Mackrill
World Cup Final 1966 | Jack Charlton | Bristol Old Vic | Tom Morris
A Midsummer Night's Dream | Demetrius | BOV/Barbican Theatre/USA/Hong Kong /Korea | Tom Morris
Flyboy's | Commandant | Chapter Theatre Arts | Gregg Cullen
Aladdin | Genie | Salisbury Playhouse | Caroline Leslie
Muscle | Cheroot/Sule/Sam/Adam/Shirley | Chapter Arts | Gregg Cullen
•TELEVISION
Doctors | DC Devon Newman | BBC | Ruth Carney
Gwaith Carteff | Matthew | S4C | Andy Newbery
Merlin 3 | Myrddin | BBC/Shine | Andy Goddard
Snowdonia Farm House 1890: Uncovered | TV Presenter | BBC/Indus Industrys | Ian Michael Jones
Perfect Summer | Rob | BBC Wales | Sian Ellin Palfrey
•FILM
Burn, Burn, Burn | Jay | Burn Productions Ltd | Chanya Button

Organizer
Kyle Lima 
Organizer
Welsh National Opera, Wales, United Kingdom
#1 fundraising platform

More people start fundraisers on GoFundMe than on any other platform. Learn more

GoFundMe Guarantee

In the rare case something isn't right, we will work with you to determine if misuse occurred. Learn more

Expert advice, 24/7

Contact us with your questions and we'll answer, day or night. Learn more